Is your home outdated and needing a little TLC? Daydreaming of the day you can roll into your local hardware store and buy all the things? I get it, remodeling is expensive. Things add up fast and before you know it you're in debt and you have only updated one room. That's the last thing I want you to do!
I am going to share our experience and the things we did to update our outdated Texas home. When we bought our Texas home we knew we would be putting it back up on the market in 3 years (military family over here). Everything we had available to us in our price range was older and outdated. That's when we decided to look into a fixer upper.
We got lucky and bought a house that was only 12 years old. Bad thing was it had never been touched from the time the builders left out that front door. The previous owners lived in it for a few years then became landlords and rented it out to at least 5 other military families that we know of. Apparently someone ran a cake business and a daycare out of the home at one point.
All I'm going to say is I could easily tell those two things happened if no one would have told me about them.
What if I told you we updated our home in 3 years with no major remodeling! It's possible with just a little bit of determination and time on your side! You too can bring that outdated home back to the 21st century.
[AFFILIATE LINKS ARE PROVIDED BELOW FOR CONVENIENCE. FOR MORE INFORMATION SEE MY DISCLOSURE HERE.]
Painting
The power of paint is a real thing my friend. Without it our house would still be way outdated. You can literally paint anything.
Walls & Ceilings
Starting with painting your walls this will give you the best result for updating your home. If you have to chose one thing to start out with do this one first. When painting your walls I'm a firm believer in choosing a neutral base color and add color through decor and accent walls.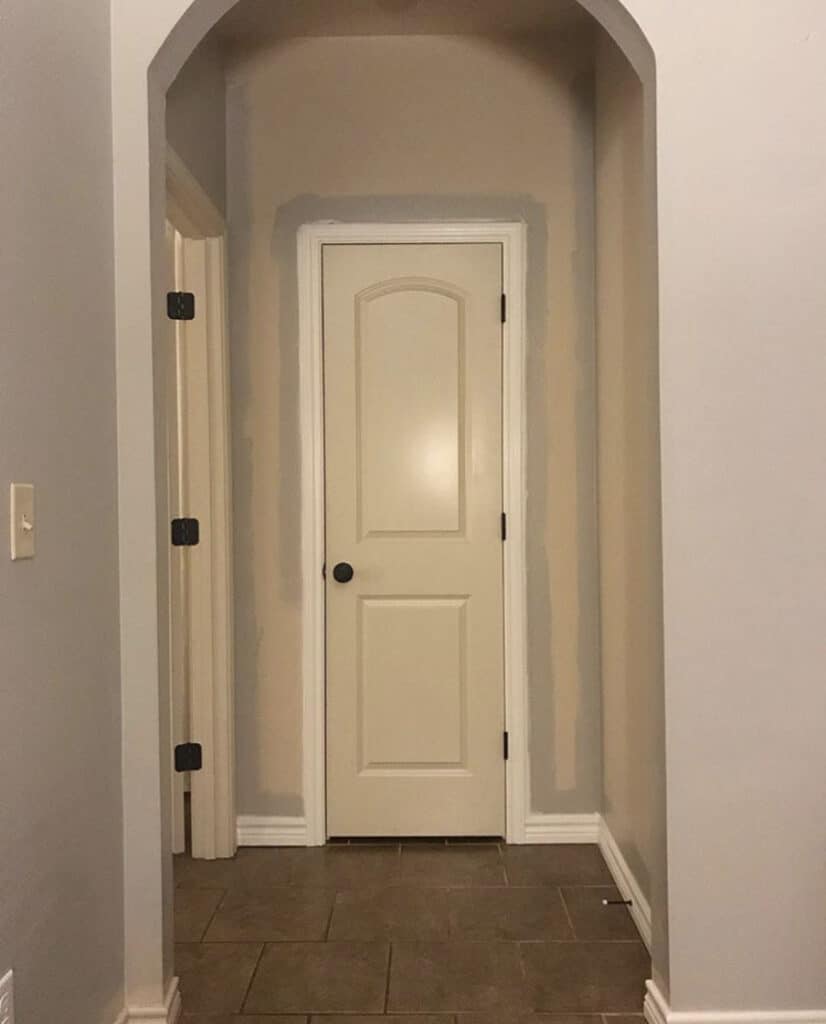 Doors & Trim
Painting your doors and trim is an easy enough task. Grab a good enamel paint like Insl-x Cabinet Coat and Trim paint. I used this in our Texas home in the kitchen when painting all the cabinets. It self levels and hardens to a hard enamel finish that can withstand anything.
Painting a bright white color over the trim and doors to give it a fresh look will brighten the space up and give it new life. You could even think outside the box and go with a contrasting trim like Revere Pewter by Benjamin Moore or Tricorn Black by Sherwin Williams.
Kitchen Cabinets
Do you have outdated cherry kitchen cabinets? Or maybe your situation is like ours where we had pretty oak cabinets that were in rough condition and I didn't have the time or bandwidth to restore them completely. So painting was the next best option.
Painting your kitchen may sound daunting and don't get me wrong it's not easy by any means. If you do it correctly it's going to take time and patience. There is so many methods and products to painting your kitchen cabinets. Do your research and TAKE YOUR TIME. The end result though is worth so much when it comes to house value and will update your home like you couldn't imagine.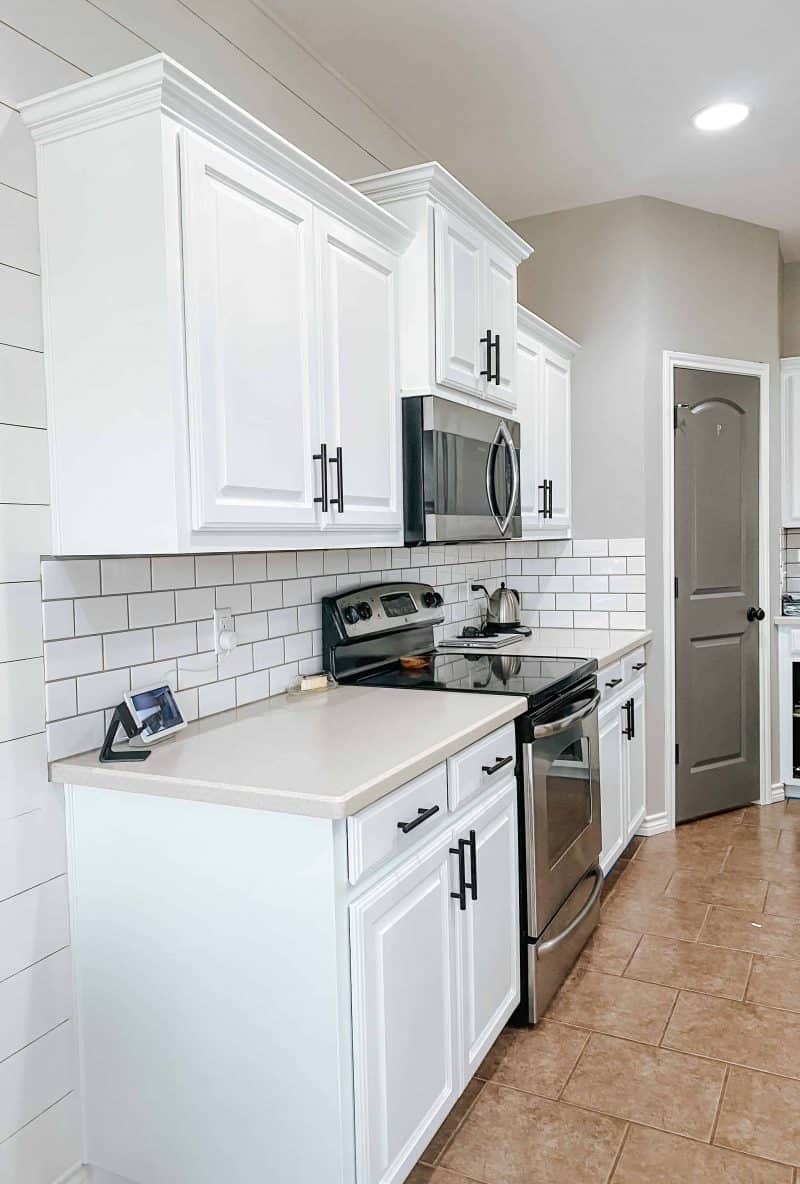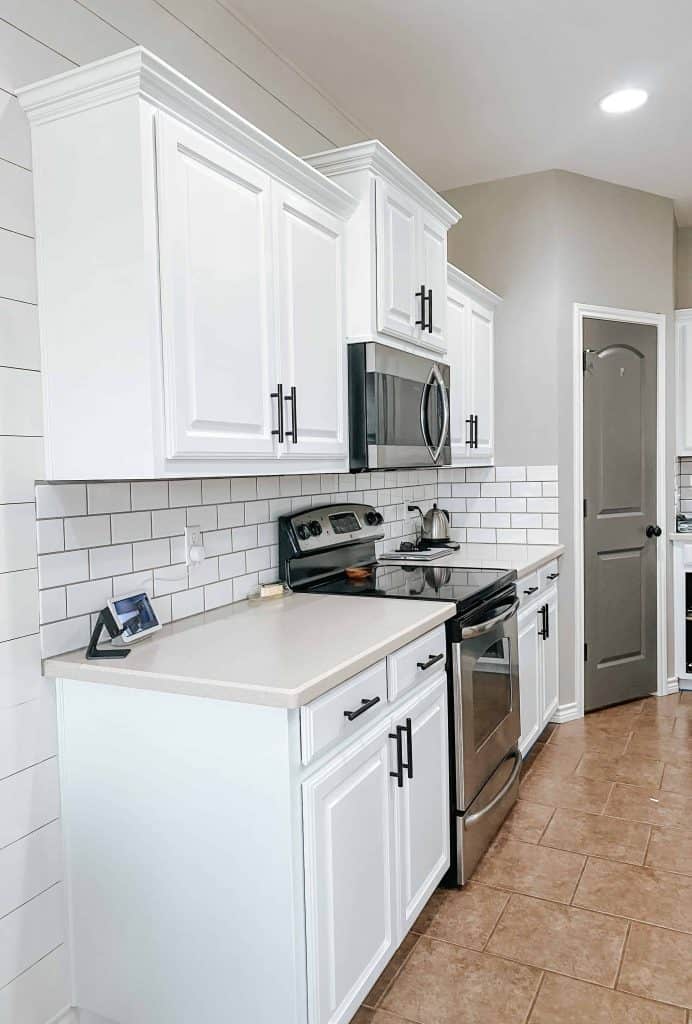 They say updating your kitchens and bathrooms will bring you the biggest return in your investment.
Bathroom Vanities
Which leads us to painting your bathroom vanity. To update your bathroom, most of the time you can skip the remodeling part of ripping out the vanity. Slap some paint on that bad boy and add some new hardware! Most of the time new vanities cost big bucks and require messing with plumbing. To avoid that use leftover paint from your kitchen makeover or buy Nuvo Cabinet Paint from Amazon like we did. The kit comes with everything you need and is great quality.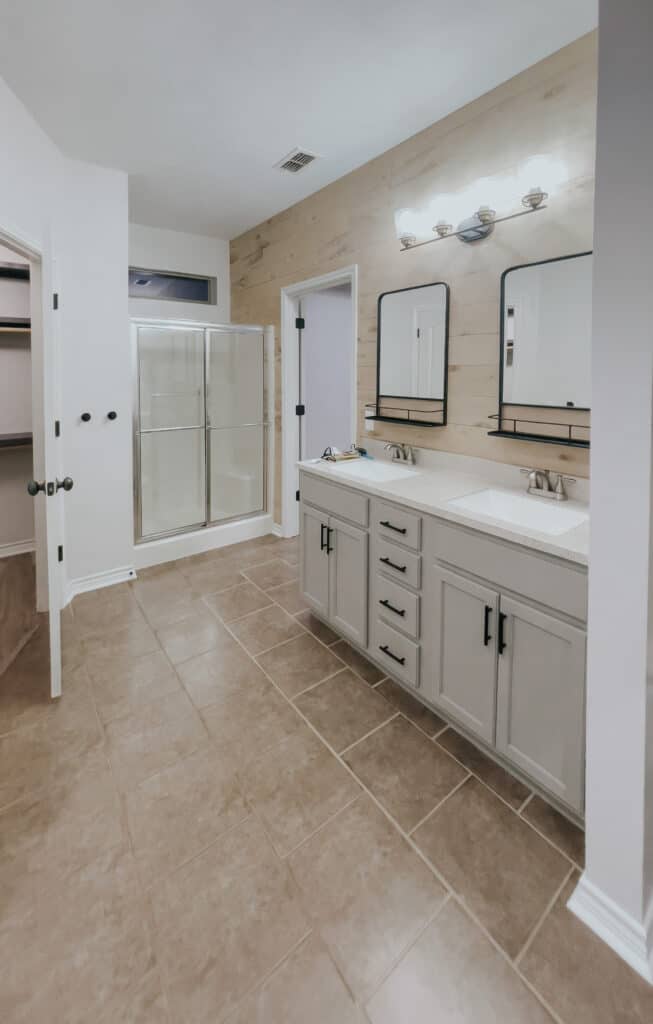 Fireplaces
Yes, you read that right! In our Texas fixer upper we had a plain builder grade fireplace. Like everything else in the home it was off white and the stone was shades of light brown. First thing we did was add shiplap all the way up to the ceiling and paint everything Alabaster by Sherwin Williams. The next year I used Rustoleum Charcoal Chalked Ultra Matte Paint to paint the fireplace stone! A $30 can of paint transformed that stone in a matter of a few hours! I share the process HERE!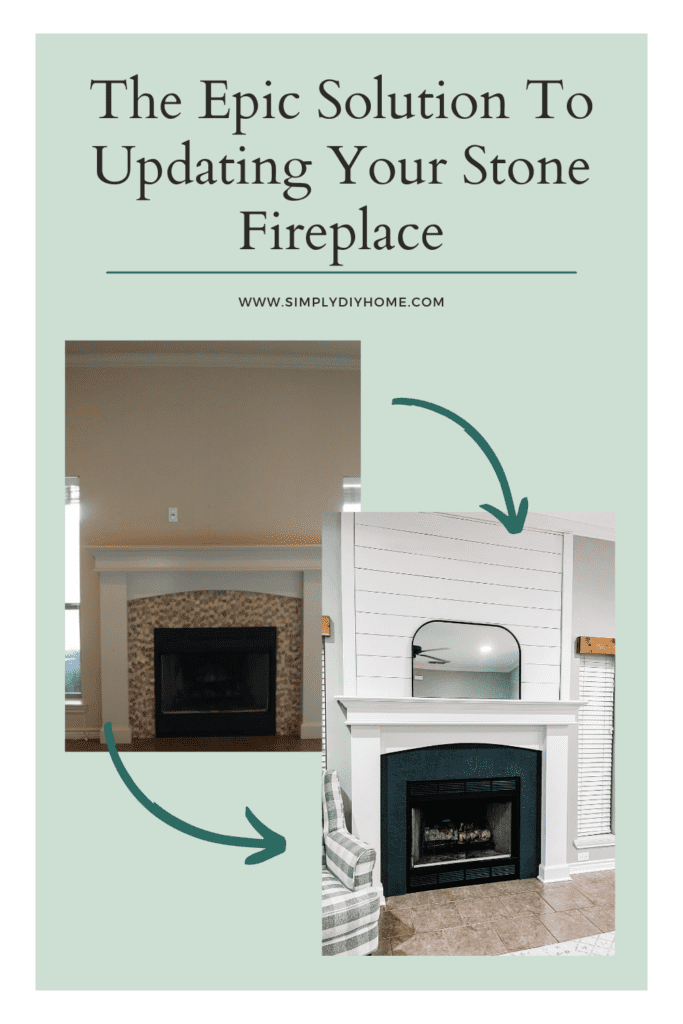 Replacing Flooring
Replacing floors is one of the most expensive updates but there are ways to cut the cost down. If you are handy enough I would suggest doing the floors on your own. Every house we have lived in we have updated the floors in at least one part of the house.
Installing floors yourself will significantly cut your cost in half if not more than that. In all 3 houses we chose to take up the old LVP (luxury vinyl planks) and replace with a better quality LVP. The ones we have used are the Pergo Outlast Java Scraped Oak & we used TrafficMaster Khaki Oak from Home Depot in our closet makeover. Our current house we chose to go with Pergo Timbercraft Wheaton Oak from Lowes.
Another type of flooring you have to consider is the carpet. Typical lifespan of carpet is 10-15 years depending on the living conditions and quality. As I mentioned above our Texas home was a rental before we acquired it. The first thing we did was replace all the carpets. Style wise they were fine but they smelt of urine! After pulling them up we found out the carpet was only a year old and completely ruined.
If you're in a older home you might find hardwood under your caperts. In that case you are one lucky duck. If they are in great condition you won't have much work to do. On the other hand if they are not then you have to look into getting them refinished. Not completely a bad thing but just one more step to getting your flooring updated.
Changing or Adding Hardware
Hardware can make or break a space. Depending on the color of your cabinets, walls and style you want to make sure your finish of hardware complements everything else. Amazon is my go-to place for all hardware! In my opinion all the hardware stores that sell hardware are a little on the pricier side. Most of the time you can get the same thing on Amazon for cheaper.
Kitchen & Bathroom Cabinet Hardware
Kitchen and bathroom cabinet hardware is probably the easiest one to start with. If your existing cabinets don't already have hardware you can use a cabinet hardware template to get the job done. With little to no hassle you can drill holes and add hardware to your cabinets for as little as $8.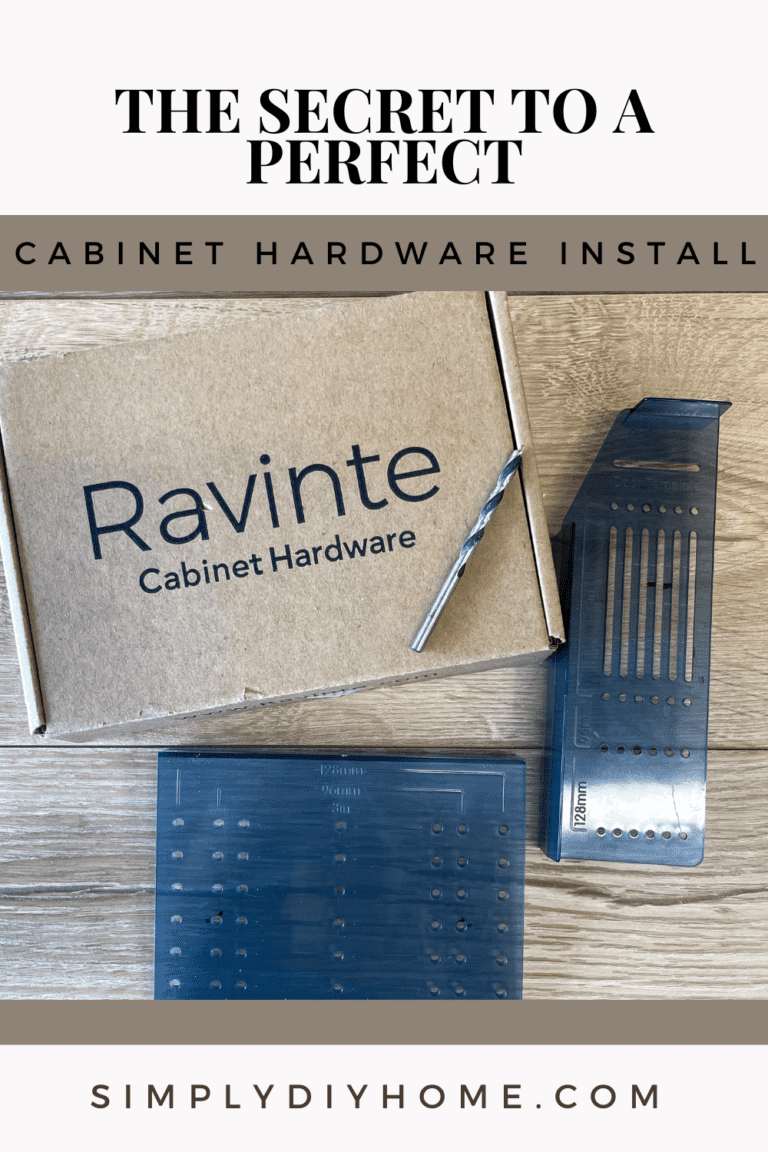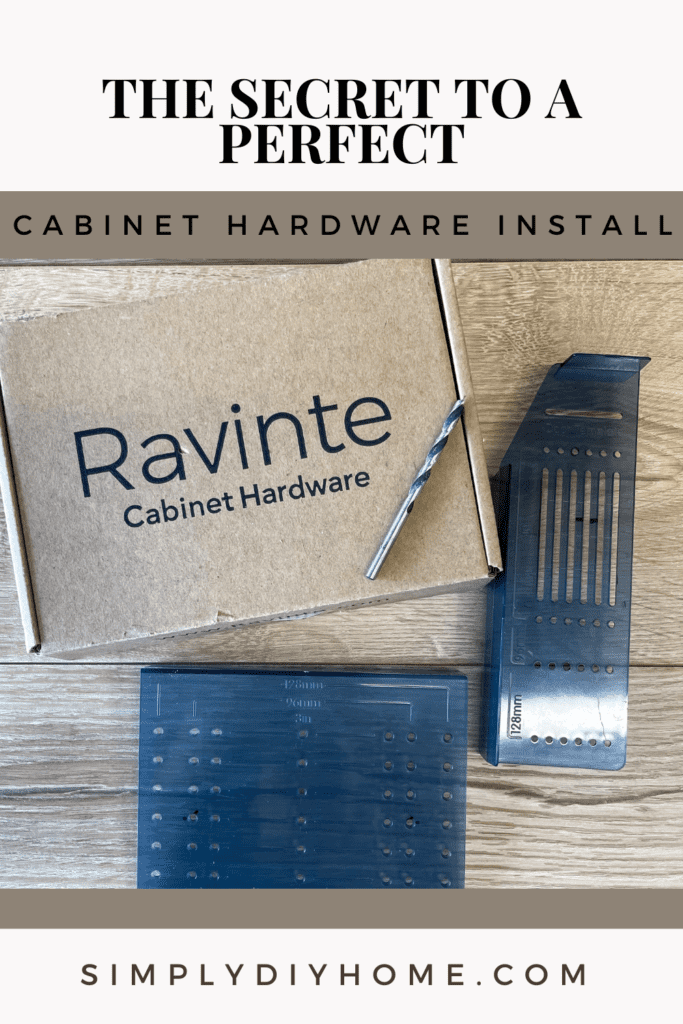 Doorknobs
Updating the doorknobs is another great update that will make a big difference. Spray painting your existing knobs is one way you can update them. We chose to buy new knobs for each door as we came to that room to update it. That way it wasn't to much money up front and we did it over a 3 year period.
Adding Accent Walls
Adding accent walls is my number one recommended tip. An accent wall can change the whole room and make it feel taller, bigger and more high end. The options for an accent wall are endless. Updating your home a lot of the time just means adding character and turning that home into a place that reflects you. A wall that stands out with a bold color really is the best way to achieve that.
Board and batten, vertical shiplap, traditional shiplap and beadboard are just a few ways you can add an accent wall. Check out my youtube video on adding vertical shiplap to our living room in our Ohio home to see how easily it elevated our living room. Another beginner accent wall would be adding beadboard-read the tutorial HERE.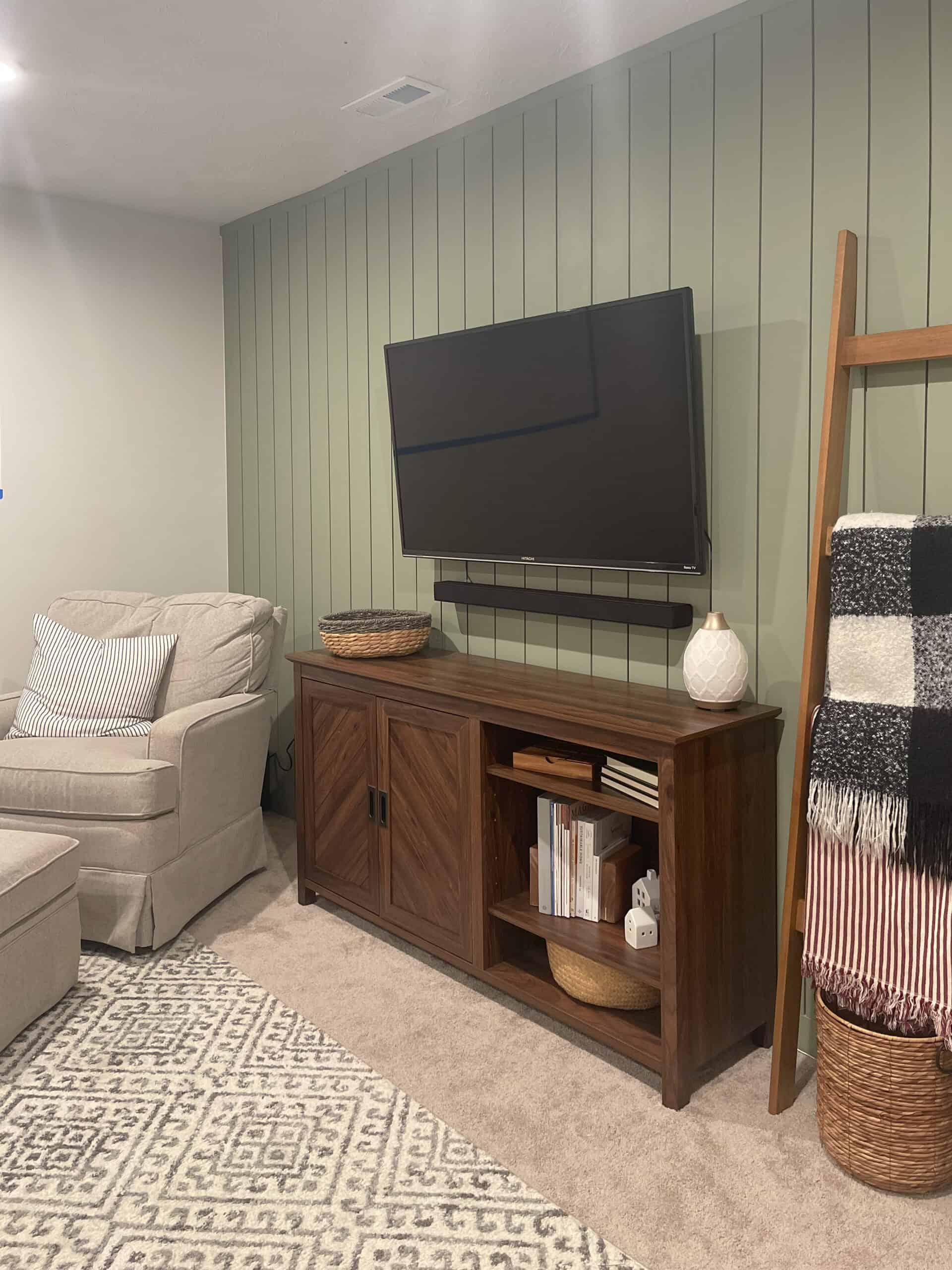 Replacing Outlets & Thermostat
Something that most people don't think of is replacing your outlets, light switches and thermostat. In our Texas home we had all yellow colored outlets and light switches. At the time we just replaced them because my husband knows a thing or two about electrical. If you do not I don't think it's too expensive to have an electrician come and swap them out. Another choice that they have that I wasn't aware of in the past is these outlet covers that cover the old outlets and are paintable!
As for thermostats it's not necessary to swap out the old with the new. but I highly recommend the Nest thermostat. Not only is it accessible from my phone, it is convenient and looks so much better than the large panels that are typical with older homes.
Replace Light Fixtures
Updating your light fixtures to flush mounted LED lighting or even adding a new chandelier in the entryway can really update the space. Shop on Amazon or look at your local hardware store and see if you like anything and sometimes when they discontinue a light fixture you can negotiate the price for the floor model. We actually did this in our Texas home and got our dining room light 50% off.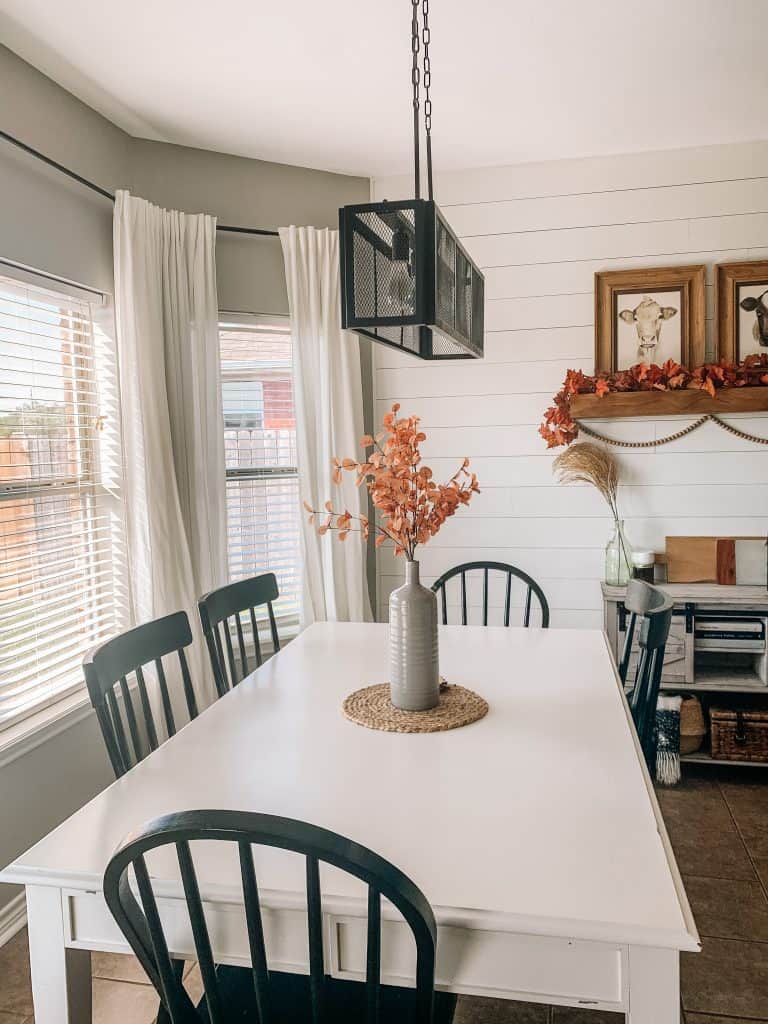 Down below I have linked a few of my favorite updated light fixtures. From outdoor lighting to flush mount options there is something for everybody. Just click on the picture to see color options.
[show_shopthepost_widget id="4853470″]
Change Out Light Bulbs
One big update that can be done without breaking the bank or needing an electrician would be changing your lightbulbs to a natural daylight bulb. Nothing says outdated like some good yellow fluorescent lighting! Down below I have linked the bulbs we use in our home for the main lighting. For lamps I typically use 2000k or 3000k for mood lighting.
Make Everything Cohesive
Making your home cohesive will give it a more high end look. Having a whole house color scheme to base all your decisions on will make life easier. Pick neutral colors for the main walls and add in color and texture with accent walls. Defining spaces with rugs will help bring the rooms together. Think of your house as a whole and not as individual rooms. I shared our whole house color scheme for our Texas home HERE if you need an example.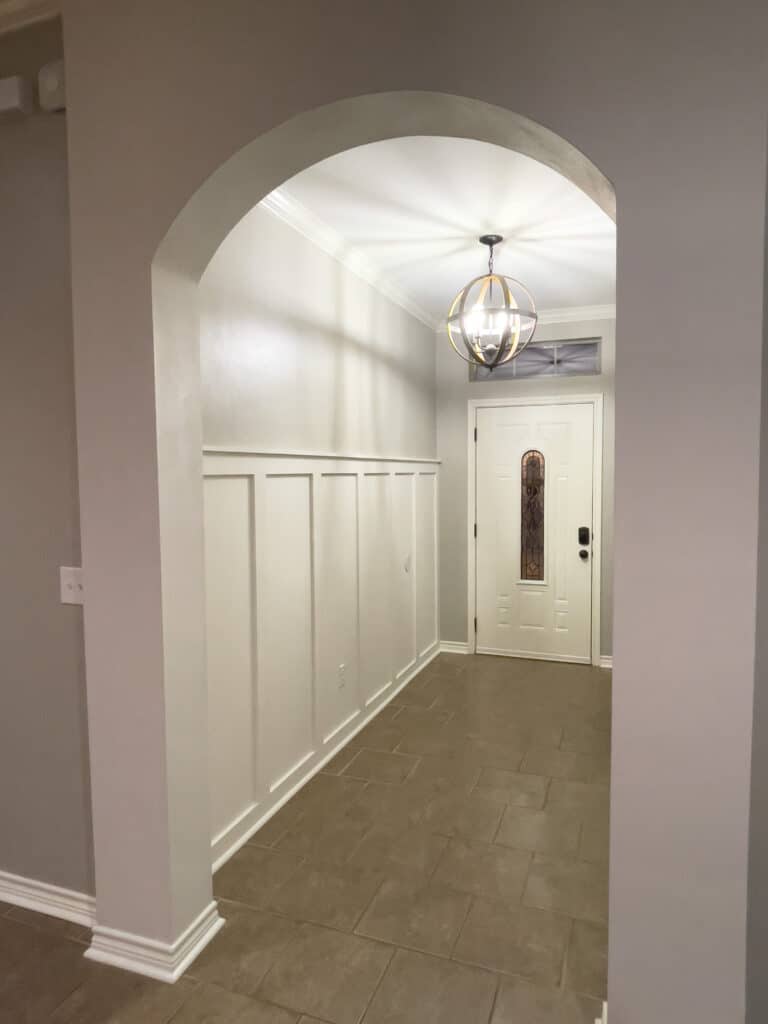 Now that you have 13 easy ways to update your home without tearing walls down, it's time to get to work. I hope you enjoy this process of taking your new/old house and turning it into a home that you and your family will enjoy.
Need more inspiration and design tips?!