If you're not sure what paint finish to choose then you clicked on the right site! Today we will be learning the pros and cons of different types of Paint Finish or sheen as others call it.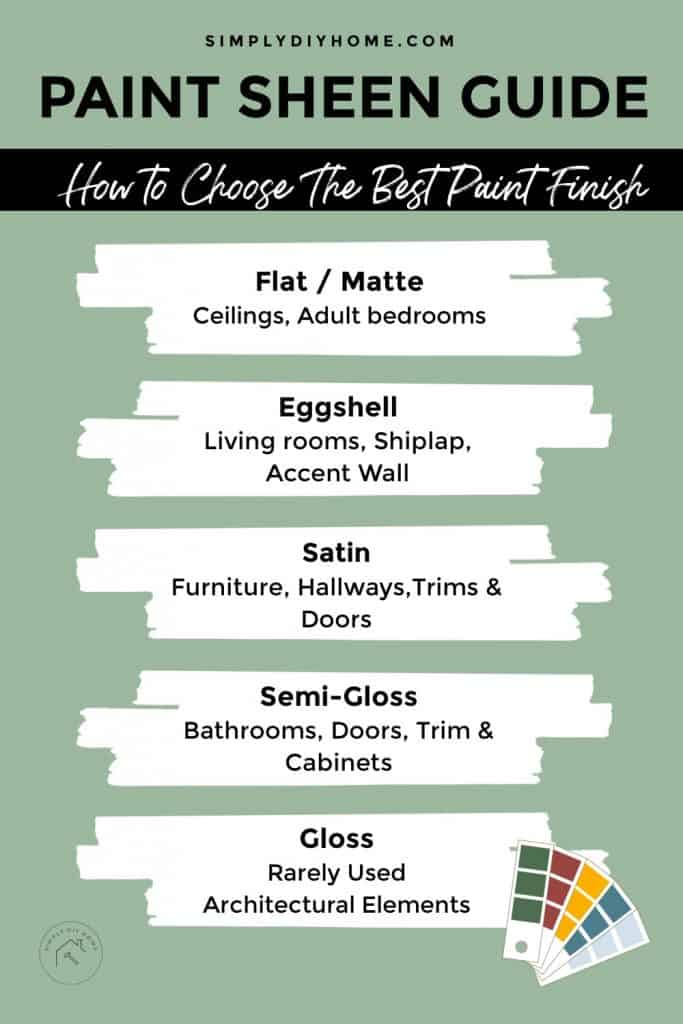 Types of Paint Finishes
Choosing the right paint finish is just as important as choosing the right color. Different sheens can determine the final outcome and vibe of a room. By not doing your research you could be left with a more outdated look by simply painting your walls, doors and trim the wrong paint finish!
First, let's talk about what exactly I mean by paint finish. Paint finish or sheen is the amount of light the paint reflects off it's surface. Different paint finishes determine a color's appearance when viewed from different angles.
Lower sheen or gloss is harder to clean, has lower durability, but hides wall imperfections like nail holes or patched drywall. Higher sheen or gloss is easier to clean, and has high durability but shows all imperfections.
The Ultimate Guide-Interior Paint Finish Types
Listed below are all the different types of paint finishes starting from lowest to highest sheen, and how best to use them in your home.
Matte or Flat Paint Finish
Low sheen: Non-reflective, hides imperfections, smooth appearance
Best used in low-traffic areas, ceilings, and adult bedrooms
Can't be wiped down with a wet sponge, paint will come off with any type of cleaner
Matte or Flat finishes are typically used for ceiling paint. Some high end brands have better quality paint where you can buy a matte finish and it acts more like an eggshell finish. This paint finish has more pigmentation than any other finish. It's completely non-reflective, meaning the light absorbs right into it.
A flat or matte finish will be your cheapest quality of paint with a powder like finish.
Rich look, low gloss
Best for living rooms, dining rooms, accent walls & shiplap
More washable than matte or flat finishes
One of the most popular finish choices
Eggshell is called eggshell finish because it's appearance most represents the look of an eggshell! It's a low luster finish with a subtle sheen to it. Most people are slowly picking this over satin nowadays. I tend to paint all our accent walls eggshell. I love the look of it and surprising with two young kids I haven't had a problem wiping it down.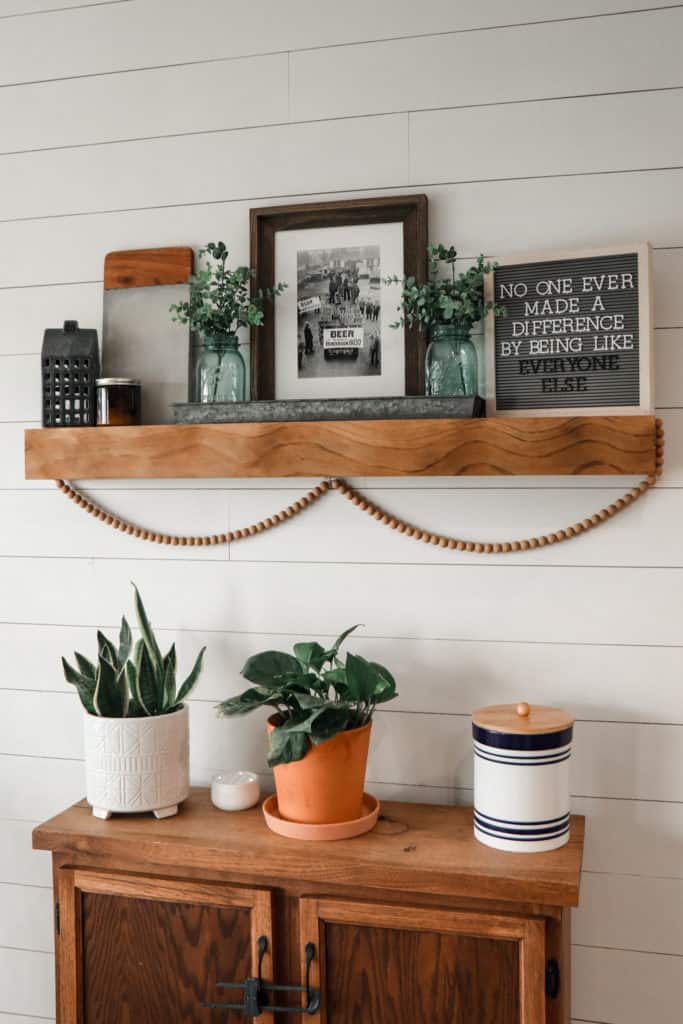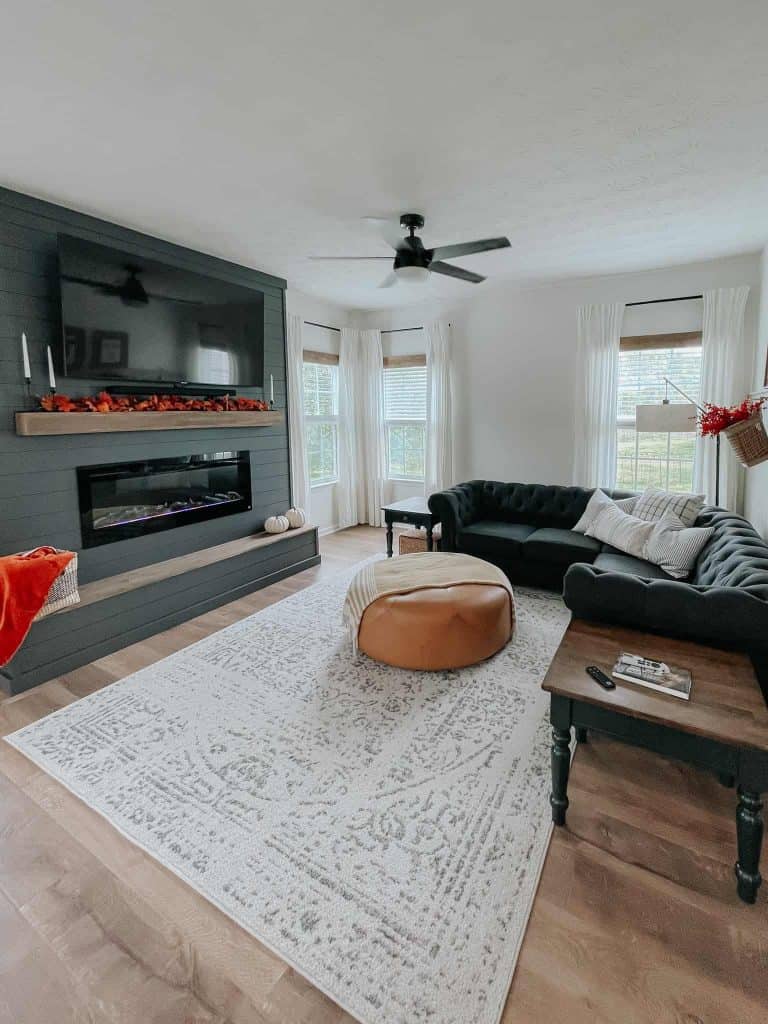 [AFFILIATE LINKS ARE PROVIDED BELOW FOR CONVENIENCE. FOR MORE INFORMATION SEE MY DISCLOSURE HERE.]
Satin Paint Finishes
Great for painting furniture, cabinets, trim work and doors
Resists mildew, good for indoor and outdoor use
Most versatile best paint for inside the home on walls & high-traffic rooms
A satin sheen is in my opinion the best in-between all around go to paint finish. I feel like you can't go wrong. If you want something that is durable, and can withstand scuffs and dirty hand prints go with satin finish paint. When redoing our kitchen cabinets in Texas I chose to go with a satin enamel and I couldn't have been happier.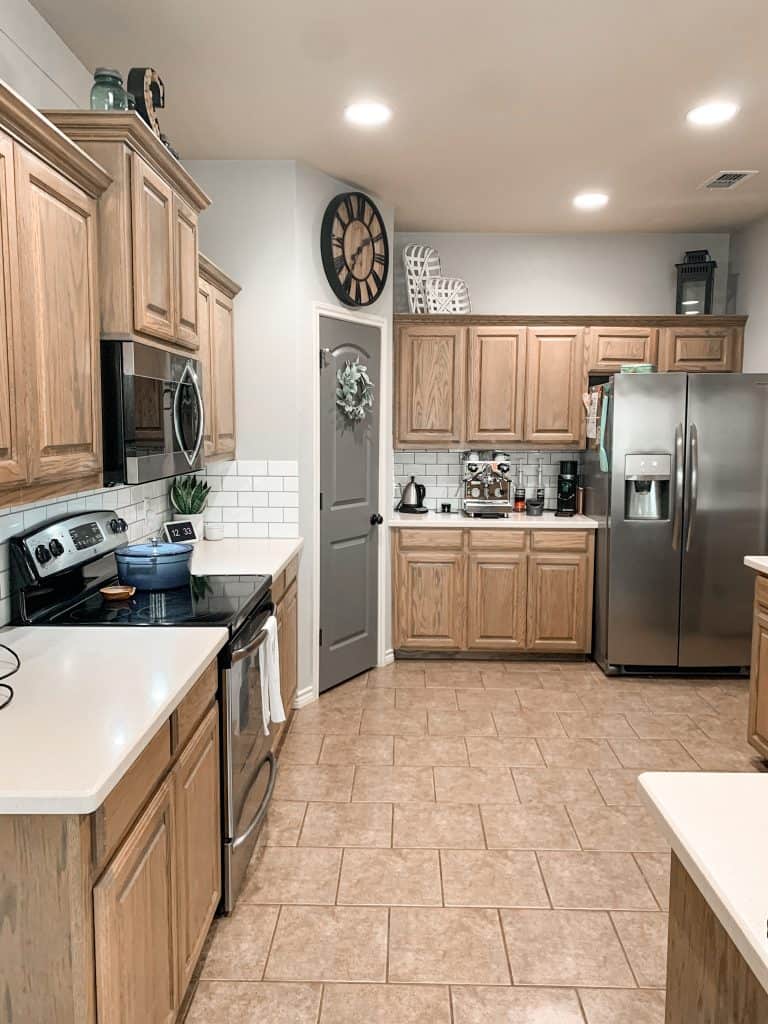 Semi-Gloss Paint Finish
Best used on doors, trim and cabinets
Resistant to stains, moisture, and mildew
Shows imperfections easily
Easy to clean
Semi-gloss paint provides a subtle shine that reflects light, creating a slightly more vibrant appearance compared to flat finishes. It's definitely a glossy paint but surface preparation is key to achieving the best results with a semi-gloss paint, as it can accentuate imperfections if applied to poorly prepared surfaces.
The only thing I have used semi-gloss finish for is wall trim and doors. A lot of people will use it on kitchen cabinets or certain furniture builds. Semi-gloss does offer high resistance to moisture, so using it in a place with a lot of steam like on bathroom walls would be another good choice. 
High Gloss Paint Finish
Highest level of reflection
Easy to wipe off, holds up best to being touched frequently
Best in high-traffic areas
Stain resistant
Best used on doors, trim, and architectural details
High-Gloss paints have a mirror like finish and requires careful application. As you will be able to see any imperfection, blemish or dirt on the surface you are painting. Proper preparation, such as thorough sanding and priming, is essential to achieve the desired result. 
How to Choose the Right Paint Finish For Your Home Project
Things to consider while choosing your finish ultimately comes down to a few other factors.
Most people don't even consider that lighting in your home can affect your color on your walls. Incandescent lighting casts a yellow tint onto the room making it come off warmer. While LED light bulbs give off a blue light making the room have a cooler vibe.
Your goal is to find a light bulb that has the whitest light (daylight). So your color and sheen appear as close as possible as it would in natural daylight. I prefer a lightbulb at 4000k for my overhead lighting. When it comes to lamps though I tend to lean towards 2700K for a more inviting cozy feel.
Related: If you're looking for a cheap fun way to incorporate mood lighting in your home check out this post DIY WIRELESS WALL SCONCE.
The Easiest Way to See Paint Colors on Your Walls
Picking out a paint finish & color doesn't need to be overwhelming. If you're unsure, make sure to take home some samples and try them out in all parts of your room so you can see it from all angles. You will never truly know how it will work until you see it in your space.
No two homes are the same! Paint colors almost always end up looking differently than you expected them to. If you're looking to save some money and want the convenience of not painting a bunch of random colors on your walls try out Samplize!
Samplize offers convenient peel-and-stick paint samples that are reusable and repositionable. They are these 12 inch by 12 inch vinyl squares that have genuine manufactured paint on them to give the samples the exact look of the colors you choose.
They offer paint from some of the most popular paint brands like Benjamin Moore, Sherwin Williams and PPG. With thousands of paint colors to choose from, once you narrow it down you can order right from your couch!
I recommend ordering from their online store. At the time of writing this post I know if you are a new customer with them they are offering $5 off your first purchase. Their 12×12 peel-and-stick squares only costing $5.95 that's like finding money!
Hope this helped you understand paint finishes a little better! I know I wish I had read something like this before I begin our renovations in our Texas home 5 years ago. There were a couple places in that home I can think of that I wish I would have chosen a different finish.
But hey, we live and we learn! That's why I made this guide in hopes to help at least one other person not become so overwhelmed and confused when decided on finishes! If you're still not sure and need a visual on what the different paint finishes look like, check out these awesome examples from Behr Paint's website HERE!
If this was helpful save it to your Pinterest or share it with a friend. You can sign up for my newsletter down below for more exclusive tips, tricks and freebies that I only share with my VIP list!