Types of Paint Finishes
If you're not sure what paint finish to choose then you clicked on the right site! Today we will be learning the pros and cons of different types of Paint Finish or sheen as others call it.
Choosing the right paint finish is just as important as choosing the right color. A finish determines the final outcome and vibe of your room.
By not doing your research you could be left with a more outdated look by simply painting your walls, doors and trim the wrong paint sheen!
First, let's talk about what exactly I mean by Paint Finish. Paint finish or sheen is the amount of light the paint reflects off its surface. Different paint finishes determine a color's appearance when viewed from different angles.
Lower sheen (gloss) is harder to clean, has lower durability, but hides wall imperfections like nail holes or patched drywall.
Higher sheen (gloss) is easier to clean, has high durability, but shows all imperfections.
Choosing the right paint finish is just as important as choosing the right color. A finish determines the final outcome and vibe of your room.
The Ultimate Guide-Paint Finish Types
Listed below are all the different paint finishes starting from lowest to highest sheen, and how best to use them in your home.
Matte or Flat Paint Finish
Non-reflective, hides imperfections, smooth apperance
Best used in low traffic areas, ceilings, and adult bedrooms
Can be wiped down with a wet sponge, paint will come off with any type of cleaner
Eggshell Paint Finish
Rich look, low sheen (gloss)
Best for living rooms, dinning rooms, hallways & shiplap
More washable than matte or flat finishes
One of the most popular finish choices
Note: This is the finish I use on all my wood accent walls. My shiplap and board and batten walls are in this sheen due to it being slightly more durable than a matte finish. But nice enough to hide any imperfections and cover the wood grain.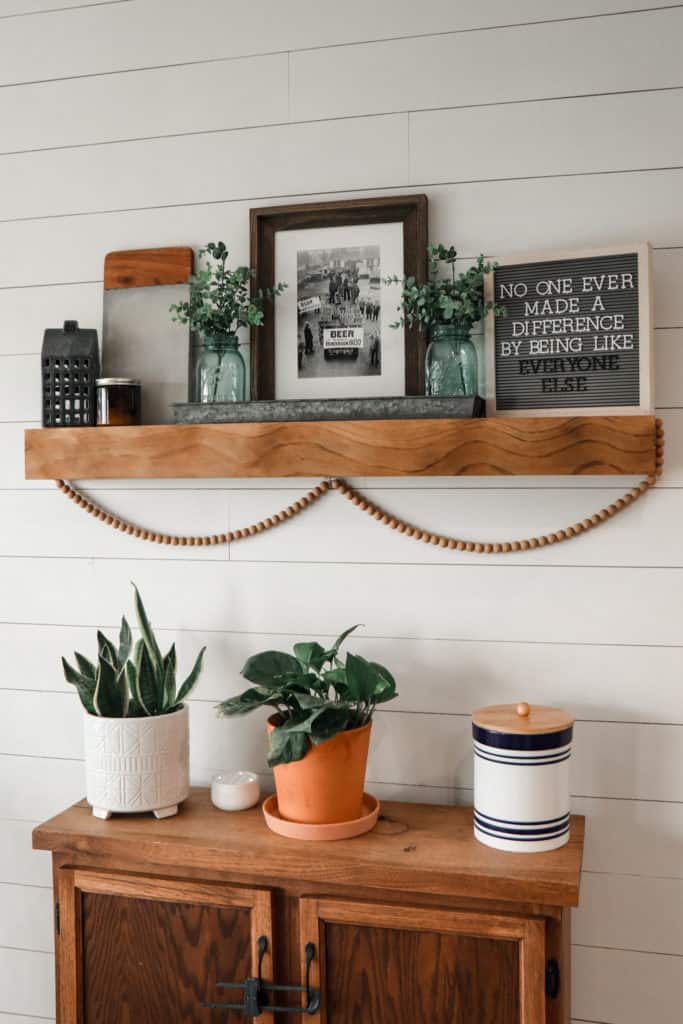 Satin Paint Finish
Great for painting furniture, cabinets, trim and doors
Resists mildew, good for indoor and outdoor use
Most versatile best paint for inside the home on walls & high traffic areas
Semi-Gloss Paint Finish
Best used in kitchens, on doors, trim and cabinets
Stain resistant, easy to clean
Shows imperfections easily
High-Gloss Paint Finish
Highest level of reflection
Easy to wipe off, holds up best to being touched frequently
Stain resistant
Best used on doors, trim, and architectural elements
Note: High-Gloss paint finish may be great for keeping clean and for durability. The con of high-gloss finish is that it will show all imperfections & leave your room looking outdated.
Things to consider while choosing your paint finish
Things to consider while choosing your finish ultimately comes down to a few other factors.
Most people don't even consider that lighting in your home can effect your color on your walls. Incandescent lighting casts a yellow tint onto the room making it come off warmer. While LED light bulbs give off a blue light making the room have a cooler vibe.
Your goal is to find a light bulb that has the whitest light (daylight). So your color and sheen appear as close as possible as it would in natural daylight.
Related: If you're looking for a cheap fun way to incorporate mood lighting in your home check out this post DIY WIRELESS WALL SCONCE.
Picking out a paint finish & color doesn't need to be overwhelming. If you're unsure, make sure to take home some samples and try them out in all parts of your room so you can see it from all angles.
You will never truly know how it will work until you see it in your space.
If you're still not sure and need a visual on what the different paint finishes look like, check out these awesome examples from Behr Paint's website HERE!
Hope this helped you understand paint finishes a little better! I know I wish I had read something like this before I started our renovation 2 years ago. There is a couple places in our home I can think of that I wish I would have chosen a different finish.
But hey, we live and we learn! That's why I made this guide in hopes to help at least one other person not become so overwhelmed and confused when decided on finishes!
If this was helpful I would love it if you would share it with friends & family. Comment down below if I missed any important tips you might have on finishes. Or head over to my instagram HERE and direct message me.
For DIY content & cleaning motivation check out LIFE MADE SIMPLE on Youtube!