Are you on the search for paint colors that will give you that desired modern farmhouse look? Today I'm sharing one of my most asked topics. What is the most popular farmhouse paint colors and which ones did you use in your Texas home?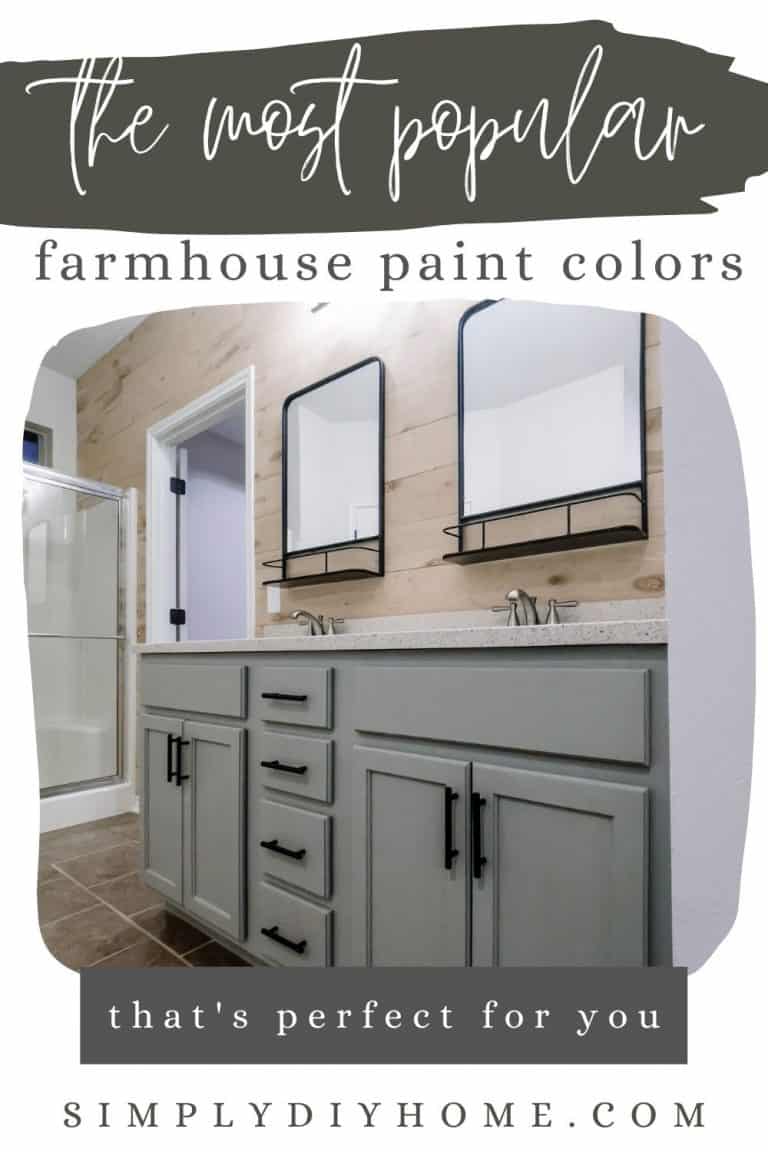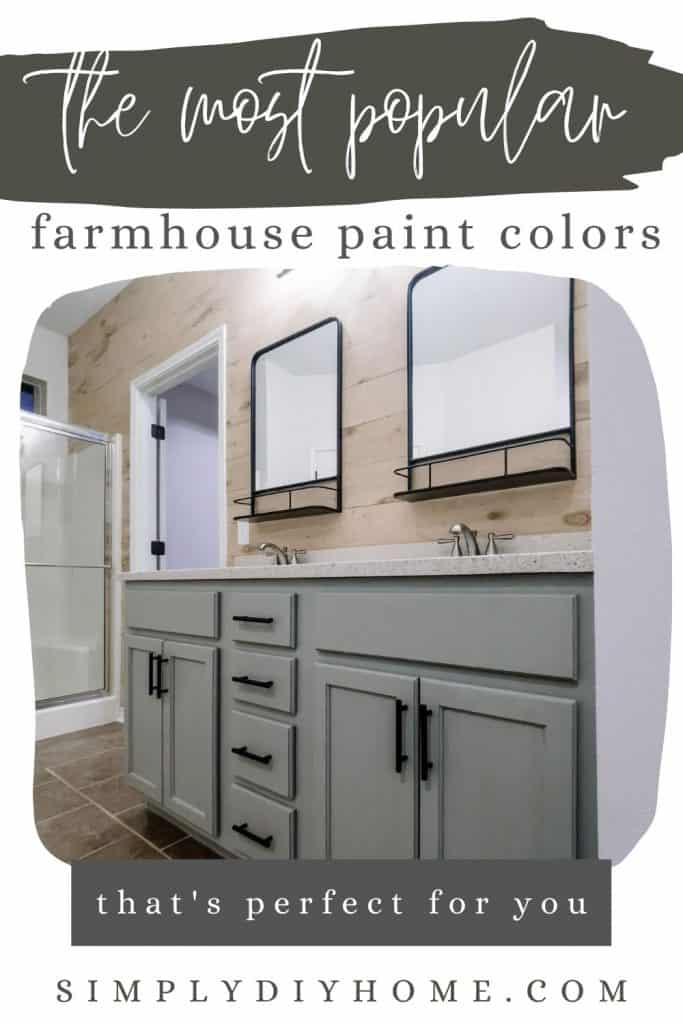 What Colors are used in Modern Farmhouse?
Farmhouse paint colors are still in high demand in many interior designs. They are neutral, calm and go with so many styles and decor. In my opinion they are timeless and classic and when done tastefully will never go "out of style".
When wanting to achieve that modern farmhouse/farmhouse style your backdrop color scheme needs to be neutral, off-white, white, gray or greige paint color. You can mix in pops of color, wood tones, textures (shiplap), and galvanize elements to get that down to earth farmhouse style.
Modern farmhouse typically has the same guidelines and rules when it comes to picking your backdrop color. But what I've noticed is modern farmhouse plays off of more white paint colors like Simply white, Snowbound or Ultra Pure White. In our Ohio home (Current home) I have personally chose to lean more towards the modern farmhouse style and went with the color Snowbound by Sherwin Williams.
[AFFILIATE LINKS ARE PROVIDED BELOW FOR CONVENIENCE. FOR MORE INFORMATION SEE MY DISCLOSURE HERE.]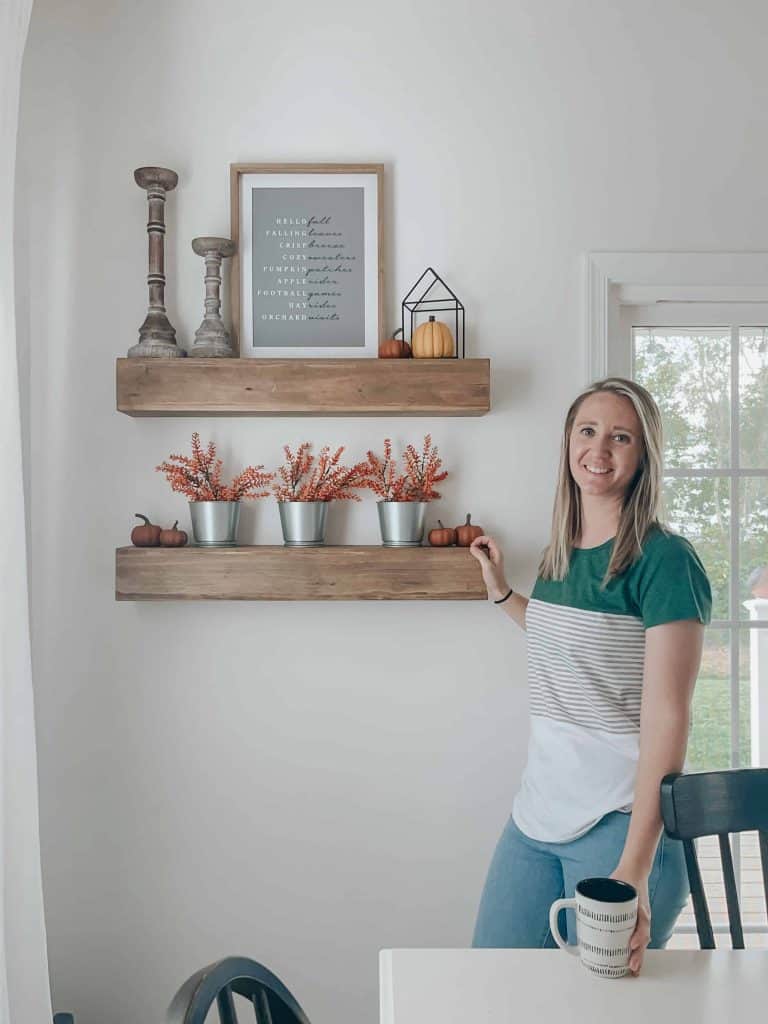 RELATED- 6 Tips To Start Loving Your Home Right Now
Most Used Farmhouse Paint Colors
White/Cream-What is the best farmhouse white?
Hands down, no questions asked the most popular farmhouse white color is Alabaster by Sherwin Williams! This was my most used color in our previous Texas home! All the trim, shiplap, doors, board and batten, and a few walls were Alabaster!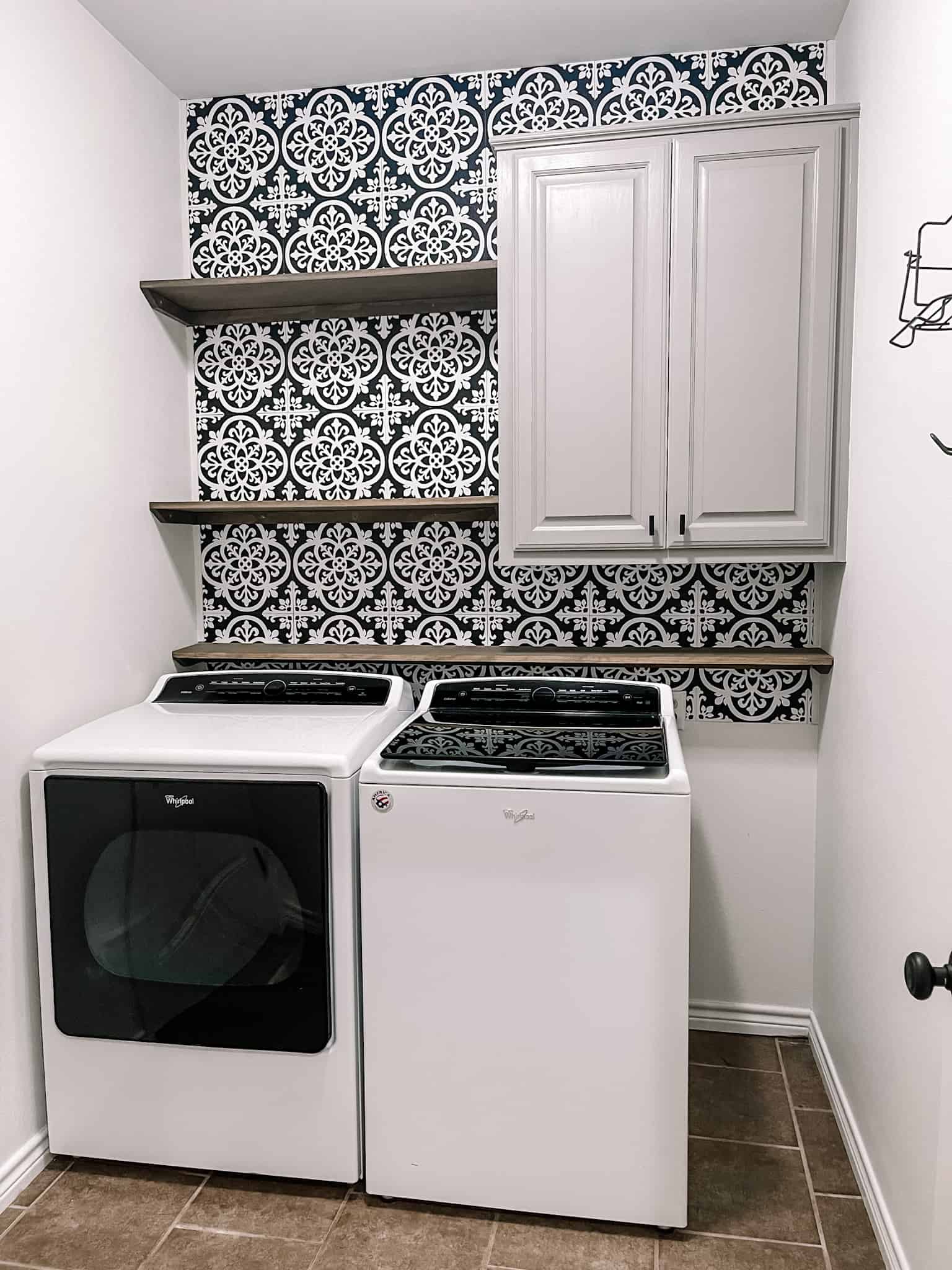 Alabaster is the definition of farmhouse white! It's a clean white but not stark white. It comes off as just the right amount of creamy but looks very fresh. It's popularity started to gain more traction when Joanna Gaines started to use it on her infamous shiplap walls on the popular tv show Fixer Upper.
The popular color works well on interior walls, trim, doors and even exterior walls making it possibly one of the best farmhouse white options. Still to this day it continues to stay one of my favorite whites even though i chose a new white color for our current home. I was so close to choosing Alabaster once again but had the mindset of "I've done that already, let's do something new!"
Some other popular farmhouse warm whites would be White Dove by Benjamin Moore, Greek Villa by Sherwin Williams, Swiss Coffee by Benjamin Moore or Incredible White by Sherwin Williams. Incredible White is another really nice white that I have fallen in love with. We painted our Master bedroom, bathroom, closet and all our arches in the main living area Incredible White.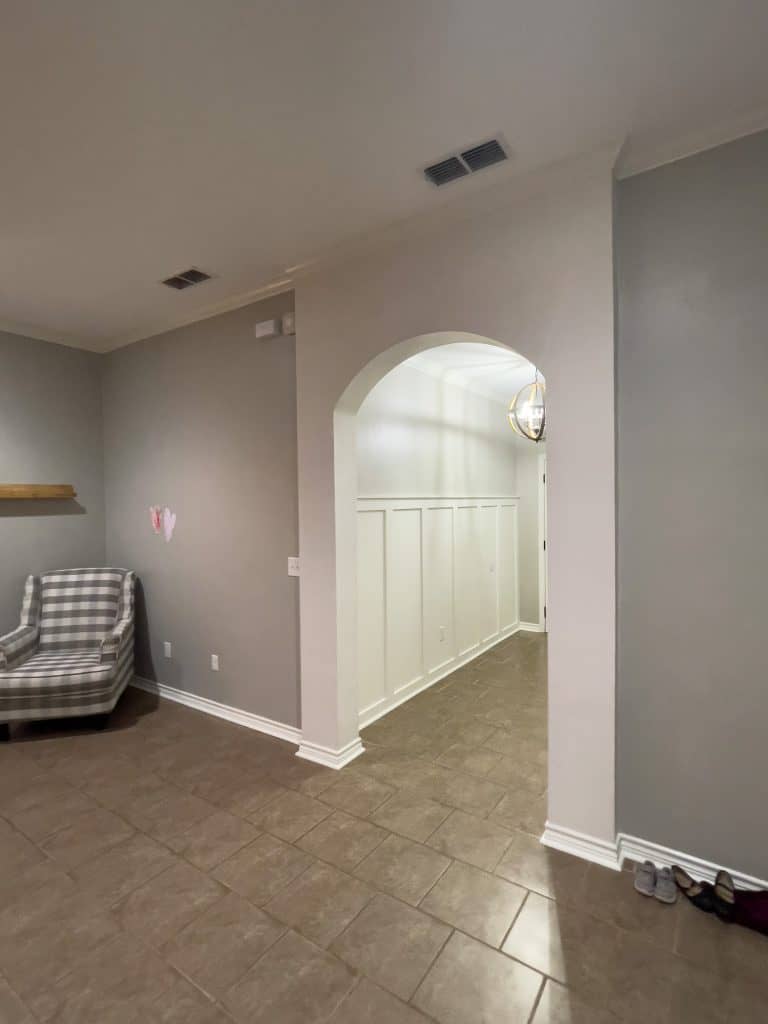 Grey
Next up is gray! There were so many grays that I used in our Texas house. Some of them being Repose Gray, Peppercorn (my favorite), Gauntlet Gray, and Requisite Gray. Not to forget that I used Rustoleum Chalked Paint in Aged Gray on our spare bathroom vanity & Nuvo Cabinet Paint in Hearthstone on our master bathroom vanity.
Mindful Gray was the main gray color in our home. I painted all the living spaces like living room, kitchen and hallway this color. Mindful Gray is more of a neutral gray with warmer undertones. In my eyes it doesn't pull to much blue or purple which I didn't want.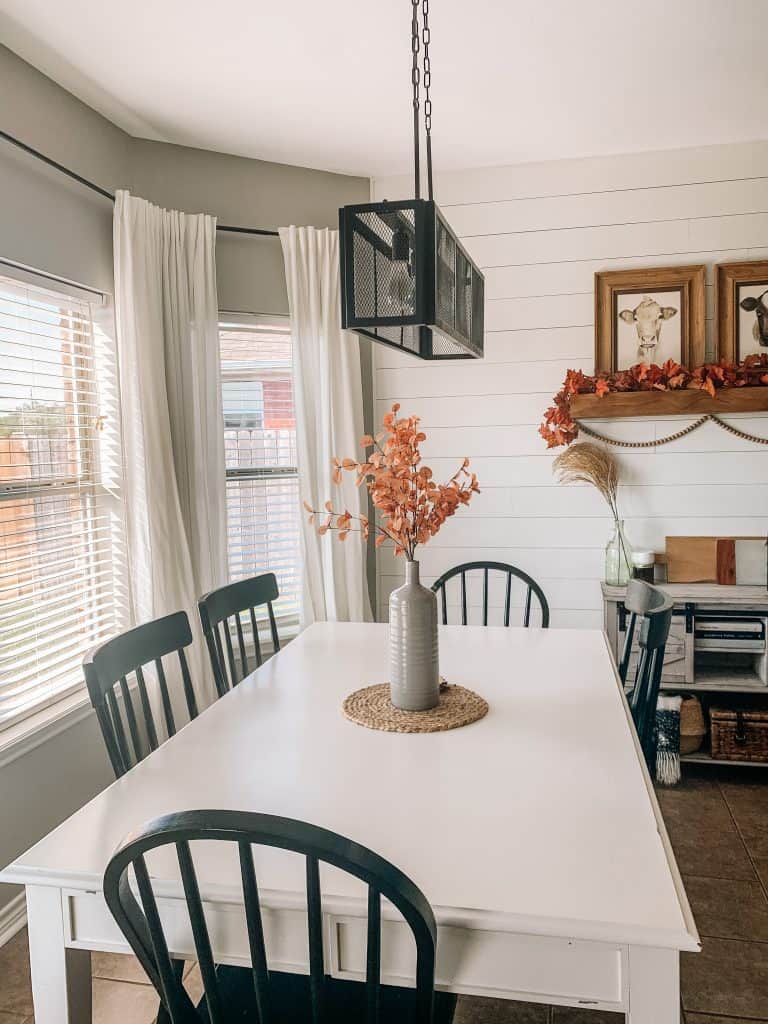 Peppercorn is probably my favorite dark gray. It comes off dark grey in some lighting and then other times it will have a black or blue undertone. But that's what I love about peppercorn! Our master bedroom accent wall and closet shelves were this color.
I have continued to use this color in our Ohio home with our main living room DIY electric fireplace we build at the end of summer.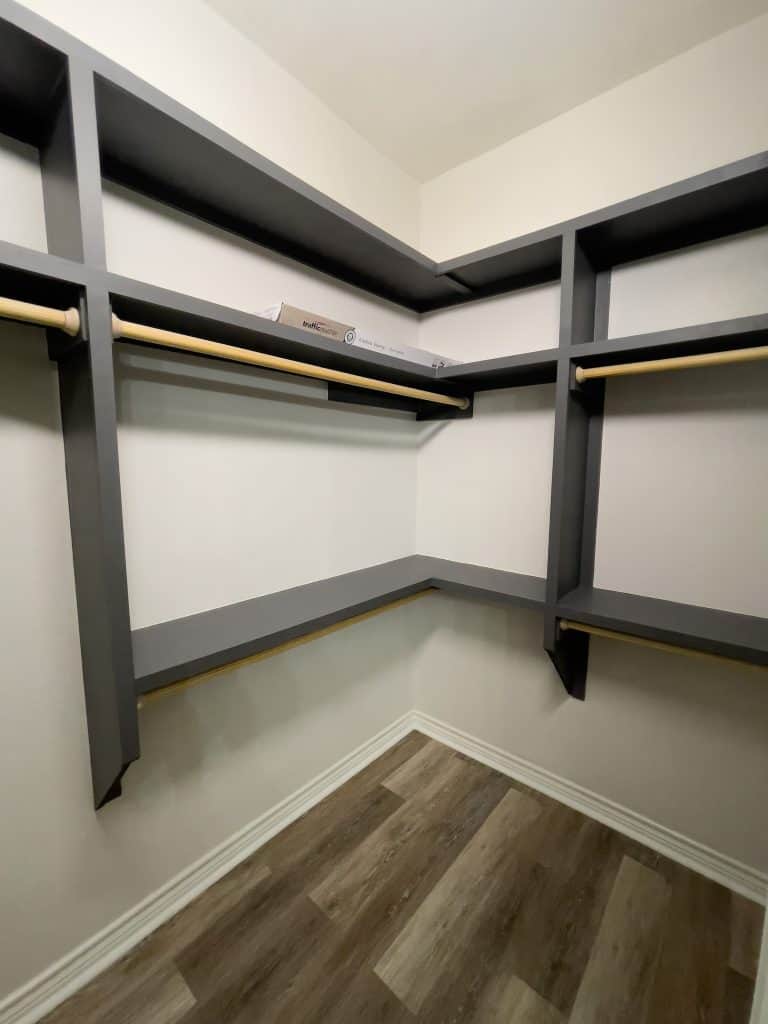 We had a few doors in our home that I wanted to stand out so I chose to paint them Gauntlet Gray by Sherwin Williams. This medium gray was perfect for making a space that more interesting. It was easy to clean and looked good! These paint rollers are my go to when painting doors & cabinets!
To go with the gray doors I really wanted our master bathroom vanity to be gray so after some researching I found a cabinet paint kit on Amazon called Nuvo. They had a few colors to choose from so I ended up picking their warm greige color Hearthstone.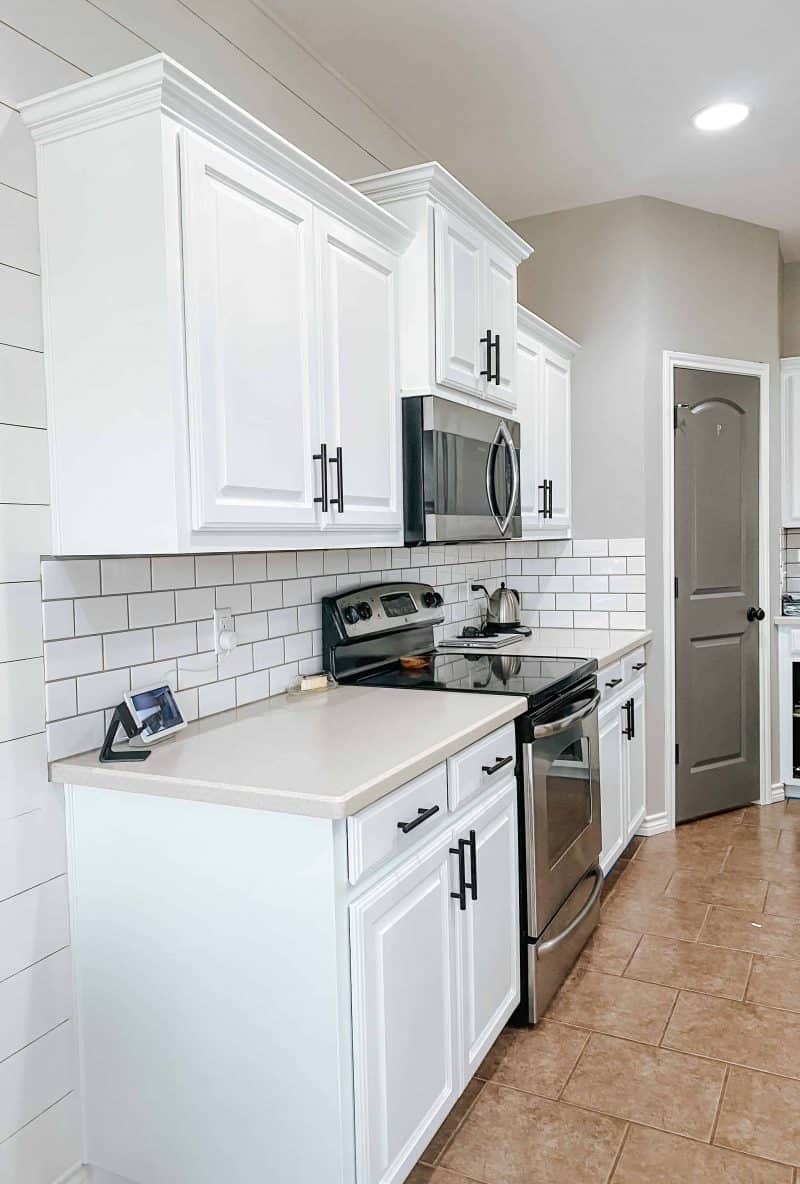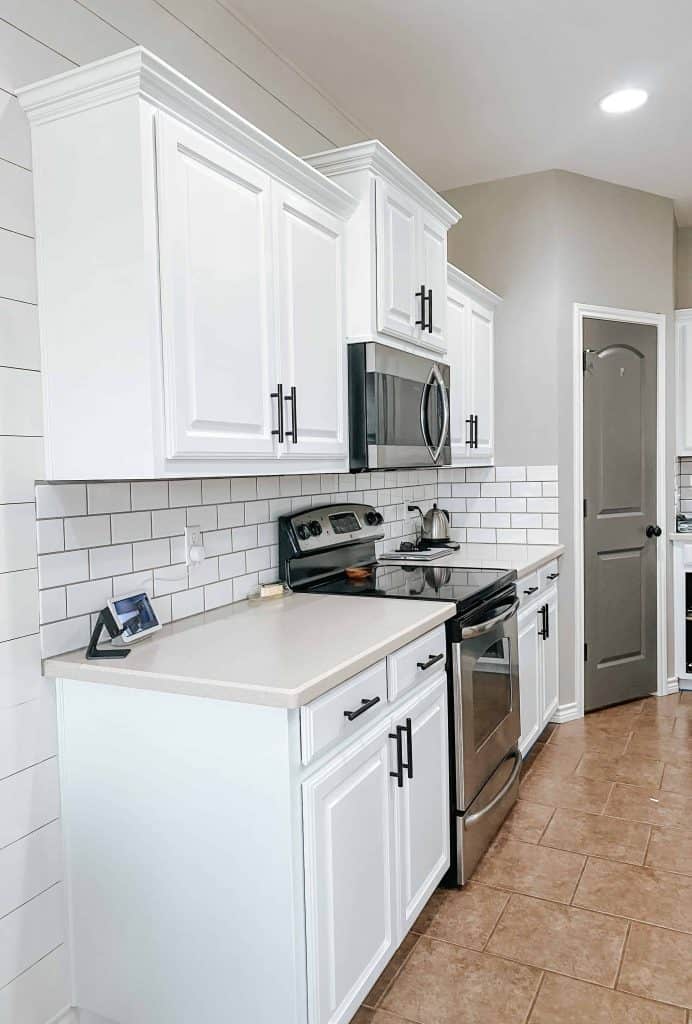 Blue/Green
Adding a muted blue or green accent wall to a room is so fun. In Texas we had our spare bedroom that I decided to run with and do something different. When it comes to greens there are so many choices. I'm not going to act like I'm a pro at picking green colors but I literally just picked one and had the paint guy mix it before I changed my mind!
Village Green by Behr Paint was my winning green.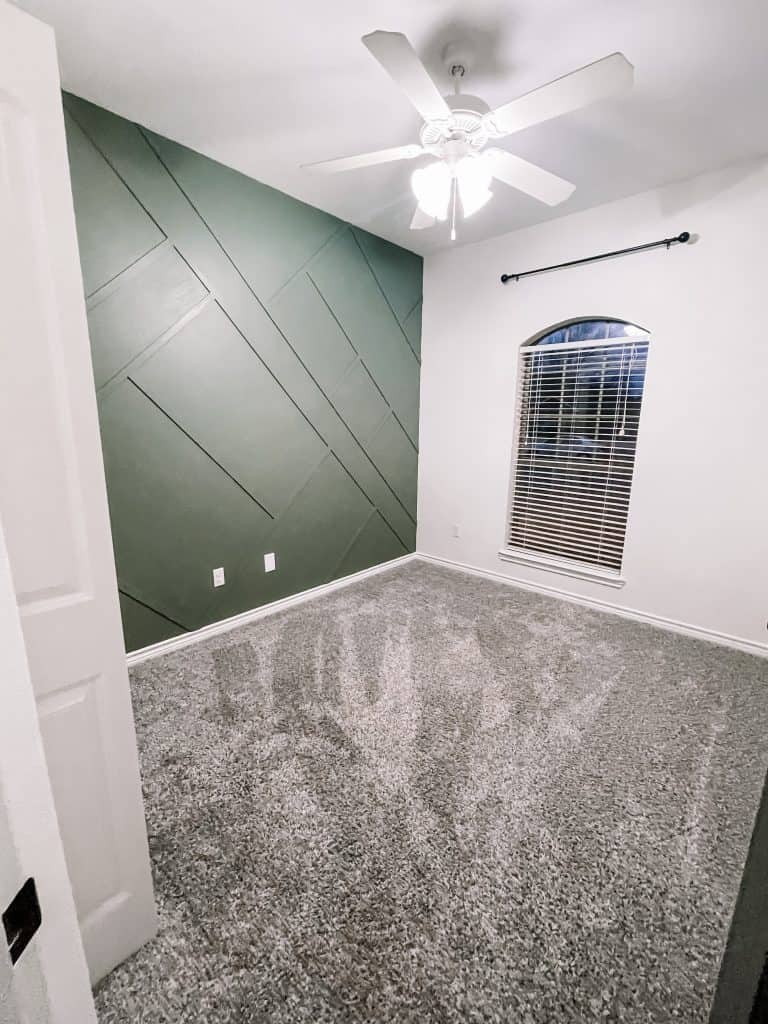 As for our spare bathroom I have all the details on my spare bathroom makeover on a budget post. I chose to go with the popular farmhouse blue color called Sea Salt by Sherwin Williams. It felt like this was such a fun color for a bathroom and my girls loved it too!
How to Select the Correct Paint Finish
Once you have selected your paint colors now it's time to decide on paint finishes. I know right?! Who knew you would have to make so many decisions while picking a paint color. Don't you worry I've already done all the hard work for you and created a post that goes into depth on the correct paint finishes and where in the home they should be.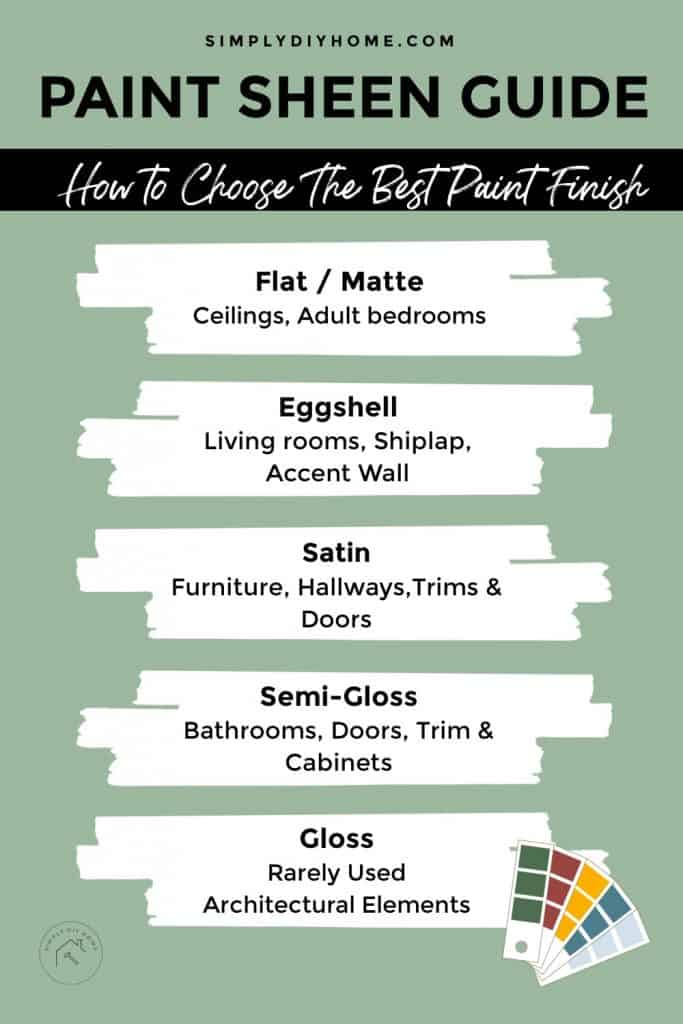 Favorite Painting Tools
Down below I have listed my go-to paint supplies that I have used for almost every paint project! Believe me it's a lot! Painting doesn't have to be difficult or daunting, when you have the correct tools it makes it a smoother process and more enjoyable.
Whole House Color Scheme
Sometimes it can be daunting to decide on a whole house color scheme, I hope this post made it easier on you to decide. At least you have a good idea about what farmhouse paint colors will be right for you. Feel free to copy our Texas paint color scheme, it's all laid out for you from best paint color for trim, doors and accent walls. You are one step closer to achieving that fixer upper farmhouse feel!
Just save this image to Pinterest to refer back too or favorite this post on your web browser that way you can just pull it up when at the hardware store!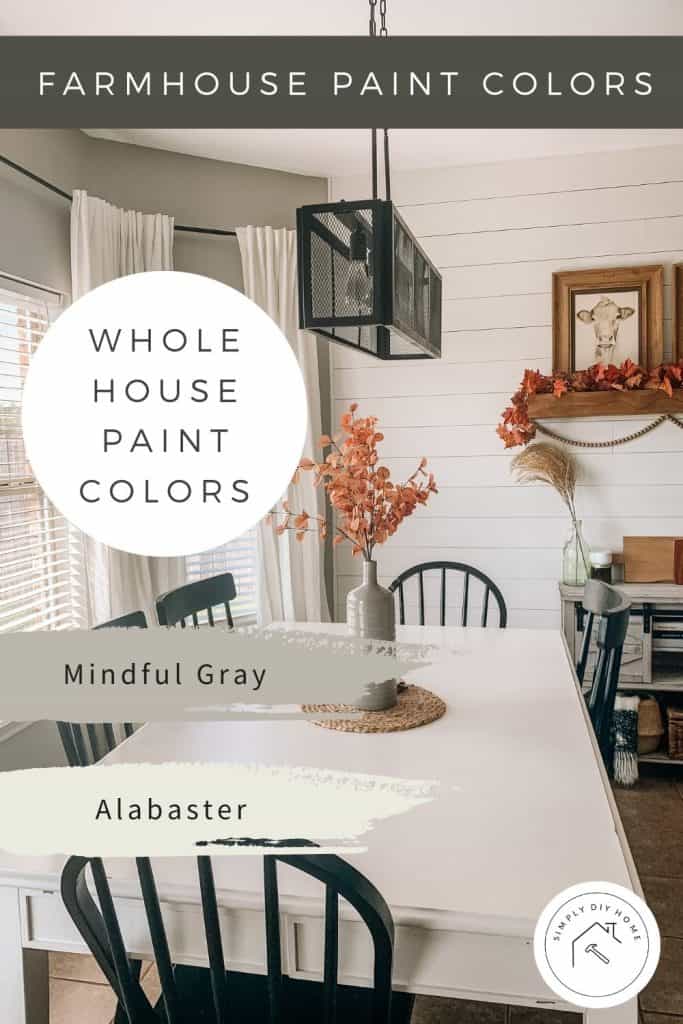 You have your supplies and you have a good idea of what colors to choose! So what are you waiting for turn your house into a home and happy painting!