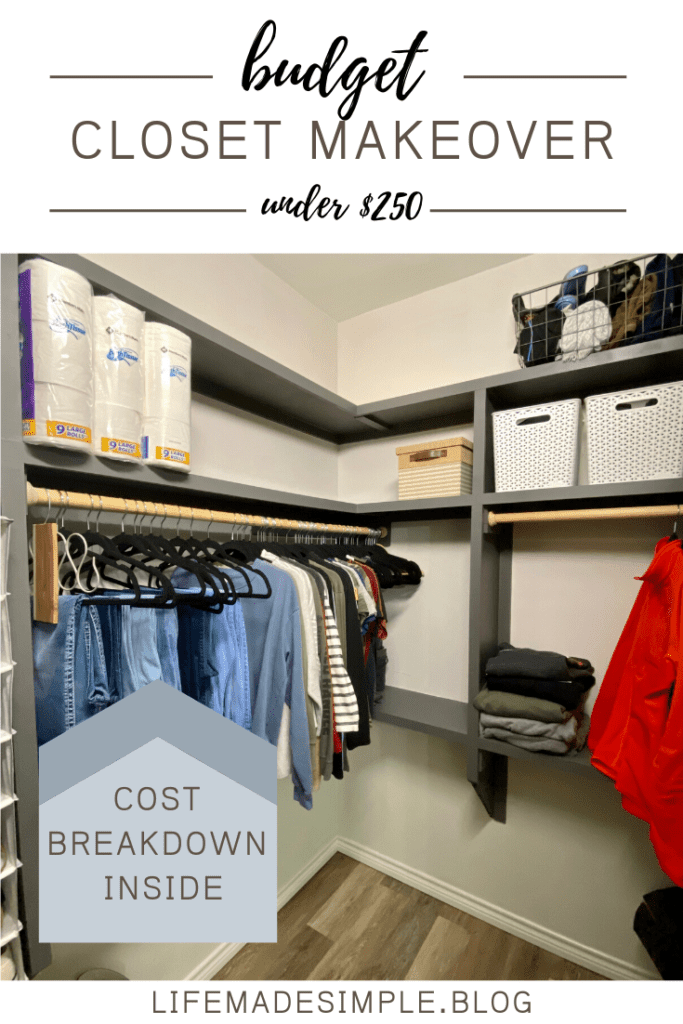 How Do You Revamp a Small Closet?
Yesss! One house project down and a billion more to go! Master Closet Makeover is complete and it is officially the nicest room in our house currently! Anyone else's house still a hot-mess express after the holidays? No? We can't be the only ones!
The master closet makeover marks project #1 complete on our 2020 project list. If your new here you probably wouldn't know that our closet has had no flooring in it for the past 6 months. Making it #1 on our 2020 project list! I got a little crazy cleaning one day and just I decided I didn't like the old carpet anymore and ripped it out. Didn't even think what I was going to put in place of it!
Before the Closet Makeover
As time went on I started looking at flooring options and wanted something inexpensive but durable since we are selling our home in the next 1 1/2 years. As I narrowed down my options I knew I needed to paint the baseboards like I had done to the rest of the house. Once I did that the rest of the closet was just a huge eye sore.
When we moved into this house everything from floor to ceiling was a horrible off-white creamy color. Since painting the baseboard a pretty white the rest of the closet was very dingy looking. So for 6 months I stared at that closet dreading the fact that I knew I needed to paint the walls, ceiling and all the shelves for it to look half decent.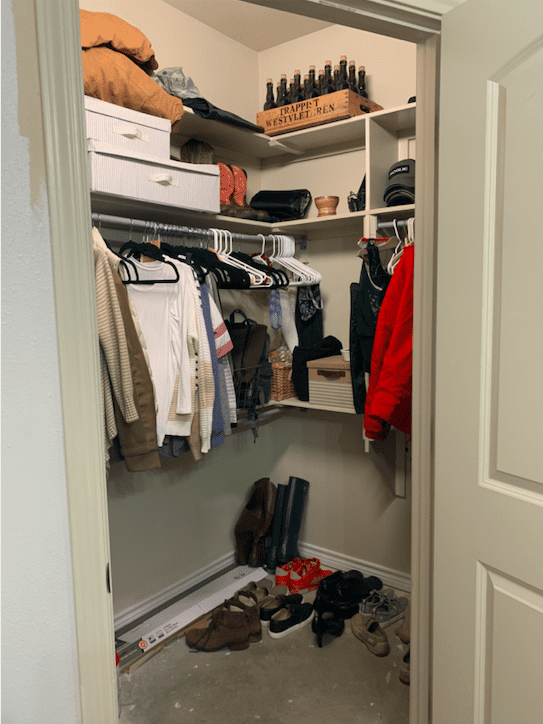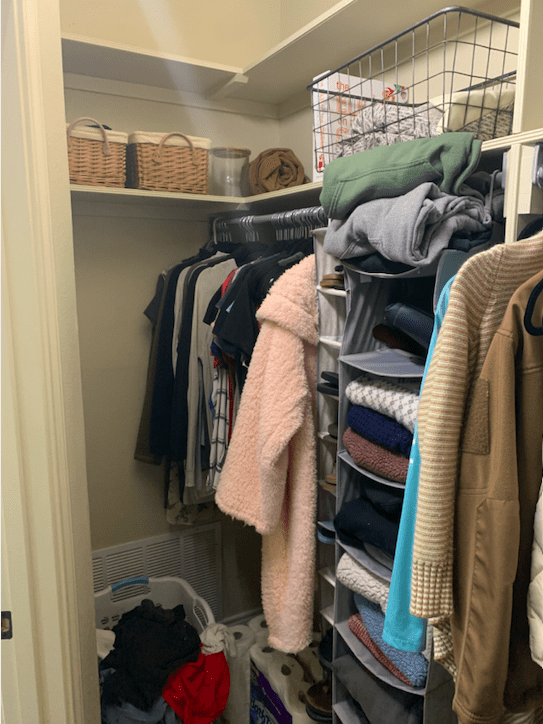 Here is our closet before I took everything out and started this makeover. Looking at these photos now I can't believe this is how our closet was. I am over the moon to finally see nice flooring in here and not that horrible cold bare concrete. 
After the Closet Makeover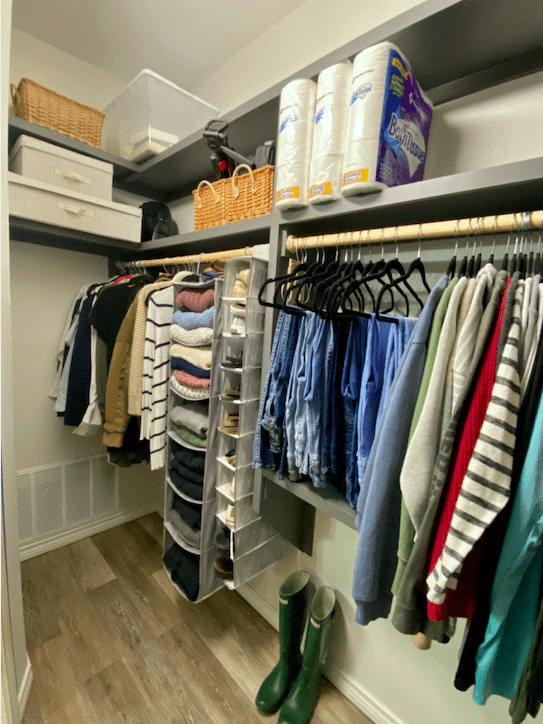 Like all our projects I'm all for doing everything very budget friendly. I believe you can flip any space in your home and get what you want without forking out the big bucks. This closet cost us less than $250 to makeover. It's amazing what a little bit of paint and hard labor can get you. 
Down below I am going to break it down for you and share everything I did to makeover this space (including some storage solutions for small closets) and what it cost me to do it. 
[AFFILIATE LINKS ARE PROVIDED BELOW FOR CONVENIENCE. FOR MORE INFORMATION SEE MY DISCLOSURE HERE.]
Paint
First thing I did and probably the most important thing was paint!
I painted the ceiling, baseboards, walls and shelves. Pretty much every square inch of this closet is brand new. Like I mentioned before everything was an off white color so everything had to be redone. 
The ceiling got a fresh coat of flat white paint (just the kind you buy at Lowe's or Home depot-not tinted) The wall color is Sherwin Williams Incredible White, and baseboards are Sherwin Williams Alabaster. Lastly the shelf color is Sherwin Williams Peppercorn.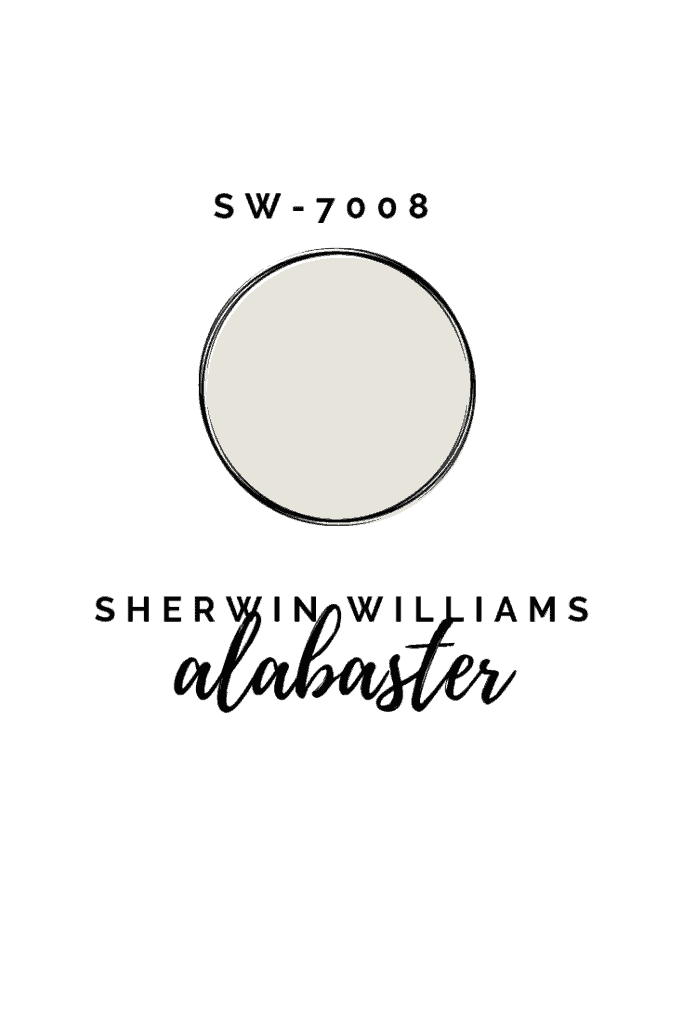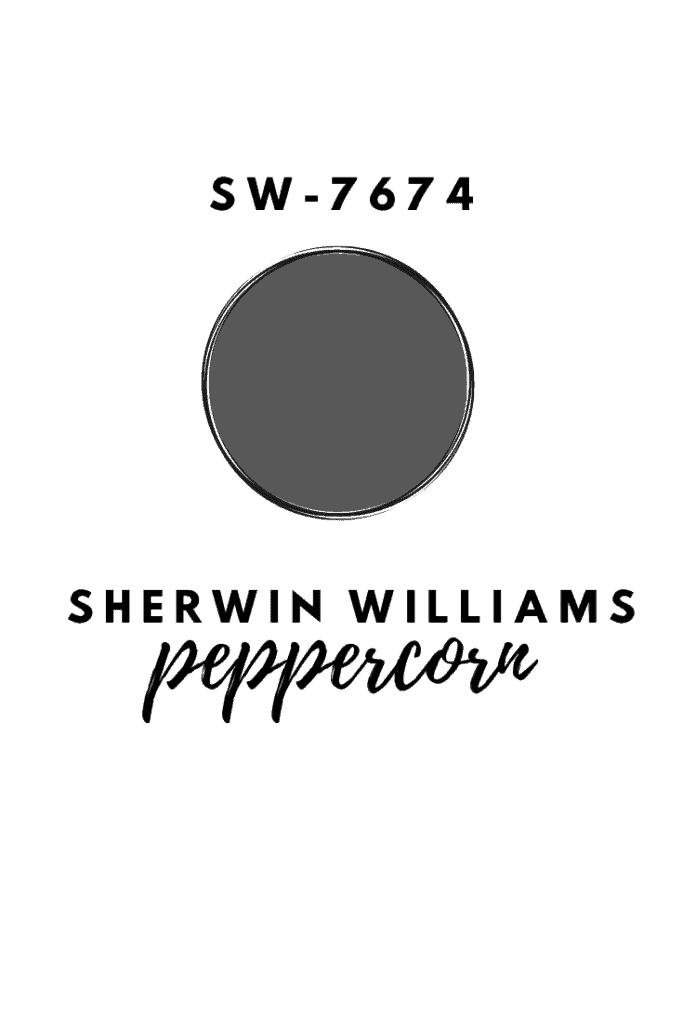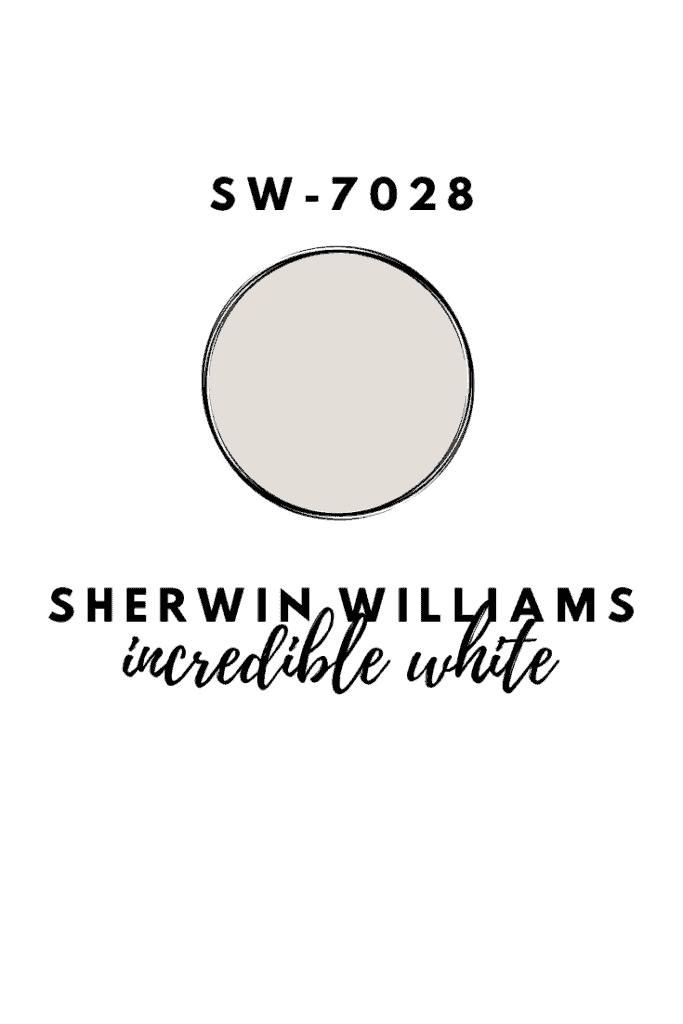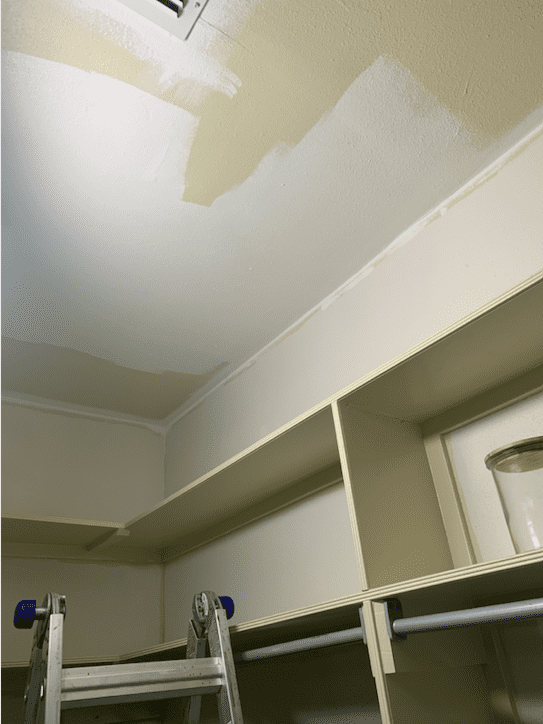 Updating Shelf Trim
Next thing we decided we wanted to do that was super easy, inexpensive and would make a big impact was changing out the decorative trim they had on the ends of the shelves.
There was nothing wrong with the decorative trim but the vibe I was going for in our closet was a more modern, masculine feel. I wanted clean lines and not a ton of fancy detail. 
We simply popped off the trim and replaced it with just plain MDF 1×2's. Normally we would have chosen wood pine boards but at our local hardware store the MDF is much cheaper and 90% of it is straight. So we didn't waste time spending 10-15 minutes sorting through the lumber trying to find all the straight boards.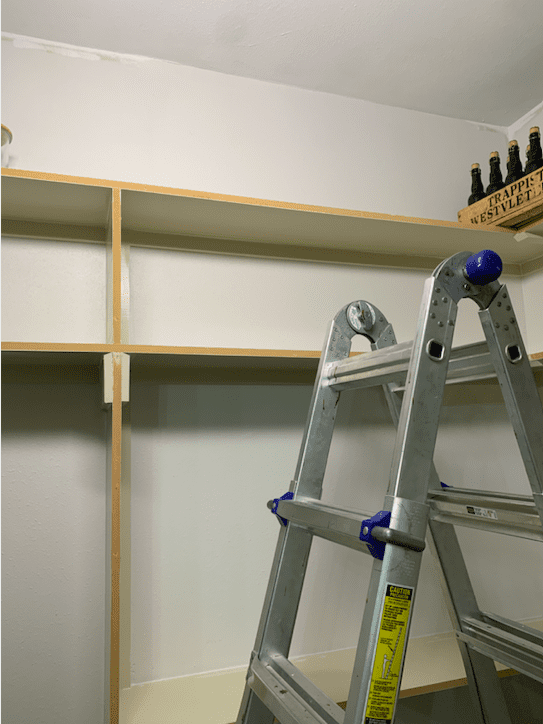 I am so glad I decided to do this update even though at first i questioned weather to do it or not, due to me having to fill all the holes and sand them down. In the end it was worth the extra effort to get the look I envisioned.
New Clothing Rods
Another super simple way to update our master closet for our closet makeover was to change out the old aluminum rods. This was a no brainer for me since I wanted to go with a more modern vibe. I wanted some wood tones to be incorporated in the closet some how and I'm loving all the natural wood tones that are making a comeback. 
So what better way to add that look into our closet makeover was to head down the trim aisle and find cheap sturdy dowel rods! The dowel rods are already a natural wood tone and they were cheaper than going to the closet section of Lowe's and buying the rods in that aisle.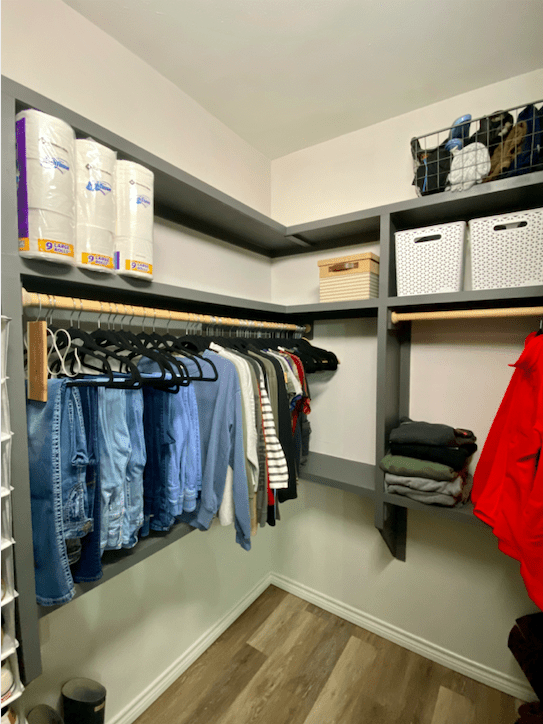 New Flooring
This step was a no brainer and probably the most expensive update. We obviously had to replace the flooring & had no choice since I ripped out the carpet. It was the most the expensive but still well under $100!
Say what?! 
The flooring we ended up going with was TrafficMASTER Luxury Vinyl Plank Flooring in the color Khaki Oak. 
I couldn't recommend this flooring enough. If your looking for something that is durable, yet doesn't break the bank then this is a great choice. Naturally I would have loved to go with what we had in our last home Pergo Outlast+ in the color Java Scraped Oak but knowing this wasn't even potentially our forever home I was not ready to fork out the big bucks.  
Picking flooring didn't come easy at all, I actually had a whole different color and product picked out for this makeover but ended up returning it. Head over to my INSTAGRAM and click on my saved story highlights called Closet Reno & watch the process!
How Do I Maximize a Small Closet?
Now as much fun as the makeover process is this step is what I looked forward to the most! ORGANIZATION!
Now don't get me wrong I could have lost control and spent all my money on this last step of the closet makeover. I was good and shopped around, said no to a lot of cute baskets & was a responsible adult..for the most part. 
Before heading to Target we took the time to sort through all our belongs and purge anything that didn't spark joy or that we simply haven't used in over a year.
We have actually done this process 3 times since moving into this home about 2 years ago and it truly is something I suggest you do a few times a year! The amount of items we get rid of is always crazy to me. 
1.Hangers
A couple of months back I had already upgraded our hangers to the black velvet hangers which I highly recommend. They are thinner, making it easier to fit more in your closet. They are also available in white and rose gold! 
I got ours from Sam's Club for $13 for a 50 pack. I couldn't find a better deal anywhere else but the next best deal that was out there if Sam's isn't an option would be these Amazon Basics black velvet hangers. 
If the black isn't your thing they have these really awesome white & rose gold velvet hangers too!
[show_shopthepost_widget id="3871153″]
2.Shoe Storage
The next thing we had too have for storage was a shoe rack. We have a hanging shoe organizer for our flip flops and lighter shoes like this one HERE and it works great for those types of shoes. For our regular shoes we have had the same crappy Walmart shoe rack our whole marriage and during our move it took a beating.
Recently I threw it out so we were left with storing all our shoes on the floor making it impossible to step into our closet. The great thing with doing this closet makeover at the beginning of the year is all storage items are on sale this time of year.
We ended up going with this one HERE from Target and I couldn't be more happy. Funny thing is it matches our new flooring perfectly!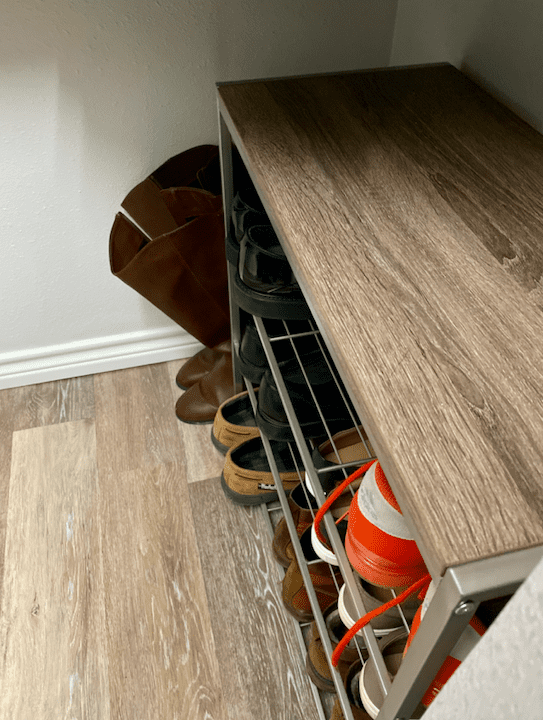 Here are a few other options I had on my radar for our shoe storage that were also great choices. 
[show_shopthepost_widget id="3871870″]
3.Baskets
This was probably the most exciting one! Once again i tried to stay within budget and not break the bank. Which is why I chose to stick to my go to storage basket when it comes to staying on budget. I have these baskets all over my house and they are perfect for everything. You can wipe them off if they get dirty and they are super durable, not to mention they come in a ton of shapes and sizes.
[show_lookbook_widget id="440973″]
All other baskets in the closet are baskets I already had around the house. I was trying to use what we had but only needed to buy 4 of these baskets to replace the old ones. Amazon is always a great place for baskets and I still plan to grab a few that I'v had my eye on. If you haven't seen my blog post I wrote a while back showcasing some super inexpensive Amazon baskets you can click HERE!
Small Closet Makeover Cost breakdown
$30.98   Ceiling paint
FREE        Wall paint-Sherwin Williams Incredible White-already had this!
FREE        Shelf paint-Sherwin Williams Peppercorn-already had this!
FREE        Trim paint-Sherwin Williams Alabaster-already had this!
$19.60    1x2x8 MDF Boards
$13.40    Pole Sockets for the dowel rods
$35.32   Dowel Rods–These are the ones we used but we got ours at Lowe's for half the price
$13.17    Quarter Round Molding for flooring
FREE      Paint supplies-brushes, rollers, trays-already had all this!
$43.63  TrafficMASTER Luxury Vinyl Plank Flooring Khaki Oak–used military discount & gift cards 
$18.88  Threshold Trim to match the flooring
$17.39   4 White Baskets
$35.99 4 Tier Shoe Rack 
TOTAL= $228.36
Closet Makeover Budget & Timeline
My original budget I had was $200 and to be honest I'm happy. I could care less that we went over $28.36 because, when we started out we had a total different flooring picked out. It was cheaper but I wasn't completely happy with it. So in the end the extra money spent was well spent!
Timeline I had originally thought I could complete this project in one weekend. There was no way that was possible for me. This closet makeover took me 6 days to complete. I worked every second that was available to me. Including nap-times and staying up until midnight every night until it was done. But most importantly, I'm giving myself grace on this one because I got it done and normally I am apart of the 90% club and hardly ever really finish my projects in a timely manner!! So can I get a WHOOP WHOOP!
I hope this inspires you to tackle that project you have been putting off or to even show you that a DIY project doesn't have to be expensive or super hard. And that no matter how small a space is, it can still be stylish and beautiful! Leave a comment down below or head on over to my INSTAGRAM and shoot me a direct message and let me know what are some of your closet organization tips or go to must haves?! 
I want to know!!
If you haven't already signed up for my newsletter just leave your name and email in the box below! I send out emails whenever I post a new blog post and I have some freebies coming in 2022 that you won't want to miss!