A Modern Farmhouse Bathroom Remodel on a budget packed with simple DIY's that won't break the bank!
I asked you guys on Instagram what you wanted to see next on the blog and you all said our spare Bathroom Remodel on a Budget. So I hope you're as excited as me to be sharing this reveal. It only took me 6 months to finish everything & photograph it!
Not only did I take pictures but if you head to my Youtube you can see a bathroom tour. A little back story on this bathroom, it acts as our spare bathroom for our guests & is the main bathroom that our girls use. So I needed something functional but yet stylish and inviting for our guests.
Here are some before pictures that I took right before doing this remodel.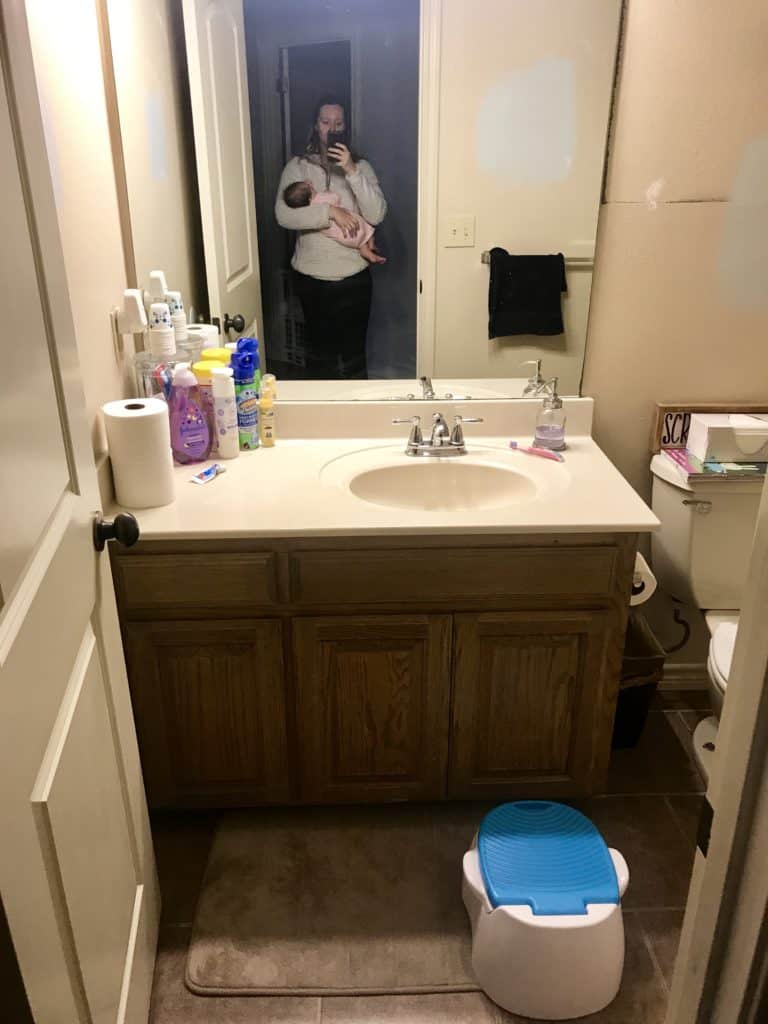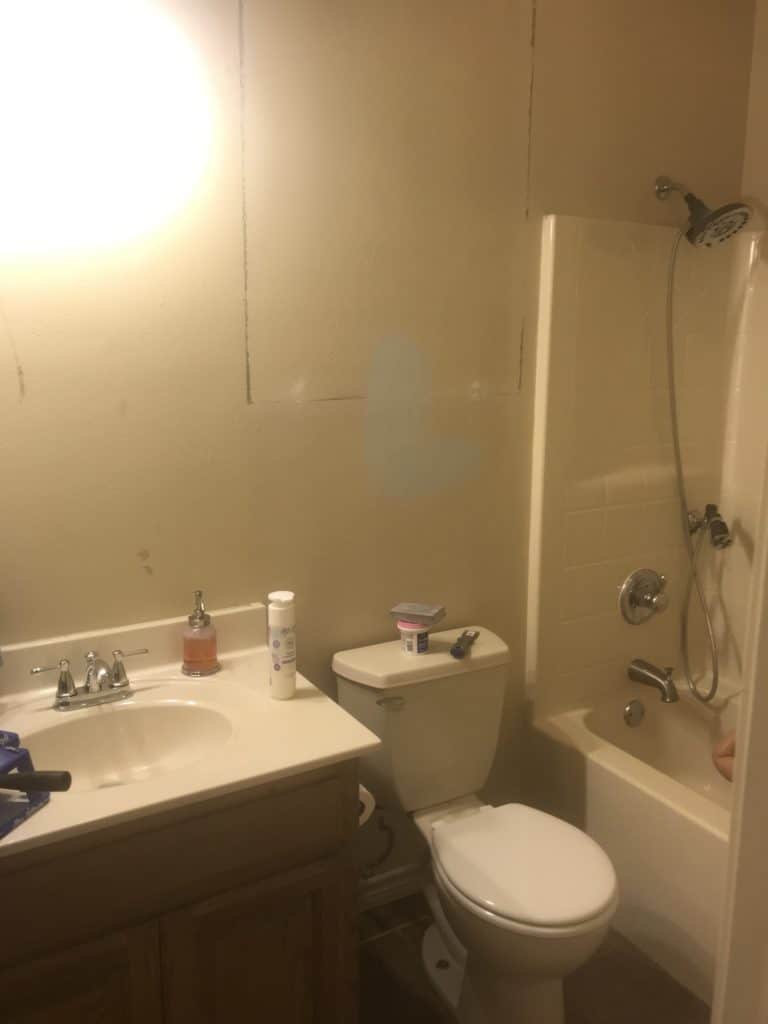 Scary right?! We had previously taken down the builder grade cabinet that was above the toilet. It was great storage but it was so big and bulky that it made the room seem so small.
Now here is the AFTER!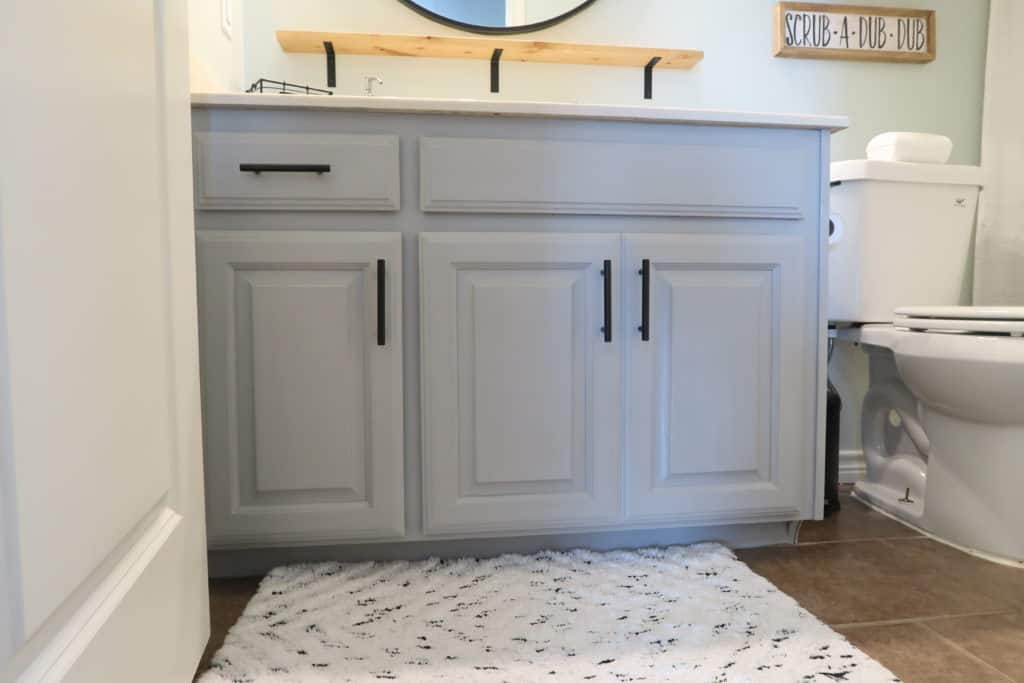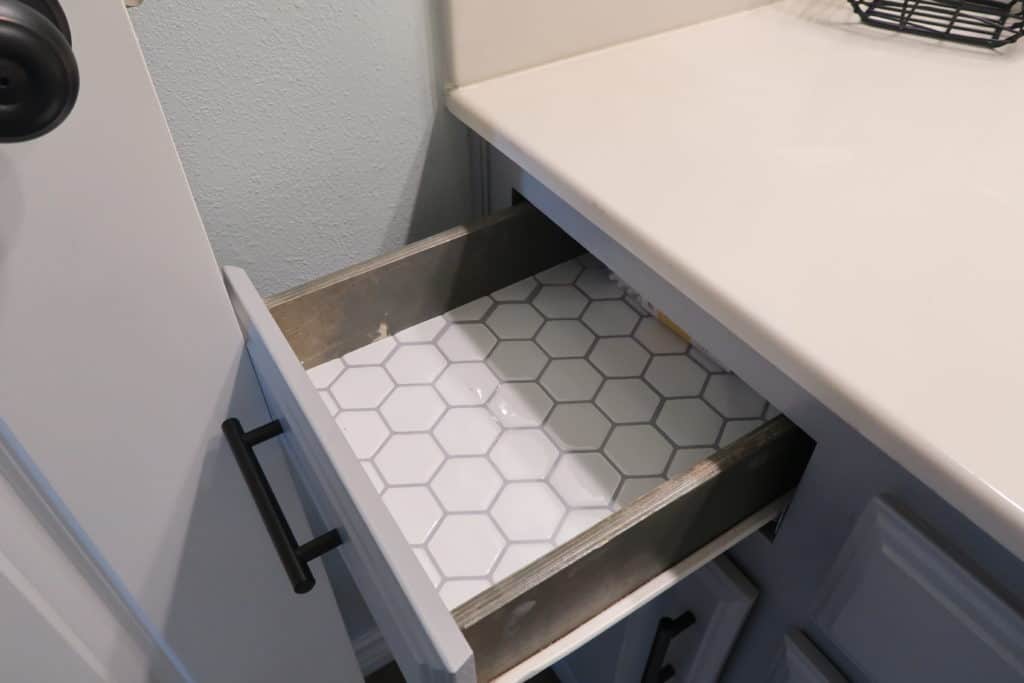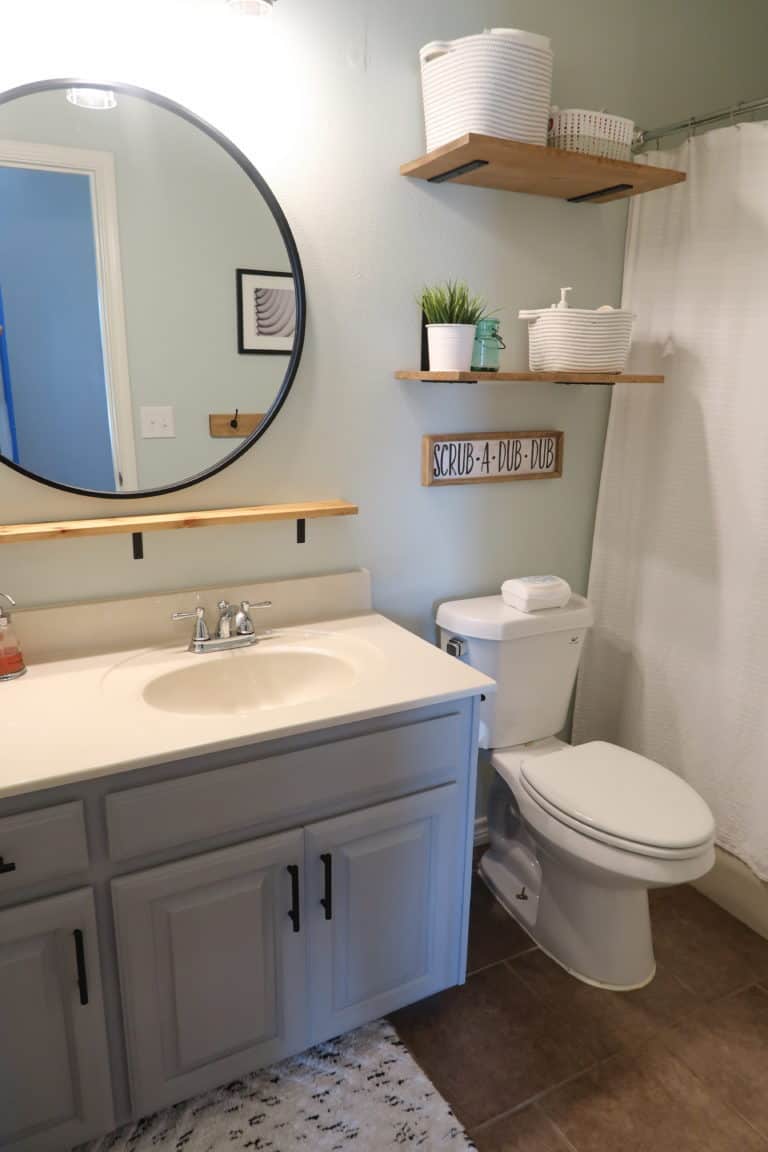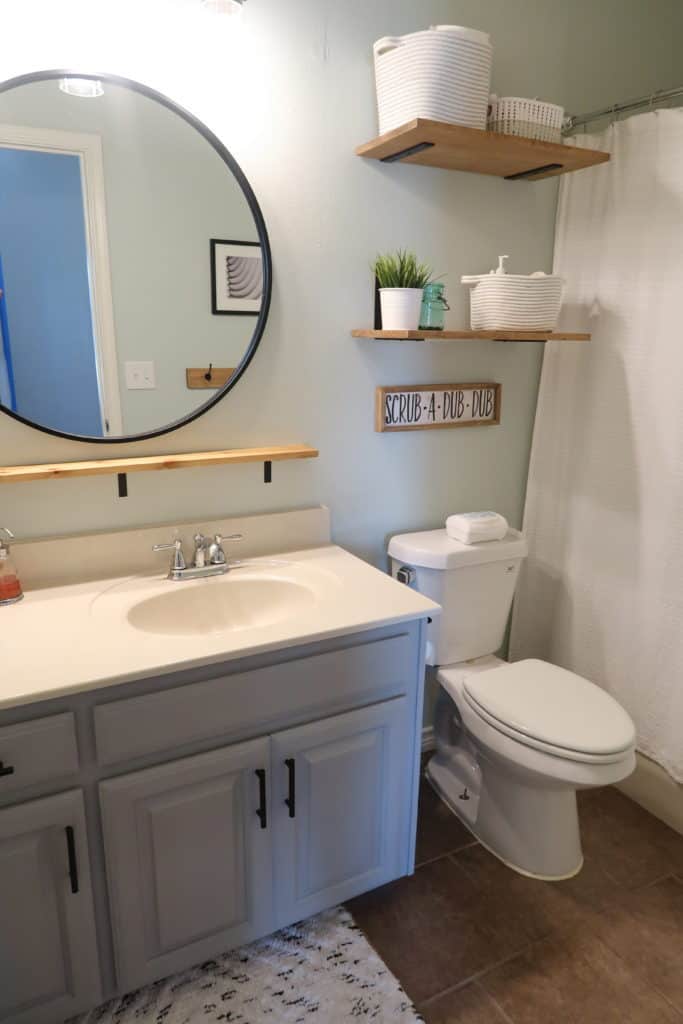 Now for all the details! Listed below are all the items I used for this remodel along with links to products for this space.
RELATED- Have a big outdated mirror in your bathroom? Check out How to update a bathroom mirror!
[AFFILIATE LINKS ARE PROVIDED BELOW FOR CONVENIENCE. FOR MORE INFORMATION SEE MY DISCLOSURE HERE.
SOURCE LIST
WALL PAINT- Sherwin Williams Sea Salt
TRIM PAINT- Sherwin Williams Alabaster
VANITY PAINT COLOR– Rust-Oleum Chalked Paint Aged Gray
LIGHT FIXTURE- Home Depot
TOILET PAPER HOLDER- Lowe's
ROUND MIRROR– Hobby Lobby 50% off. HERE is a similar one for the same price on Amazon!
FAUCET- Lowe's
BLACK WIRE BASKET– Target. EDIT- They now have medium & large sizes!!
SOAP DISPENSER- Ikea. HERE is one from Amazon that I like better!
RUG– Target. Looks like they don't sell it anymore. Linked is one I would buy if I did it again.
PEEL AND STICK TILE UNDER SINK– Tic Tac Tiles [CLICK HERE to see how I applied them]
FABRIC BASKETS– Target
WOVEN PLASTIC BASKET- TJ Maxx [HERE is one very similar for the same price I got mine]
FAUX PLANT & TIN BUCKET- Both from Ikea
PICTURE FRAME– Target
TOWEL HOOKS- Hobby Lobby 50% off [HERE is pretty much the same ones for cheaper and it comes with way more]
SHELF BRACKETS- Lowe's
SPRAY PAINT [for shelf brackets]- Krylon Chalkboard Paint
WOOD SHELVES- Lowe's
WOOD STAIN- Minwax Provincial + Minwax Weathered Oak
There you have it! If you have any questions about anything you can leave a comment down below or head to my INSTAGRAM and direct message me or leave me a comment there.