Have you ever scrolled through Pinterest or a Better Homes and Gardens magazine and wondered how they installed those cute wall sconces above their open shelving or entryway tables? Thinking to yourself that you wish you could do that but don't know a lick of electric work?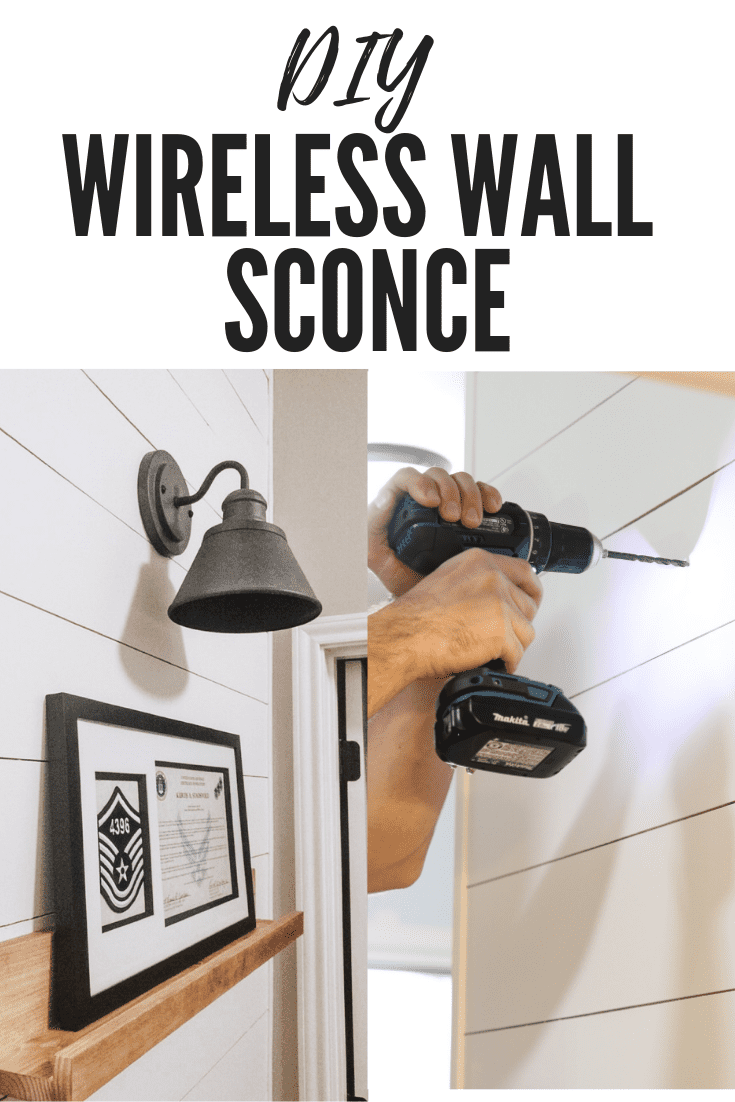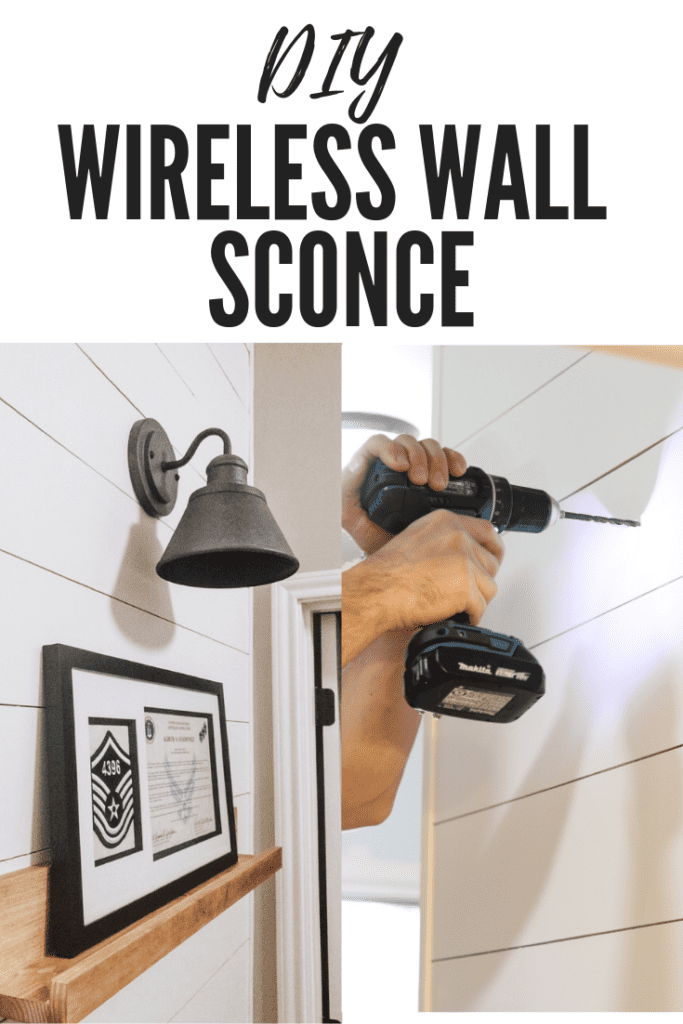 Well aren't you in luck because this post is going to show you exactly how you can achieve that look with just some simple Wireless LED Puck Lights!
Now these aren't any Wireless LED Puck Lights, not only are they wireless but they come with a remote! Yes, you heard me…a REMOTE!!! After searching Home Depot and Lowes I wasn't satisfied with the puck lights I was finding.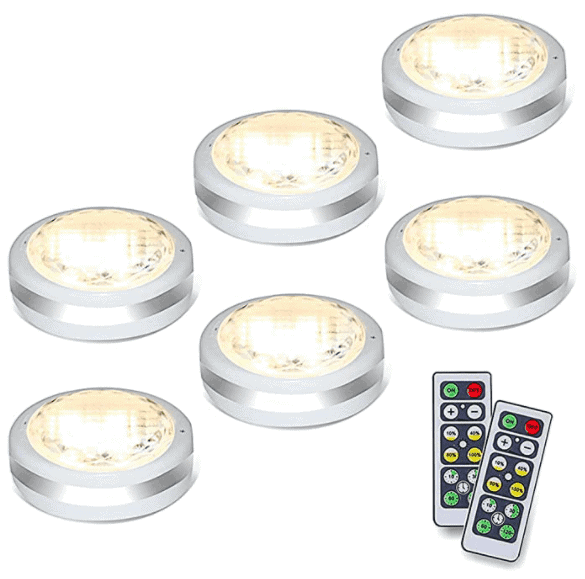 They either had to many lights in the pack which made them expensive and more than I was willing to spend OR you had to have some type of glue or velcro that you bought separately to attach them to the light fixture.
So where did I look next you ask? Amazon of course!! Amazon has yet to fail me and all my home improvement/DIY needs! I was able to find a set of 6 puck lights with 2 remotes and stick-on adhesive tape for [insert drumroll] $18.99 with free shipping! That's half the price of the ones at Lowe's and Home Depot.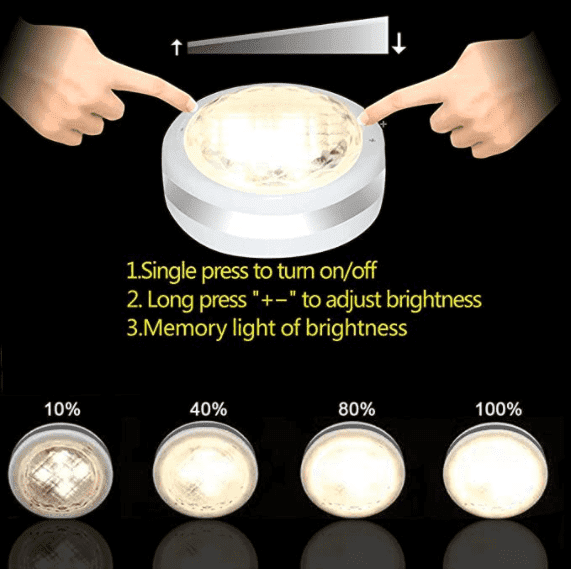 OKAY, so you have your Wireless Puck Lights picked out, now for the fun part! The wall sconce! You can use about any wall sconce for this project.
The wall sconce I ended up going with was the Hampton Bay Light Zinc Outdoor Wall Lantern from Home Depot. I wanted something under $40 and as close to black as I could get so I could achieve that Modern Farmhouse look I was going for!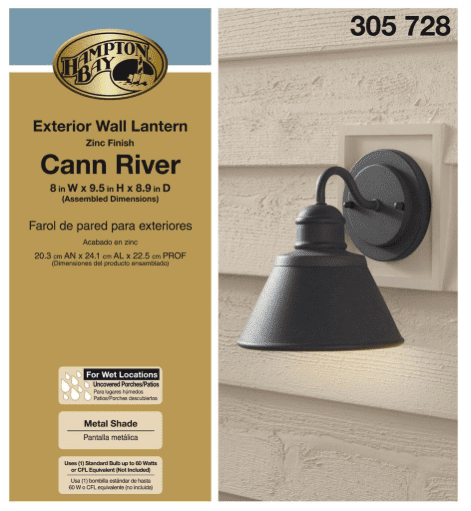 Here are a few other cheap options I was also considering in my price range!
[show_shopthepost_widget id="4036663"]
Now that we have our Wireless Puck Lights and Wall Lantern it's time to get to the nitty gritty part of this DIY project.
[AFFILIATE LINKS ARE PROVIDED BELOW FOR CONVENIENCE. FOR MORE INFORMATION SEE MY DISCLOSURE HERE.]
DIY Wireless light Supplies
2 Bolts w/ Toggle Anchors to mount it to the wall if you cant hit a stud [We used 3\16″ bolts with toggle anchors]
Spray Paint
Drill– This is one of my top 6 must-have power tools for home DIY.
How to Install Wall Sconce without Wires
Pick out the location in which you will be mounting your wall sconce. You need to find out if there will be studs you have to drill through or not. [This is where that stud finder will come in handy] In our case we didn't have any studs to work with so we had to have anchors to make sure it was properly attached to the wall.
Now that you have your location you can go two ways depending on what wall sconce you chose. If you bought an indoor wall sconce most of those come with mounting plates that has the attachment hardware connected to it and your pretty much done.
If you purchased an outdoor wall sconce like I did then most likely it didn't come with a mounting plate.
So this is where our bolts came in handy. My husband took 3/16″ bolts with toggle anchors on the end and spray painted the tips black to match the sconce. If you don't have spray paint you can try a permanent marker which I've done a time or two.
We just screwed the bolts into a scrap piece of wood to spray paint them.
Once you have the sconce secured to the wall all you have left to do is attach the wireless puck light with the stick-on adhesive tape right where you would normally insert a lightbulb. If you find the stick-on adhesive tape to not be working over time you can always put a bead of hot glue around the light bulb socket.
An easy solution with no electrical work needed!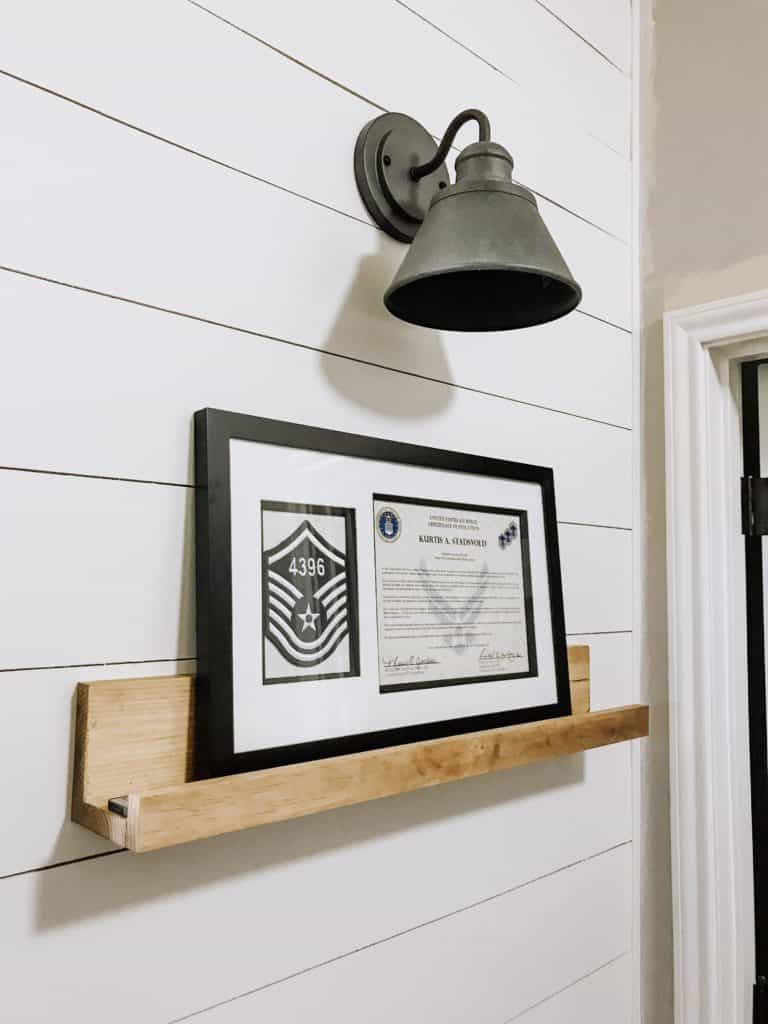 I have used the wireless puck light method now in both of our houses we have lived in and will continue to do so. For more hacks, tips & tricks you can sign up for my newsletter or join me over on Instagram for more day to day projects that I am currently working on.