DIY and home renovations can be empowering, fun and save you money. To get the job done you're going to need to start building your tool collection. These are the top 5 beginner must-have power tools for the inspiring DIYer!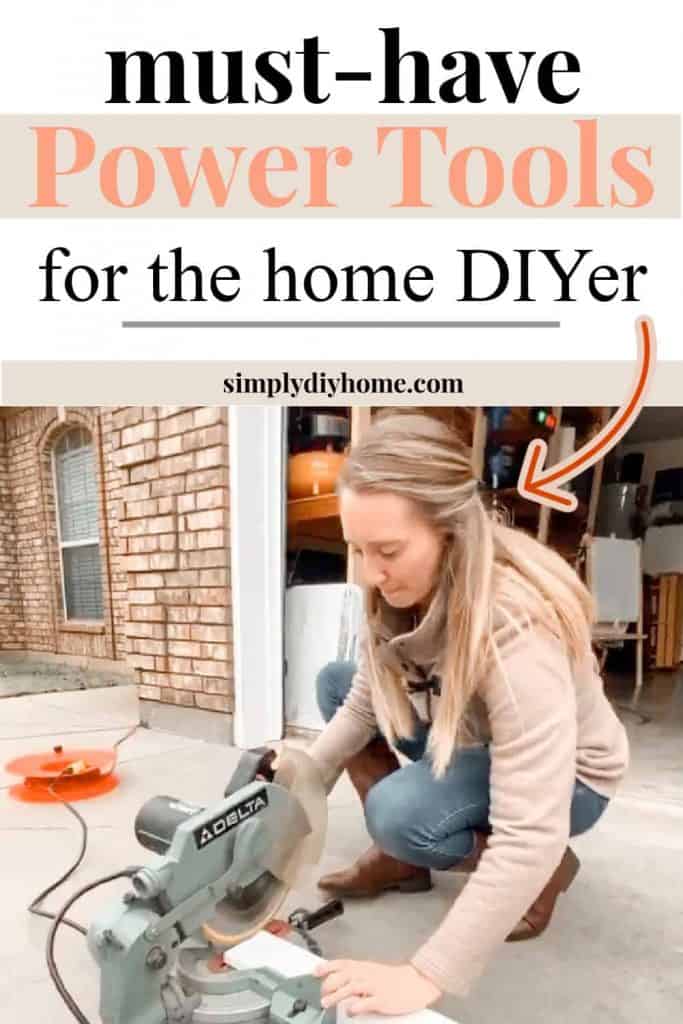 Getting started with anything can be daunting. Especially when it comes to building your power tools collection. They have tools for everything, but you don't necessary need all of them at once. I've been around tools as long as I can remember but just recently in the last 2 years I started to be more hands on.
We are going to talk about 5 power tools a beginner DIYer can benefit from. How you get started with power tools and the most useful power tool a beginner can invest in.
Let's get started!
Essential Power Tools for Beginners
[AFFILIATE LINKS ARE PROVIDED BELOW FOR CONVENIENCE. FOR MORE INFORMATION SEE MY DISCLOSURE HERE.]
Tool #1-Cordless Drill
Cordless Drill is probably the number one tool you should have to start out with DIYing at home. Not the most entertaining tool but you will literally use it for everything. From driving screws to drilling holes, it's a staple piece to every tool collection. Handyman or Handywomen, wood worker to first time homeowner a cordless drill is a essential.
The following recommendations are based on what we personally use & the best bang for your buck for a quality cordless drill.
DeWalt is a really good quality brand that anyone can trust. Usually their tools are priced on the higher end but you can't go wrong with a DeWalt tool. The DeWALT 20V Max Cordless Drill / Driver Kit,(DCD771C2) is the best deal on Amazon. It comes with 2 batteries, a tool bag, a battery charger and 1 20V Max Cordless Compact Drill.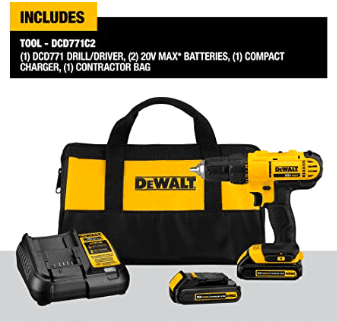 Our favorite drill to use is this Makita 18-Volt LXT Lithium-Ion Brushless Cordless Drill. My husband bought this drill when he first joined the Air Force 16 years ago!! 16 years!! If that isn't good quality i don't know what is. The one I have listed is still a great deal since you're receiving a battery, charger, carrying case and 1 compact drill.
One thing to keep in mind if you choose to go battery operated for a lot of your tools is to try and stick to one or two brands that way it's cheaper and your not required to buy new batteries for every tool you own.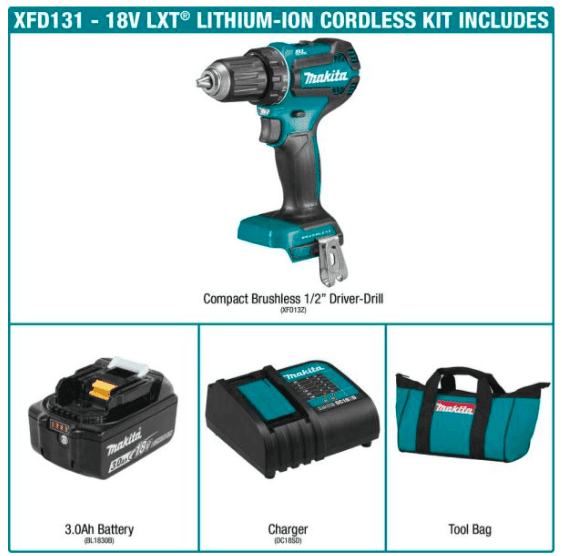 Tool #2-Miter Saw (Chop Saw)
A Miter saw is one of my most favorite must-have power tools for home DIY. It's your go to for basic cutting, and specializes in cutting various angles. When it comes to Miter Saws the first one I owned was a 10in Delta saw. It was handed down to me from my dad as he had upgraded his. And shortly after we upgraded that one to a DeWalt 15 Amp Corded 12 in. Compound Miter Saw.
If you think DIY is something your going to be doing for a while and have found a passion in it I highly suggest getting a 12in Miter saw instead of the small 10in. You will be able to cut bigger boards and complete more projects with ease.
Now if a bigger MIter Saw isn't in your budget a 10in will do just fine but once you start adding bigger projects you might find yourself wanting to upgrade. Down below I have a list of various 12in Miter Saws and 10 Miter Saws.


---
Tool #3-Orbital Sander
Depending on what types of DIYs you're into, an Orbital Sander could be one of your most used tools. There are many sanders to choose from and I can confidently say I have had many! One of the first kinds of sanders you can have is a 1/4 Sheet Palm Sander.
This is not my favorite but I used it for the 3 years before breaking down and getting a cordless orbital palm sander. I feel like the cord was always in my way and putting the sheet sandpaper on was not my favorite thing to do. This is the exact sander that I still own and use on special occasions. DeWalt Sheet Palm Sander.
The second kind of palm sander you can own and the one I highly recommend would be Makita Cordless 18 V Li-ion Orbit Sander. Once again, having the battery is super convenient & not to mention to change out the sanding disks you just velcro a new one on! Simple as that! Amazon has a great selection of battery powered Orbit Sanders that you can scroll through and see what sparks your interest!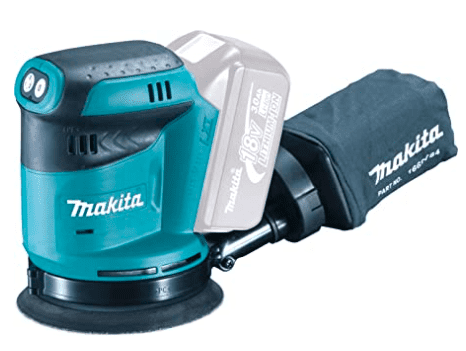 ---
This tool is a diamond in the rough! This is a fairly new tool to our collection but i wish we would have bought it sooner. There are endless options when it comes to this multi tool. Including cutting, sanding, scraping, grout removal (the main reason we bought it), and more. We just recently used it this weekend when installing our new floors to cut the door trim to the right height! This is the exact one we have Makita XMT03Z 18V LXT Lithium-Ion Cordless Multi-Tool.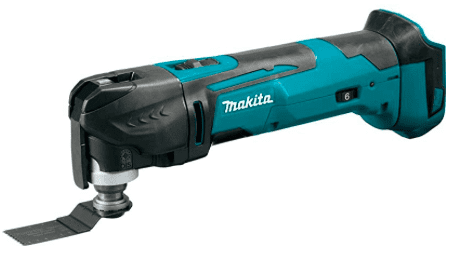 Tool #5 of the must-have power tools for home DIYer would have to be the Kreg Jig System. Once again, I feel like I could say this about all 5 of these tools but this is one of my favorite. This little system comes in handy for so many projects. If you have seen my DIY Raised Garden Planter go read that post and see how I used the Kreg Jig System to assemble my planter.
The Kreg Jig is a great choice for beginners to get started with pocket hole joinery. It's great for building furniture and making repairs.
BONUS Tool #6- Brad Nail Gun
Bonus must have power tool #6 is the Brad Nail Gun. I couldn't leave this one out because it's a must have for almost all projects. I use this bad boy almost every project I take on. For a beginner I suggest going with a battery operated one instead of one that requires an air compressor. We have both but for convenience I use the battery operated one the most.
Easy to set & put away for when I'm tackling projects solo and chasing the kids around! I am constantly starting and stopping when creating so easy set up and take down is something I don't like wasting time on. This is the exact brad nailer I got for Mother's Day this year. RIDGID HYPERDRIVE 18-Volt 18-Gauge 2-1/8 in. Brushless Brad Nailer
How to get started with Power Tools
You're probably thinking to yourself "wow Kristen, all this seems so intimidating" It's okay to feel that way! Sometimes I still get intimidated. The best way to get started with power tools is to not let fear stop you!
Go for it!
Do your research, watch some YouTube videos, search the web for advice or heck, send me an email & I will do my best to help you out! Make sure you read up on safety because safety plays a big role when using power tools. But, don't let fear stop you! YOU CAN DO THIS!
RELATED: A great beginner build would be my DIY BLANKET LADDER. Read the post & sign up for the free step-by-step guide to get started!
How to start buying Power Tools
I highly recommend buying these power tools over time. Something I did was ask for a new tool I had on my list for special occasions, like Mother's Day, birthdays and even Christmas. If budget isn't something you're worried about you could actually save more money by buying them in bundles. Amazon, Home Depot or Lowe's usually has some type of bundles you can choose from.
Please don't hesitate to ask me any questions, I'm here to help! You can sign up for my newsletter HERE or reach out to me by direct message on Instagram! Save this over on Pinterest for reference next time you're out shopping!