This vertical 3 tiered Strawberry planter is a great beginner project for a first time DIYer or if it's your first time gardening. Whether you're planting flowers, herbs or strawberries this is how to build a DIY raised garden planter, an easy & inexpensive option.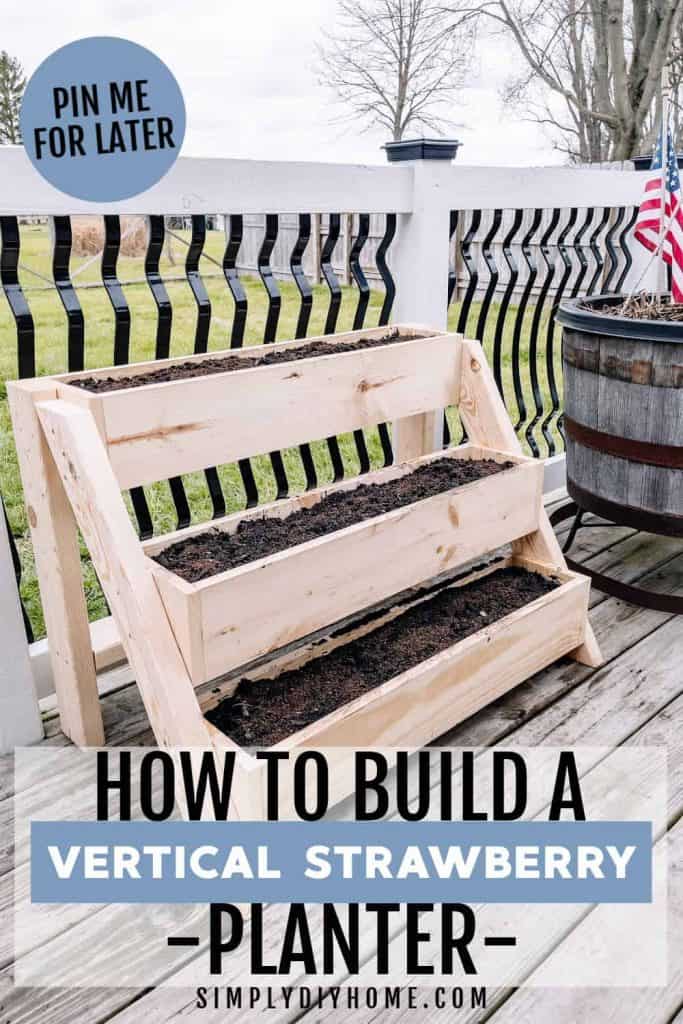 Earlier this week I was searching Pinterest for DIY raised garden planter ideas. If you're new around here, you wouldn't know that we are building a house and staying with family for the next few months. In that time, I'm trying to stay busy working on my gardening & building skills!
When I saw people building vertical 3 tiered planters I knew that's what I wanted. It promised to be a quick, easy beginner project that would help sharpen my carpentry skills & be a great space saver that will be easy to move to our new home when the time comes.
You can grow anything in a vertical garden planter but I chose to go with strawberries! Strawberries are a delicious and rewarding plant to grow. They grow quickly, and thrive when grown in a vertical setup. When growing strawberries you want to have multiple plants to produce a decent harvest.
In this tutorial, How to build a DIY raised garden planter, I'll share my cost on the project, what I learned (& messed up on) so you're prepared to build one yourself!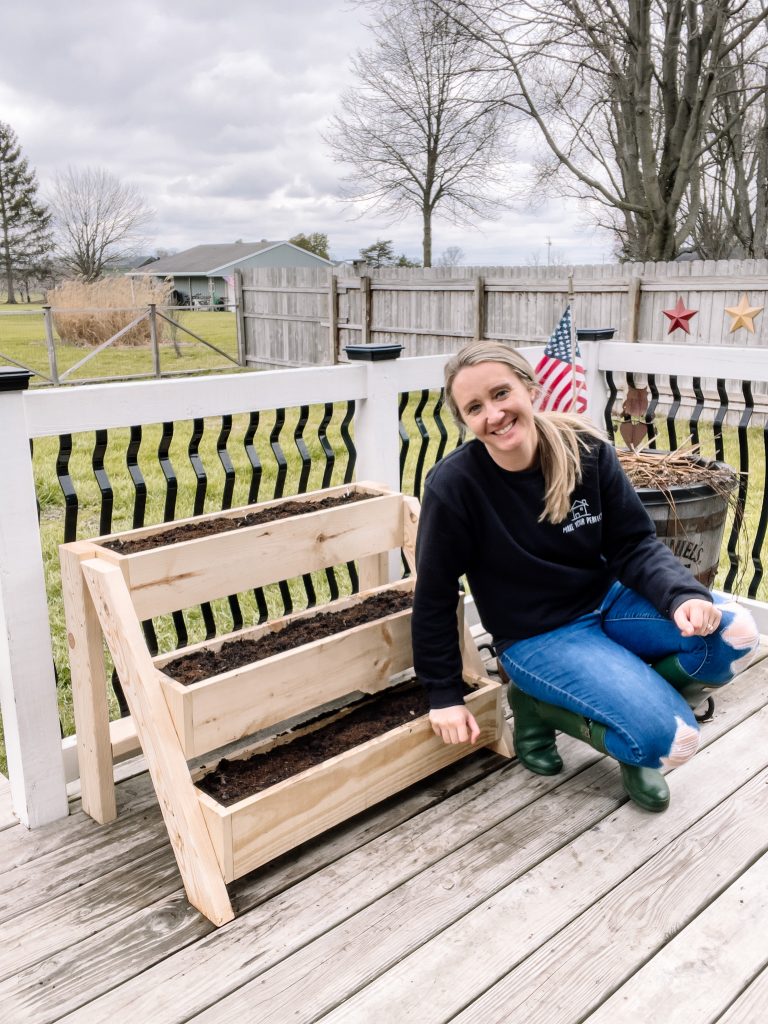 [AFFILIATE LINKS ARE PROVIDED BELOW FOR CONVENIENCE. FOR MORE INFORMATION SEE MY DISCLOSURE HERE.]
This DIY raised garden planter is the perfect size for about 30 strawberry plants. That's 10 plants per raised planter with just enough spacing for the plants to grow & thrive. The above picture just gives you a perfect idea of just how big the raised garden planter truly is.
Supplies & Tools
Wood Boards- Type & Cost
In my opinion your best choice of woods to use for a DIY raised garden planter are REDWOOD or CEDAR wood.
Pine is an inexpensive soft wood that you can use inside or outside the home. If you choose to go with pine for your planter just know you will need to seal the wood with an exterior grade wood sealer.
Now do as I say, not as I do! I skipped this step. I actually bought the sealer from the hardware store but was to impatient to do it. Let's say I got excited and jumped straight to planting our strawberry plants. (FYI-I am coming back and updating this post because after a year of using our planter the pine wood did not survive. I highly recommend do not use pine wood unless you take the time to seal it properly!)
Cedar is the route I wish I would have went with. Cedar is naturally insect-resistant, helping protect your plants from bugs. It doesn't rot as quickly & it holds up to elements. But, cedar comes with a bigger price tag.
The cost of wood for this project using pine 8 foot boards and 2×4's was roughly $57. That didn't include the sealant, strawberries, and dirt. I will do a price break down at the end of this post!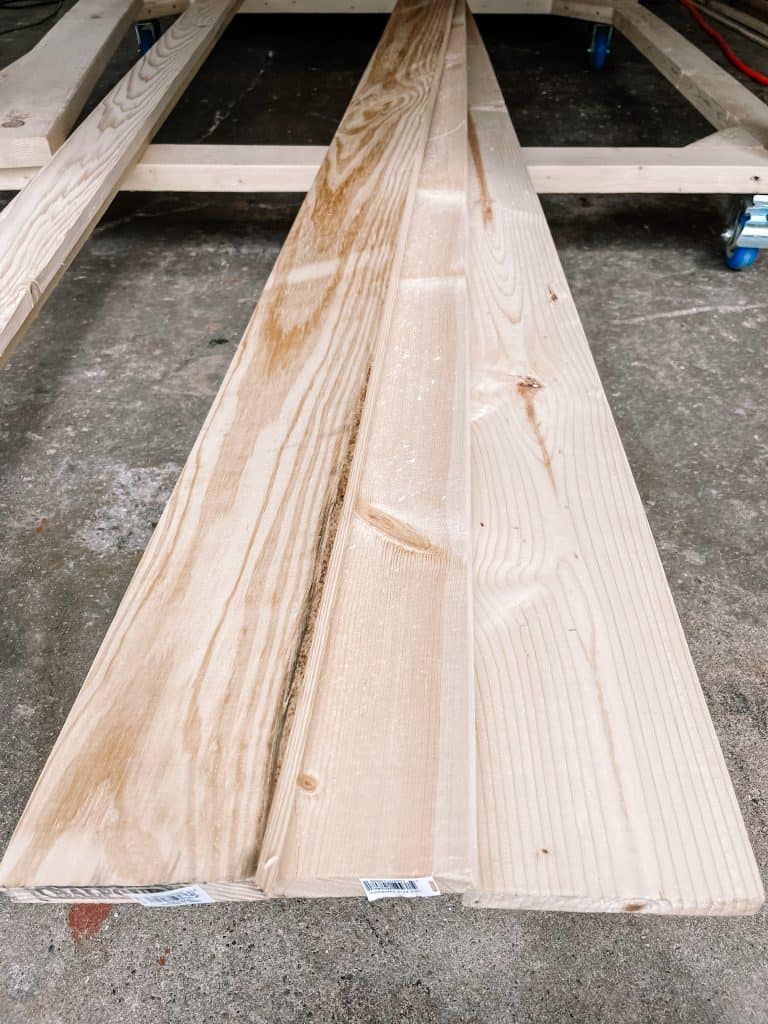 DIY raised garden planter CUT LIST
Don't worry friend!! If you want the same measurements for your DIY planter as the one up above I have done all the hard work for you. You can download the FREE cutting list down below!
DIY raised garden planter instructions
I'm not going to go major in-depth with the process of cutting and assembling this DIY planter. If you want to see videos of the process I will leave the link to my Instagram stories HERE. Make sure your following me over there for future projects. I try to share as much as I can in stories! I know as a viewer I'm a visual person & seeing the steps in video is very helpful!
As far as cutting the wood we used our miter saw. If your going to be doing DIYs & know it's something that you love I 100% recommend getting a miter saw. It doesn't have be some big expensive one either. Check your local facebook group, Walmart or look out for sales at Lowe's or Home Depot! This is the MITER SAW we have and if you are looking to go more high end I will say we don't regret this brand one bit!!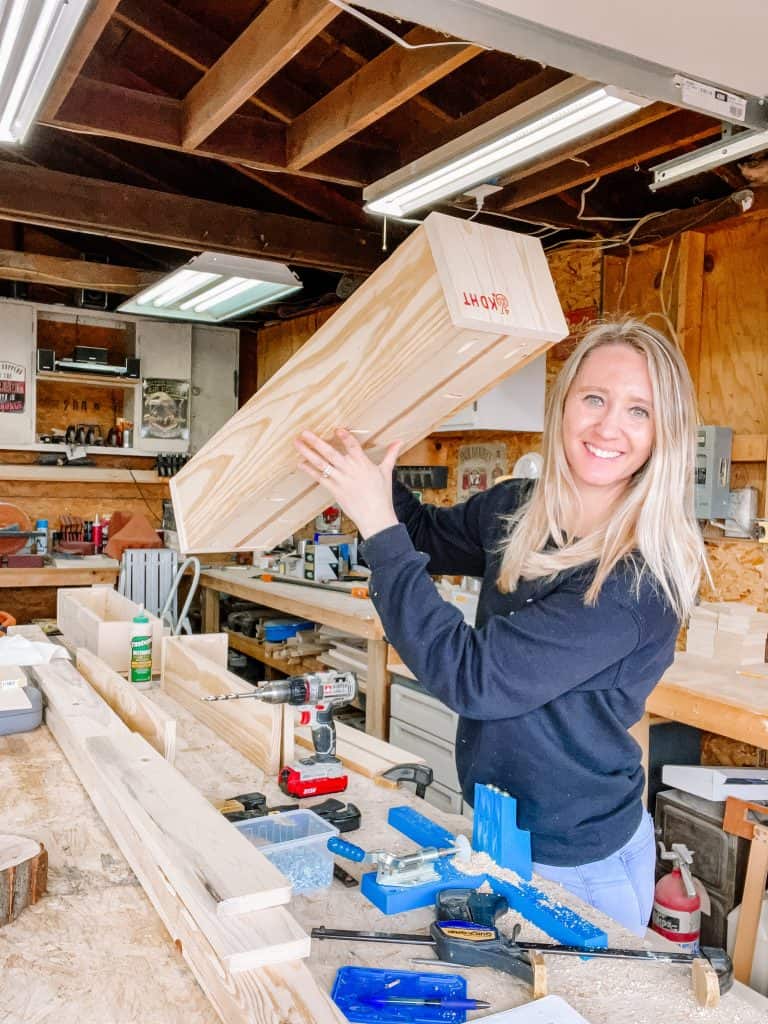 Assembling the boxes is pretty self explanatory. You have 3 sides that are 30″ and the two end pieces are 7″. To assemble the box planter pieces together we chose to use wood glue, a Kreg jig & Kreg screws. This is totally optional & you don't need a Kreg jig to make this planter. Other options are a nail gun with exterior nails, the classic hammer and nails or if you have a screw driver I would recommend exterior screws like these ones.
For the most part the planter boxes are held together by the pocket holes and screws. But to attach the support legs we used these exterior screws that I highly recommend by Power Pro Hardware! They don't require pre-drilled holes & really hold up and do the job!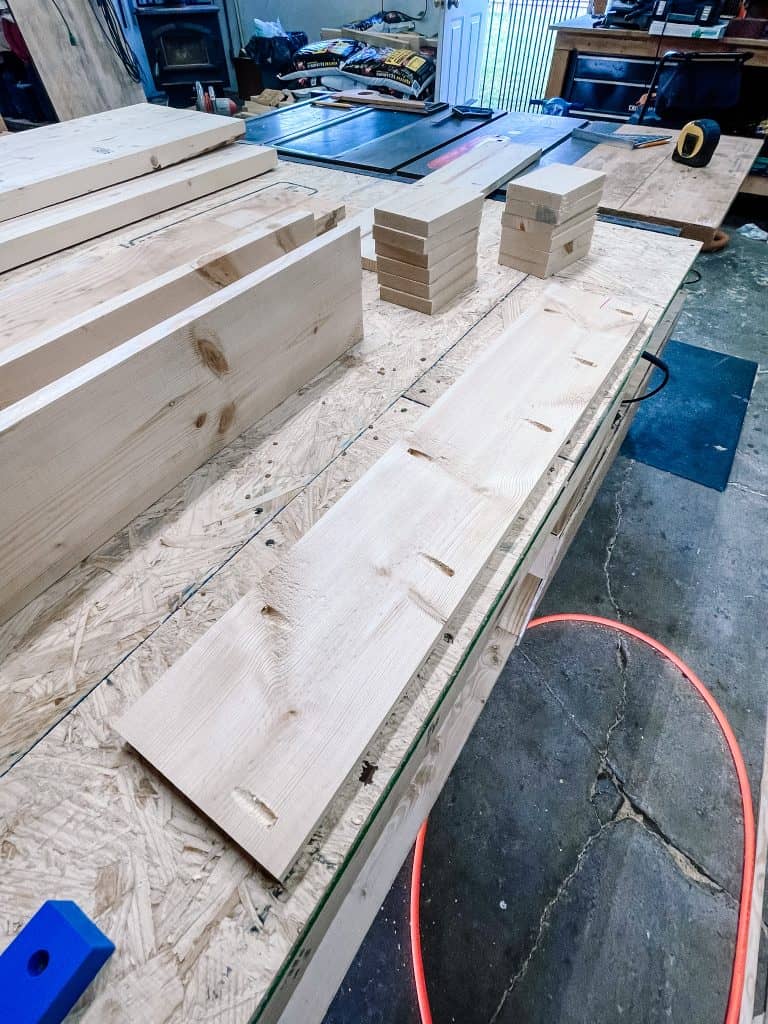 Mistakes I made along the way
Now for the part where I tell you all the things that I would have done differently if I had known better.
Wheels- You're probably thinking what?!? Wheels?? Yes, if I had known better I would have installed some caster wheels to this planter. Since I decided to plant strawberries they need a minimum of 8 hours a day of sunlight. For our situation at my parents house I need to move them a few times a day to reach the sun. This planter is not the lightest & gets a little heavy once you add in the dirt, water and plants.
Drill Water Holes- So with most plants you need drain holes. This wasn't something I thought of in the building process. So after I filled the DIY raised garden planter I had the afterthought LOL! Let's say it would have been easier to do this before I assembled the whole thing!
Sealing- I mentioned this earlier. I wish I would have taken the time to seal the wood before planting.
Placement of Screws- When assembling our boxes I made the pocket holes more in the center of the board and not so much on the far edges of the boards. We used quite a bit of clamps to screw the boxes together but in the end once they have been out in the elements they start to warp just a little bit. Since I failed to put screws at the ends of the boards those tight corners are no longer tight.
UPDATE: This planter with the pine wood only lasted about one season. (remember I never sealed it) Next time I go to build this planter I will most definitely be using a redwood or cedar wood. As for the design, it was great! We got loads of strawberries and i think this was perfect for vertical growing.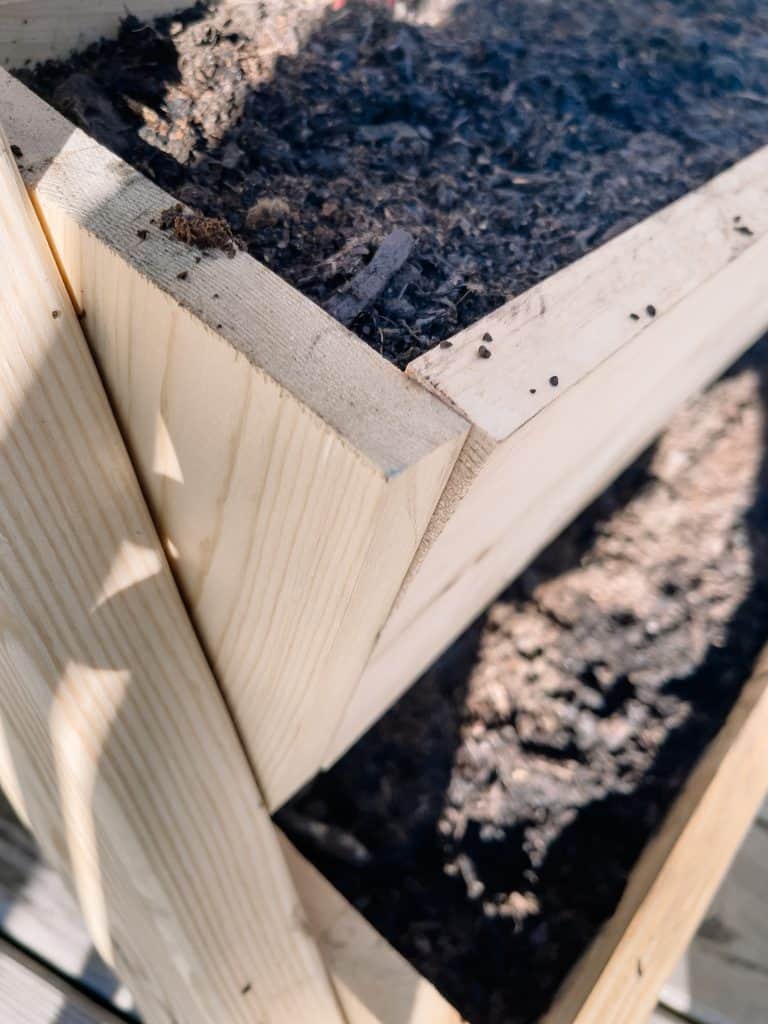 Final Cost
Final cost of this DIY raised garden planter came out to be about $98. That excludes screws and tools to perform the build. The pine boards & 2×4's came in at roughly $57. The wood sealant, dirt and plants came out to be about $40. Less than $100 to me was well worth it. Especially knowing I built it and that now all I have to do is keep these strawberry plants alive LOL!
If you build this DIY raised garden planter please send me a photo on Instagram or email I would love to see what you are building and growing! Check out my Instagram reel on my Instagram page for a quick summary of this build! See you in the next build!!
If you're looking for another easy beginner build CLICK HERE for my DIY Magnetic Message Board!