Are you happy with your outdated kitchen? Oak cabinets, laminate countertop, outdated hardware? Sure, you could paint your cabinets like everyone else on Pinterest, but it's not that easy. This is where the saying "easier said than done" should be applied.
Wouldn't it be nice if you could update your kitchen without painting your cabinets? In this post I share my top 7 tips & tricks for how to update wood cabinets and bring your outdated kitchen to life.
Painting cabinets is not an easy task. We're talking hours, days, even weeks to complete a set of kitchen cabinets. If you can paint your kitchen cabinets in a matter of days then 1) you're a superhero or 2) you obviously don't have small children.
I'm not going to lie, when we moved into our Texas home we bought site unseen (technically we saw it on FaceTime with our realtor but there are somethings you can't see on your tiny phone screen). I knew moving into this house that we would be doing some sort of update to the kitchen.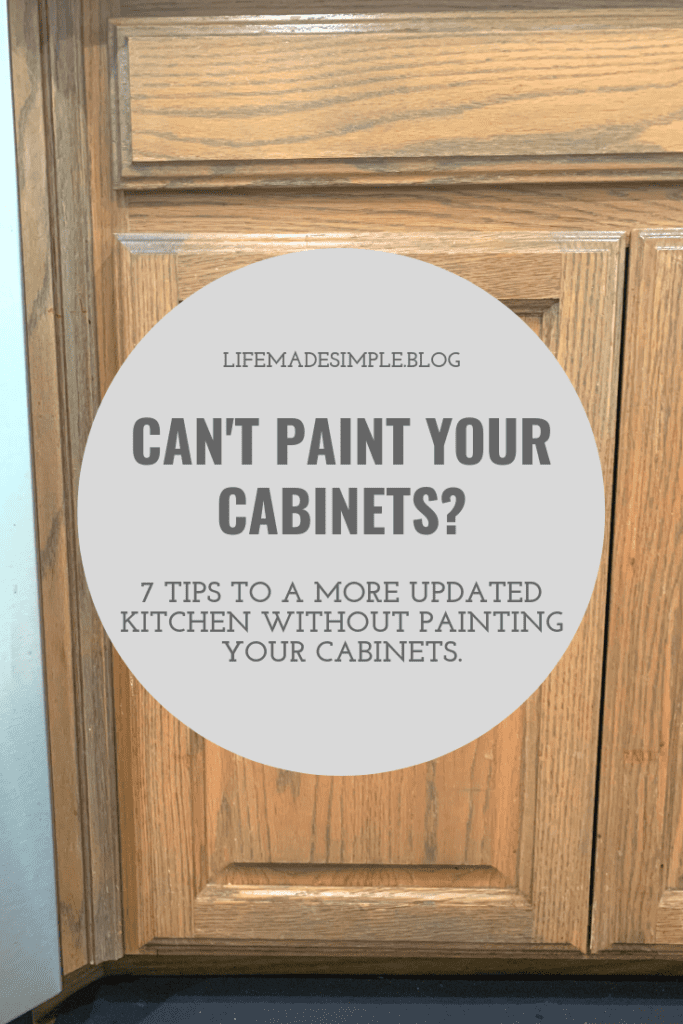 The cabinets weren't horrible [from said view on FaceTime] but I knew we wanted to do new countertops and I had a vision of bright white cabinets. Assuming there wasn't too many DIY's that we had to do with moving in I thought OH YEA, no big deal…I'll just paint them during nap time, bedtime and on the weekends!
Let's fast forward to move in day!
Ugh..is all I have to say. I was speechless, the cabinets were disgusting! They were greasy, grimy, and had some weird red substance splattered all over them.
Now don't get me wrong it couldn't be seen from the living room but as soon as you got close to them I wanted to break out my rubber gloves to even touch them. They were also faded and had a ton of scratches.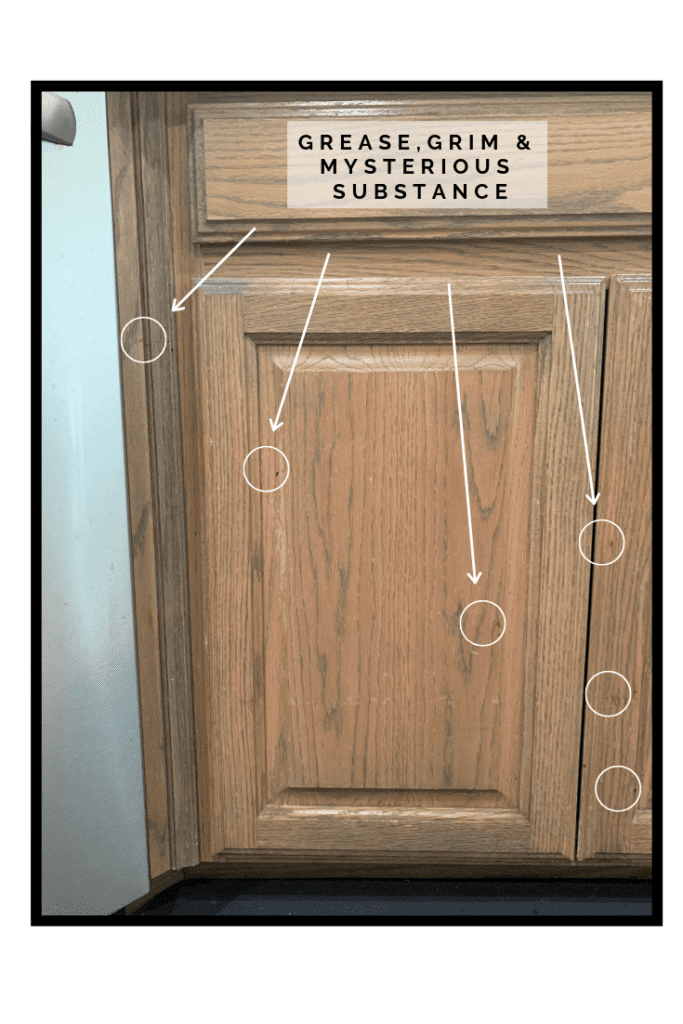 Now you're thinking "okay whats the big deal you wanted to paint them why are you telling us this?"
A little back story for you when we moved in I was 18 weeks pregnant with our second daughter, moving across country away from my family and friends. The house needed WAY more DIY love/work to be done to it than I anticipated. If you have done or been any of those things you know time & energy is hard to come by.
So, I had to pick and choose my battles on what I wanted to accomplish in the 3 years that we were there. After googling and pinning for over a year I had come to the conclusion that you don't have to paint your cabinets to update your kitchen.
There are many ways to update without going all "Demo Day" on your space. Even if there is some weird grimy red substance all over them.
First, let's start with some inspiration photos I found from some fellow bloggers.
How To Update Oak Cabinets Without Painting
KITCHEN LIGHTING
Kitchen lighting is a big one! For me, one big update that can be done without breaking the bank or needing an electrician would be changing your lightbulbs to a natural daylight bulb. Nothing says out dated like some good yellow florescent lighting! Down below I have linked the bulbs we use in our home.
1) 5000k Daylight white indoor/outdoor flood light
2) LED Edison Bulb daylight white 4000k
Aside from updating your lightbulbs you can update your light fixtures for fairly cheap too. In our space we have a breakfast bar with two smaller can lights on a separate switch that at a later date I would love to install some pendant lights to give it a more custom feel.
Here are a couple I've been eyeing for some time now. By clicking on them you can see prices and similar options to choose from.

[AFFILIATE LINKS ARE PROVIDED IN THIS POST FOR CONVENIENCE. FOR MORE INFORMATION SEE MY DISCLOSURE HERE.]
PAINTING THE WALLS
This is one of the most important steps to updating your kitchen on a budget. Assuming you have oak cabinets or some sort of stained cabinets from the 90's you probably have an abundance of wood tones in your space. When choosing a wall color keep in mind the color of your cabinets, and choose accordingly so they don't clash. My personal preference is to stay neutral. Pick a light grey or a nice white to go on your walls. If you want to add color you can incorporate that with your decor.
For our kitchen reno I chose to go with white shiplap! Yes, we [my husband] will be shiplapping all the drywall in our kitchen to contrast our oak cabinets. We have one giant open wall in our kitchen/dinning room and I felt like it made sense to add some texture and depth to the wall by doing some type of accent wall.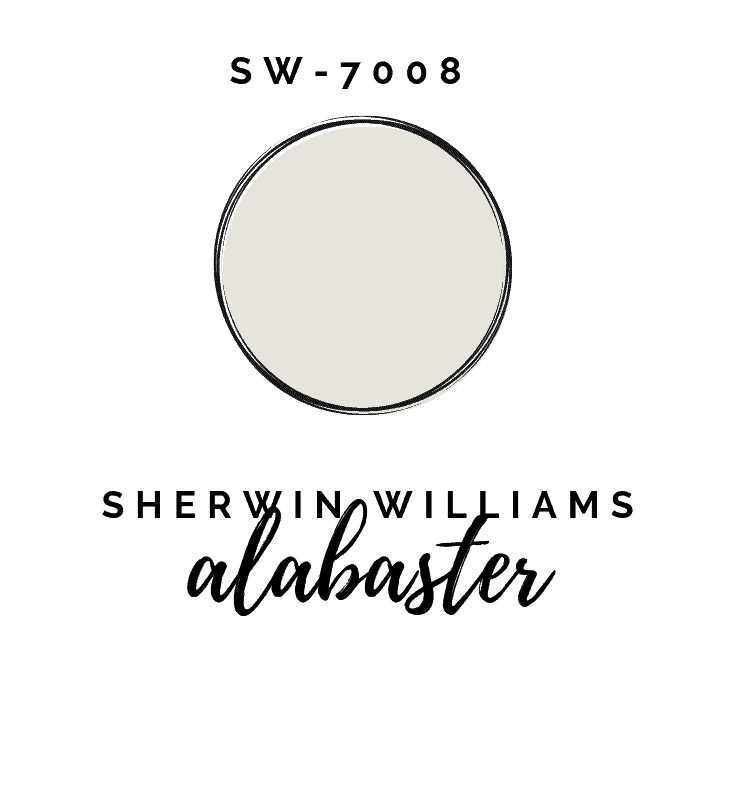 The color white I went with is Alabaster by Sherwin Williams. It's the white we have chose to do all our shiplap and baseboards. I swear the color up above is white it's just a more creamy homey feeling white! CLICK HERE to see it in our hallway. For other great farmhouse paint colors that go with oak cabinets click HERE for that post.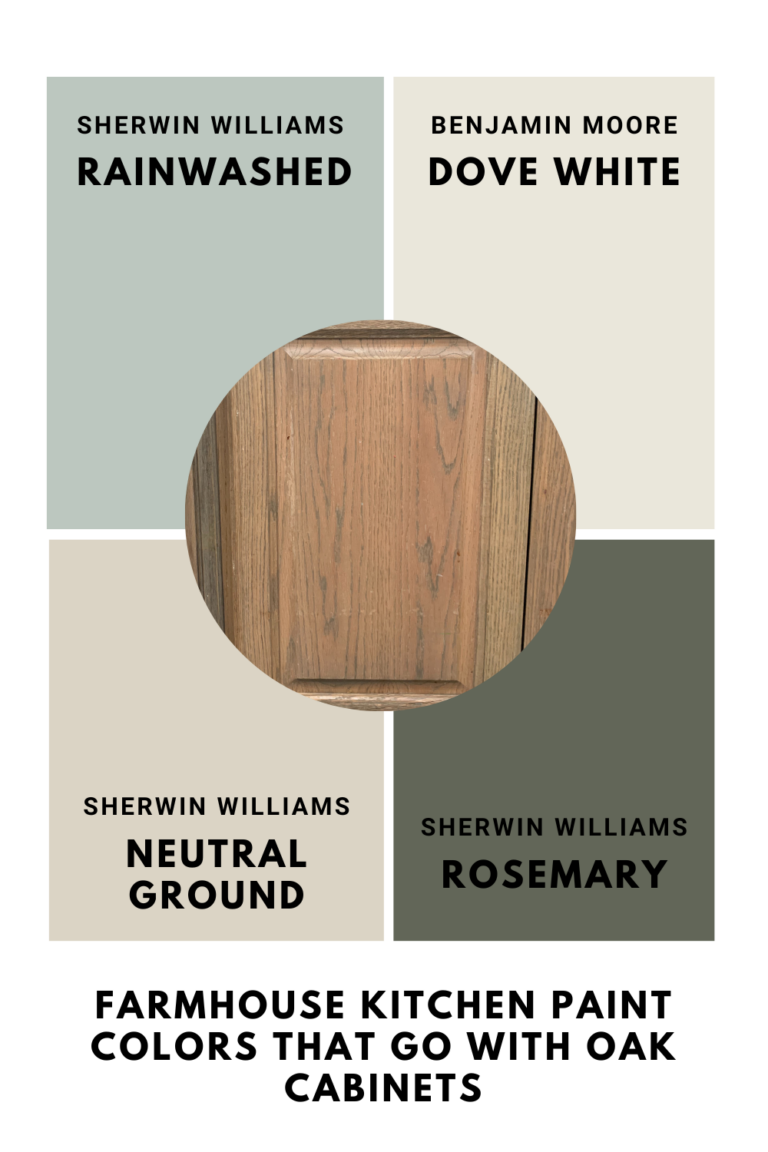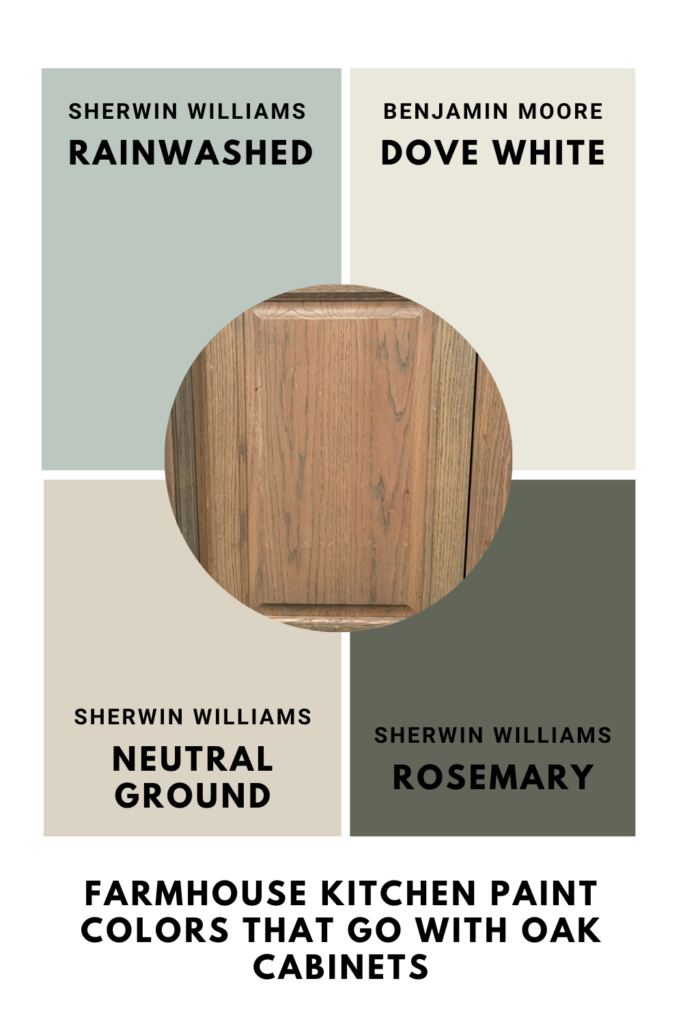 RELATED: Need help deciding on what paint finish to use for your space? Check out CHOOSING THE RIGHT PAINT FINISH for all the details!
RESTORING/REFINISHING CABINETS
Not everyone will have to do this but honestly it doesn't hurt too! The end result is well worth the tiny effort it takes to do this step. Our cabinets like I mentioned up above were worn down, scratched and had white marks on them after all the grim was scrubbed off.
After doing my research I decide to use RESTOR-A-FINISH to bring them back to life. This product is so easy to use and I would recommend to anyone looking for a fast restore on their cabinets.
Now if your old kitchen cabinets didn't have any minor scratches and no major damage then FEED-N-WAX would be a better option. This is also what they suggest to maintain your cabinets and keep them from drying out.
I have a full blog post & review HERE going into depth of how great these 2 products are!
[The before and after photos are mind blowing!]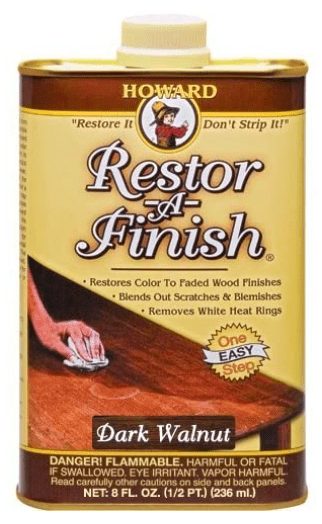 In a nutshell, the RESTOR-A-FINISH removes white rings, blemishes, and sun fade. Bringing your wood tone back to life in minutes. When going to buy make sure you get the right stain color group for your cabinets, they currently have 9.
HARDWARE
Adding hardware or updating your existing hardware can make a world of a difference. It can update a kitchen drastically. Hardware doesn't have to be expensive, you can get them at just about any home improvement store. Here are a couple that I am considering for our reno.
UPDATE: I touch more on the importance of updating hardware for your oak cabinets in this post here. THE BEST HARDWARE FOR OAK CABINETS.

[FYI: Coming from someone who has bought a ton of hardware. It's SIGNIFICANTLY CHEAPER on Amazon than at Lowes or Home Depot! Mind blown! Wish I would have known this before I bought all the bathroom hardware.]
COUNTERTOPS
This one will probably be the most expensive update out of all the ones I talk about. If you have oak cabinets from the 90's most likely you also have some wonderfully outdated laminate countertops.
Don't get me wrong laminate isn't completely horrible now a days. Technology has definitely made them well made and stylish for our era. But when you look at the price tag they end up being more or around the same price as some of your other options like solid surface.
If you're on a budget and can't afford quartz, solid surface countertops are my go-to. We have already updated our countertops and this is the second home we have had solid surface installed.
When it comes to counters you just have to be smart and get as many quotes from different places to see what your working with. To save money try sticking with just a straight countertop, don't add the backsplash like most laminate counters have. That right there screams outdated and will cost you even more.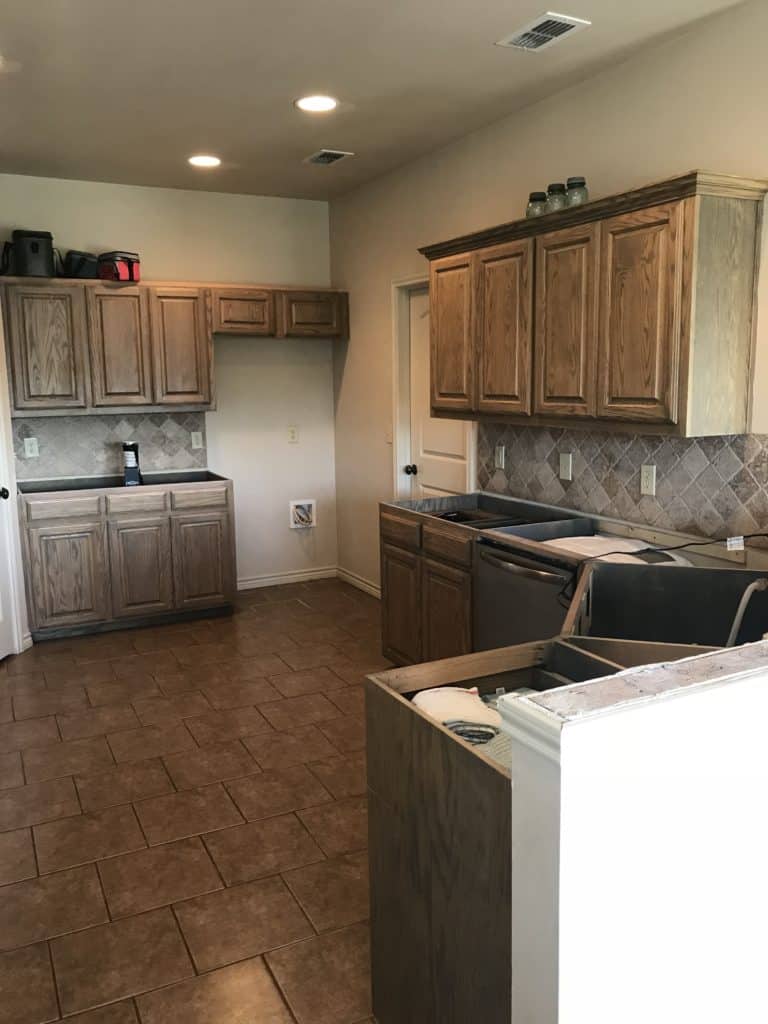 BACKSPLASH
When it comes to backsplashes think minimal, classic, and neutral. You want something that's not busy and is going to clash with your cabinets. Subway tile is a great choice (bet you knew I was going to suggest that one) It's timeless and fairly cheap, coming in a variety of sizes. This is the one we decided to go with from Home Depot.
If you are new to tiling and want a mess free beginner project, I suggest using this MusselBound Adhesive Tile Mat that I used in our most recent Ohio kitchen.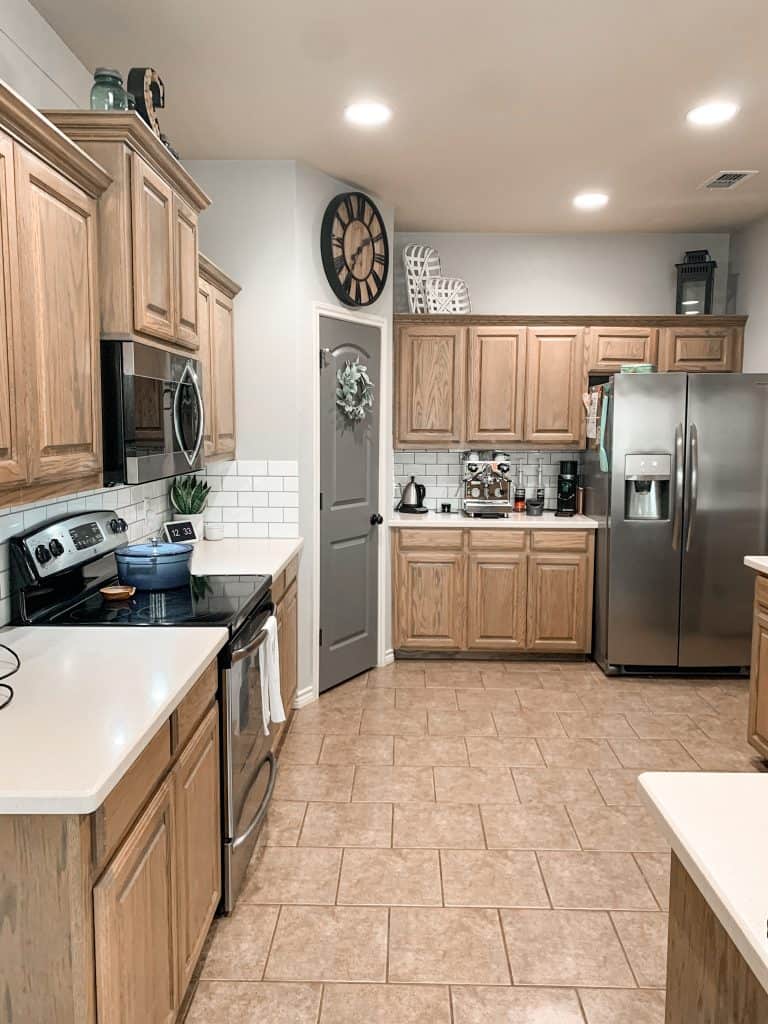 Shelving
Open shelving can make a space seem larger, bringing your eyes to the ceiling. Open shelving can be tricky though. It's all on how you style them whether that be for decor or useful storage space.
For our reno we are not going to be taking any cabinets down to replace them with open shelving. My thought process on this one is I know this house will be on the market in 2 years and not everyone loves open shelving in their kitchen. So, to play it safe we won't be removing any cabinets. But, we will be adding a nice big shelf right off the kitchen in the dining area! (Super pumped for that)
UPDATE: Here is the shelf we built right off the kitchen! I wrote a step by step tutorial here showing the process.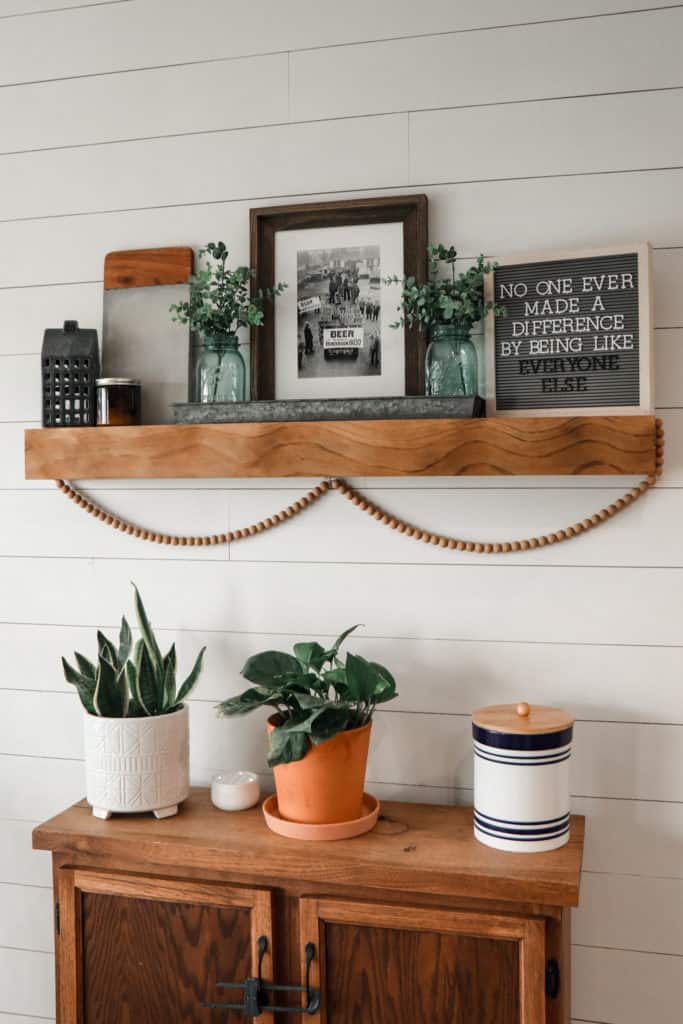 There you have it, 7 different ways to update your kitchen without painting your cabinets! I hope this got your ideas flowing and gave you some great inspiration. If you want more great ideas for your kitchen go read this POST from my friends Growit Buildit!
Need a roundup of all the "working with oak cabinets" series articles? I share all my styling tips in this article How To Modernize Your Oak Cabinets.
If you don't already follow me on instagram CLICK HERE! I will be sharing our kitchen reno there before it makes it to the blog.