Learning to pick the correct paint color to complement your oak kitchen cabinets can be a difficult task. I have picked my top farmhouse inspired paint colors that go with oak cabinets here in this post.
Updating your outdated oak cabinets doesn't have to require you to paint the actual cabinets! You can do simple but important steps to update a space and bring that kitchen to the 21st century. From backsplash, countertops, hardware, lighting and refinishing I share all those steps in my updating oak cabinets series. Keep in mind that the colors I share will vary from kitchen to kitchen. Painting the walls is step one in making your oak kitchen cabinets more modern. It all depends on other factors that I talk about in my series that will complete the transformation.
Maybe you don't have the budget or the skills to renovate your kitchen and you need a quick fix for the time being. One of the first steps to updating your oak kitchen cabinets is to paint your surrounding walls. Paint is inexpensive and a great beginner project. Back when we lived in Texas we had purchased a fixer upper with a ton of oak cabinets. Painting the cabinets on top of everything else I needed to do seemed so daunting and I had no interest in doing it.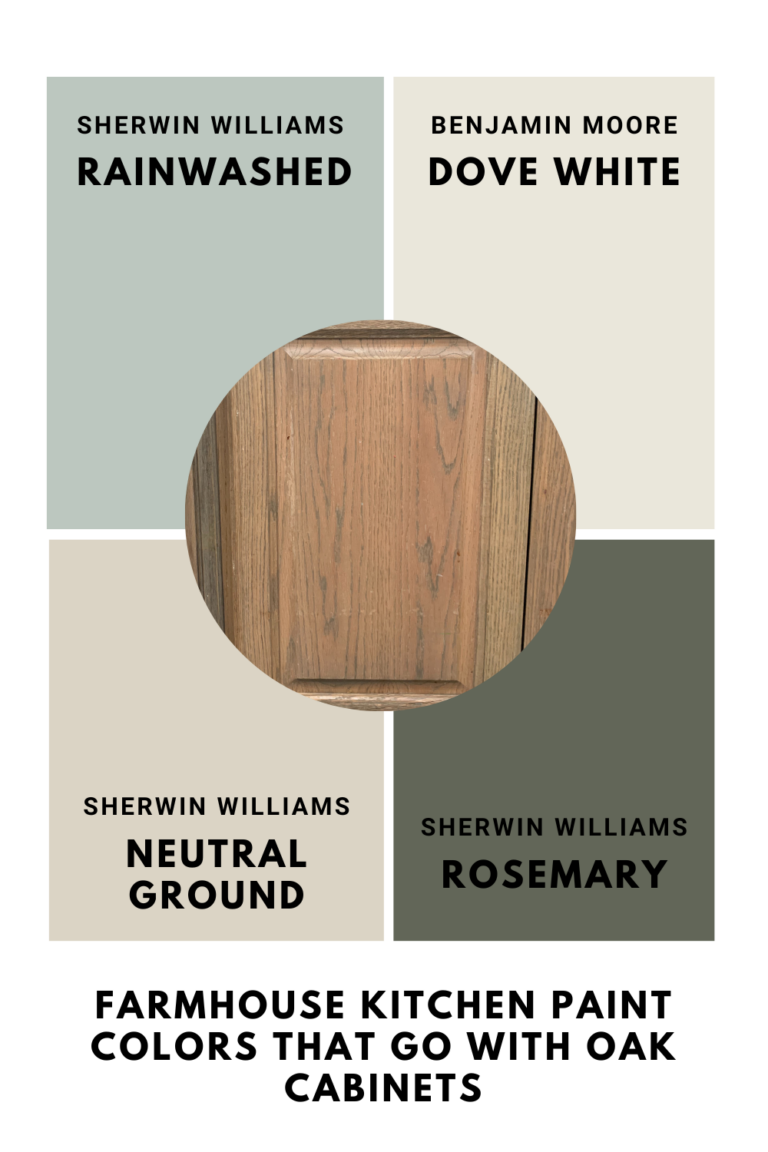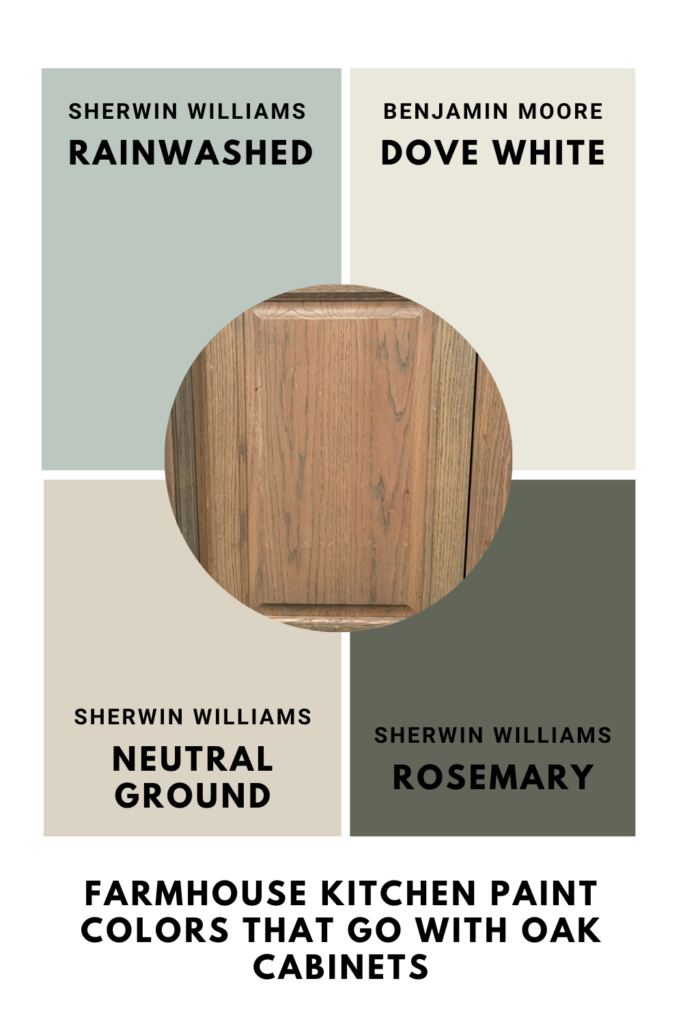 The key to choosing a farmhouse paint color to complement your oak cabinets is to find one that doesn't compete with the orange undertones.
What color should I paint my kitchen with oak cabinets?
The first step to making your oak cabinets more modern is choosing a paint color that softens the orange color of your oak. You want to steer clear of cool tone colors and pick a color that has more warm undertones. You want to downplay those orange tones in your cabinets and not enhance it. One tip I suggest for choosing a color would be to order Samplize peel-and-stick paint samples.
They are reusable and repositionable 12 inch by 12 inch vinyl squares that have genuine manufactured paint on them to give the samples the exact look of the colors you choose. They offer paint from some of the most popular paint brands like Benjamin Moore, Sherwin Williams and PPG. With thousands of paint colors to choose from, once you narrow it down you can order right from your kitchen. The peel-and-stick vinyl squares are an inexpensive (and cleaner) way to sample all the colors right next to your cabinets.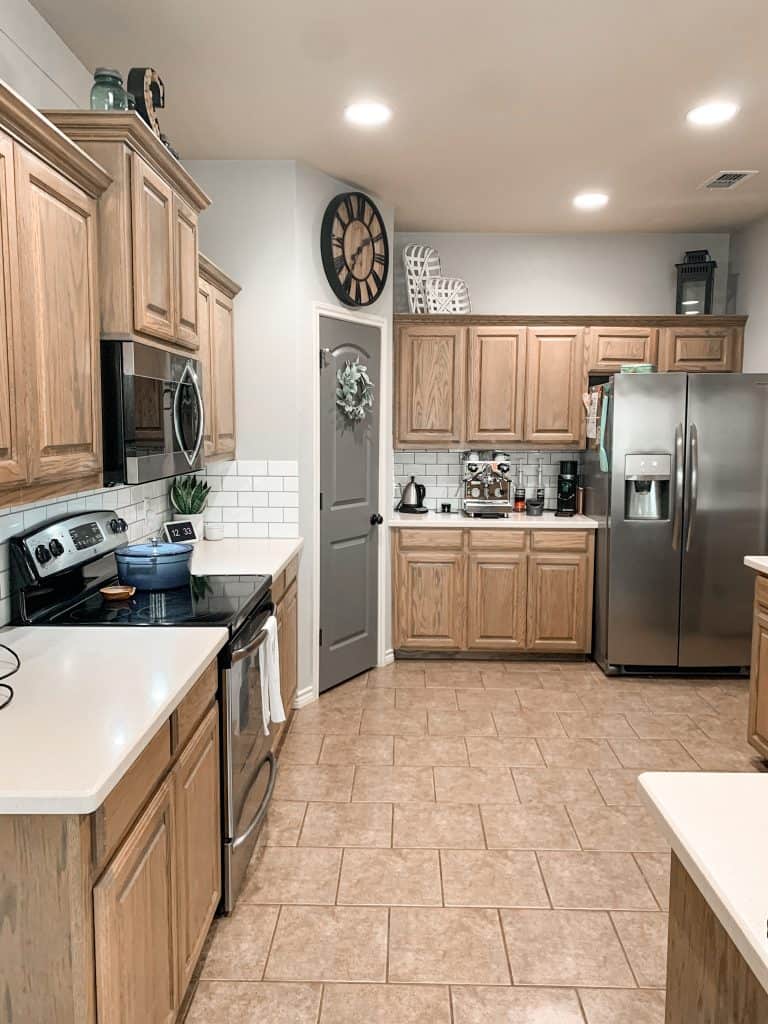 Are honey oak kitchen cabinets outdated?
Unfortunately, I do believe that 90's oak kitchen cabinets are outdated. Wood cabinets in general have been making a comeback in the last few years. It's not necessarily the oak wood, it's the design of the cabinet that makes 90's oak cabinets outdated. Just because they aren't the most modern thing doesn't mean you can't embrace them and modernize your kitchen.
Adding inexpensive upgrades to the surrounding area can drastically change the outlook of any kitchen. I did it in our Texas house for almost 3 years before painting our oak cabinets. To be honest I loved how they looked and wanted to keep them but our cabinets were long gone in the sense of small updates. I had to do wood repair and replace a lot of parts so painting was necessary to cover up all my repairs.
If your oak cabinets are in good shape but have some fading or tiny scratches I suggest reading this post about How to restore your oak cabinets. I used this product (as did most of my neighbors) before painting our cabinets and the before and afters were mind blowing!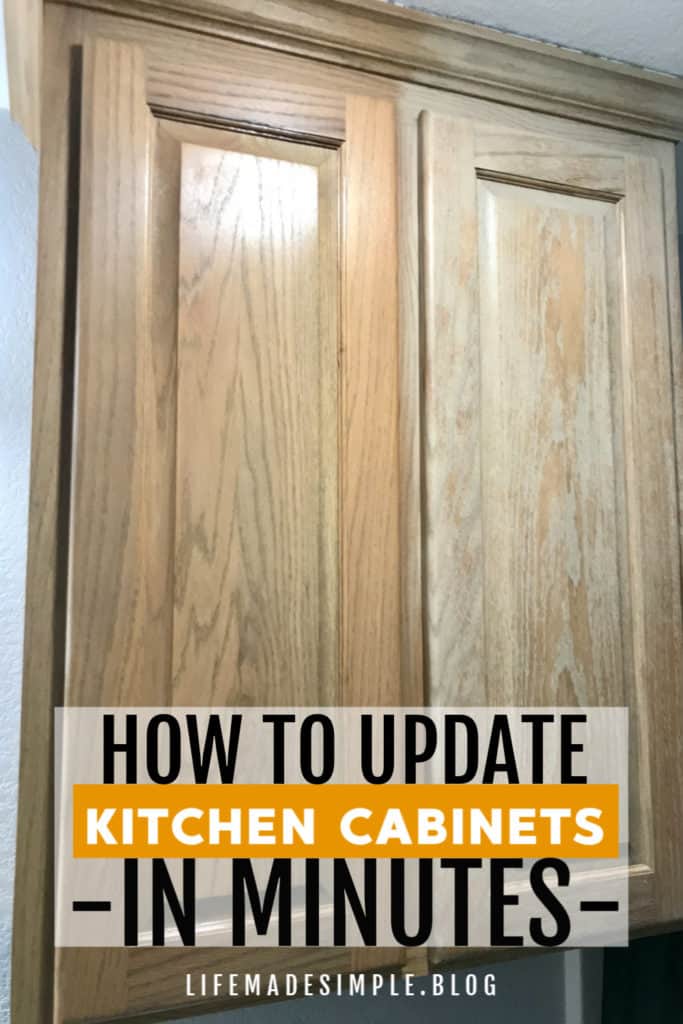 What colors go well with oak wood?
Let's get into the colors that best compliment oak cabinets. Here are some of my go-to farmhouse paint colors that I like with oak kitchen cabinets.
[AFFILIATE LINKS ARE PROVIDED BELOW FOR CONVENIENCE. FOR MORE INFORMATION SEE MY DISCLOSURE HERE.]
Sherwin Williams Mindful Gray– A warm light medium gray with a purple undertone. This was my color of choice for our kitchen in Texas. I wanted a gray at the time and this was my favorite when looking at samples.
Benjamin Moore White Dove– A creamy greige color that adds warmth to the space while complementing any orange tones in the room.
Sherwin Williams Rainwashed– Rainwashed is a perfect color if you want a tint of color but still want the light and airy look in your home. It complements the oak wood cabinets just enough making it a ideal color.
Sherwin Williams Repose Gray– This gray literally goes with everything. If you want a safe color and don't want to do much thinking, you are pretty safe going this route.
Benjamin Moore Revere Pewter– If you don't already know this is my new favorite color of all time. I love that it's the perfect greige color that leans a little more on the warmer side.
Sherwin Williams Neutral Ground– A tan with a gray undertone. My friend over at Growitbuildit.com used this in their kitchen and I love how it changes with the lighting.
Sherwin Williams Rosemary– If you want to have fun and add some color you could choose Rosemary! I am in love with how this color makes the oak wood look so modern and less orange.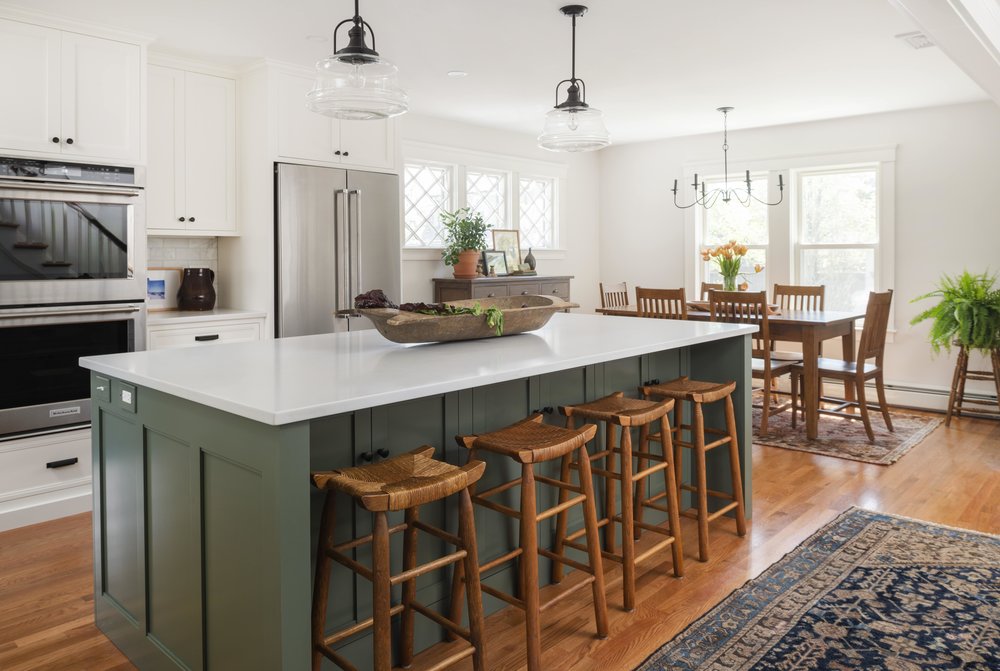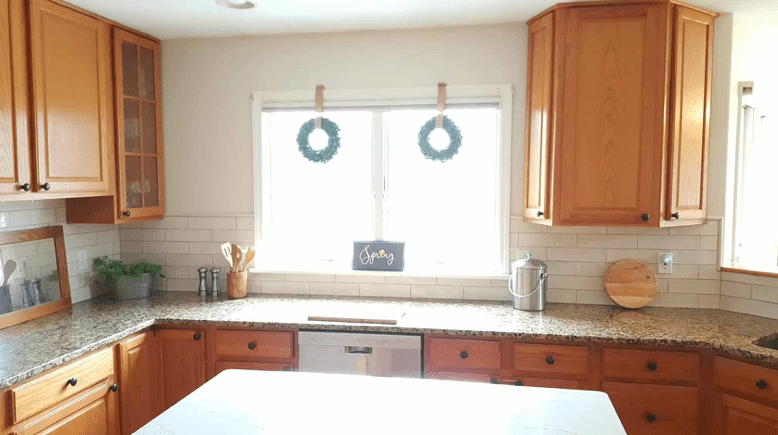 Painting supplies that make your life easier
Listed below are some of my number one suggested paint products. I own and use every single one of these paint supplies and continue to rebuy them. Having quality paint products really is important and one of those areas I suggest not to skimp on. A good brush and roller can make or break if your paint job looks professionally done or not!
More Painting Resources
I hope this helped lessen the burden of choosing a farmhouse paint color to accent your oak cabinets. If you find this post helpful make sure to pin it on pinterest and save it to refer back too! Until next time friend, see you later!