The best hardware to update oak cabinets from the 90s doesn't have to be expensive or hard to find!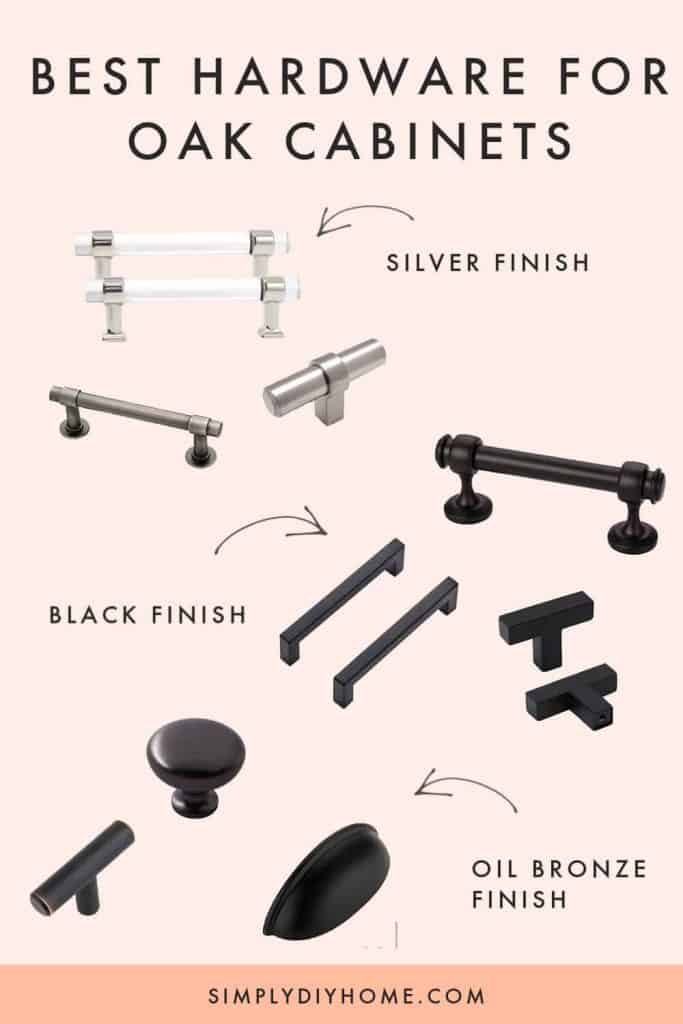 It can be a challenge to figure out how to modernize oak cabinets all while on a budget. I see it all the time on Pinterest, Instagram & Facebook groups. Renters looking to update oak cabinets in their rented 90s kitchen. New home owners just dabbing their feet in their first DIY.
Whether you are renting or you own the home and might renovate in the near future it is possible to bring some life back into those outdated oak cabinets all on a small budget.
If this is your first time on Simply DIY Home check out this post on How to update wood cabinets-no painting for a quick rundown on all your options to updating your cabinets. From updating your countertops, paint choices and backsplash options we have thought of it all for you in that post.
Best Hardware to Update Oak Cabinets
Today we are going to talk hardware. Hardware in my opinion is one of the easiest and quickest ways to make your kitchen more up to date. It can make a world of a difference and change the over all vibe of the cabinets drastically.
From experience I have found that Amazon is by far the cheapest place to buy cabinet hardware. Not only that but they have way more options than your local Lowe's or Home Depot!
When choosing a finish for your hardware you want to keep in mind that you're trying to complement your already existing oak cabinets. In my opinion and possibly many others I would steer away from the ever so trendy gold finish that seems to be making a combat.
As gold can look very modern & sleek it will not do your 90s oak cabinets justice. Sorry!
Contrasting colors will give you that pop that you're wanting to make your cabinets stand out in a good way. Think more black or oil rubbed bronze finish for your pulls or knobs. If you're a homeowner opting to swap out your faucet and light fixtures for the same finish you will be one step ahead into making your space more cohesive and updated!
Here is one really good example of oak cabinets that look outstanding. The whole kitchen looks sleek, modernized and defiantly not stuck in the 90s. The contrasting black hardware really gives the whole kitchen a different vibe than if there wasn't any hardware at all.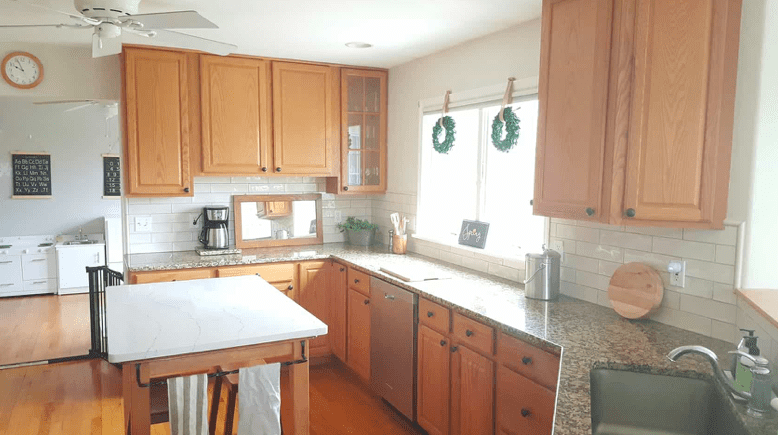 How Much Does it Cost to Update Cabinet Hardware?
Down below I have compiled a whole list of various knobs and pulls from Amazon. They're affordable and many of them come in packs of 10 or 15. Most kitchen's average out by needing 20 or so pieces of hardware.
If you are installing them yourself and need to add holes this template is what we used in our kitchen remodel. Not only did it save us money it was easy and convenient to have everything we needed at our fingertips to get the job done.
I hope this was helpful in your adventure to updating your outdated cabinets.
Follow me over on INSTAGRAM & send me a message letting me know all about your plans to update! Those are possibly one of my favorite messages that I get! Also catch me over on YOUTUBE for home decor, house updates & the occasional cleaning motivation video.
[AFFILIATE LINKS ARE PROVIDED IN THIS POST FOR CONVENIENCE. FOR MORE INFORMATION SEE MY DISCLOSURE HERE.]