Do you have a ugly stone fireplace that just isn't your vibe anymore? Or maybe it was never your style and you have been living with it. With just a few supplies you can change the stone on your fireplace without dealing with the mess that comes with ripping it out.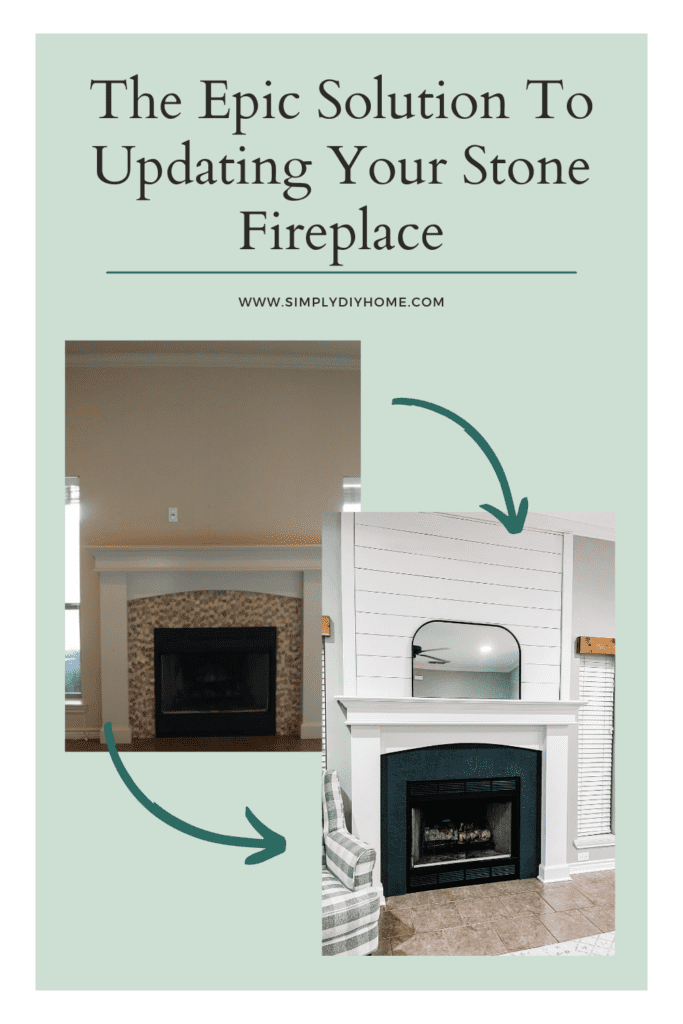 How to paint a stone fireplace
Bet you weren't surprised to see that my epic solution to changing the stone on our fireplace was indeed paint! I love paint and you can use it on just about anything. When moving into our previous home a few years back everything in the home was a off-white brown color. The floors, walls, ceilings and the stone surround on the fireplace were all the same color. Everything was in good condition but needed new paint badly.
Overtime I started to change everything in our new house with a fresh coat of paint in a brighter white. Once we added the shiplap to the fireplace and repainted it Alabaster I knew I needed to either redo the outdated stone fireplace or cover it somehow. I had recently done some projects with the (at the time) new Rust-Oleum Chalked Paint and really loved the matte finish. After doing some googling I came to the conclusion that I was going to paint the stone surround with black paint!
You too can do this project and update your outdated stone fireplace. Just gather the supplies listed below and follow these simple steps.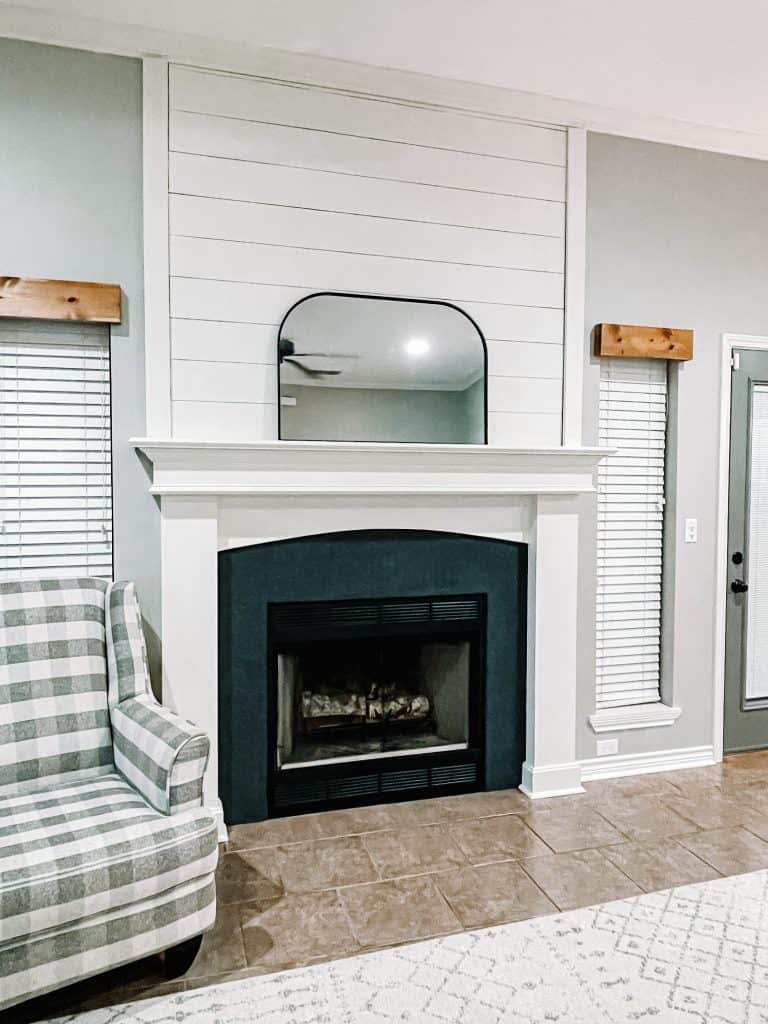 [AFFILIATE LINKS ARE PROVIDED BELOW FOR CONVENIENCE. FOR MORE INFORMATION SEE MY DISCLOSURE HERE.]
Painting stone fireplace tutorial
Step 1- Prepping your outdated stone fireplace
First step will be the most important step of all. Never skip prepping your surface. To prep the stone fireplace you will need a sander or 120 grit sanding block. You don't have to get to in depth with sanding, you are just trying to create a rough surface so the paint will adhere correctly. Start from top to bottom and lightly sand all surfaces, making sure you get around the edges of the stone too.
Depending on your stone this can be done pretty quickly or it could take you some time if your stone is more natural and ridgid. After sanding you will need a all purpose cleaner to remove any grime and grease. I recommend Krud Kutter because it's great at cutting through the grime and anything that is left behind that could prevent your paint from sticking. If you feel that you don't need Krud Kutter I would just recommend hot soapy water using Dawn dish soap.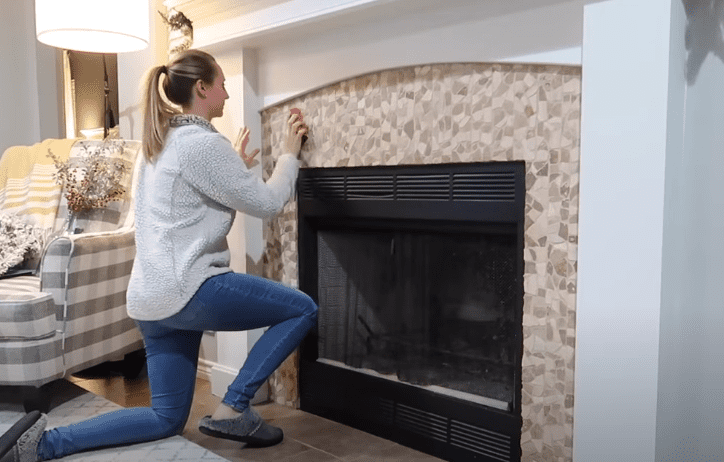 Step 2- Taping off your stone
Next step after you have sanded and thoroughly cleaned your natural stone fireplace it's time to tape off the edges. Not going to lie this part sucked. Stone is not straight and smooth like most surfaces that you normally paint. What I ended up doing was taking way too many hours to tape off all the edges and being really careful that everything was pressed down to eliminate the paint from bleeding through.
Hopefully your stone is easier to paint than mine. Since my was just a stone fireplace surround and not the entire fireplace I had to be careful not to get it on the wood mantle.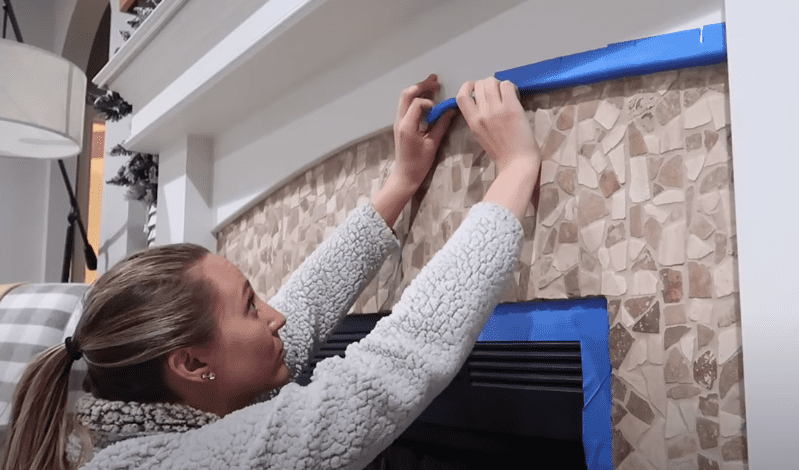 Step 3- Painting your stone fireplace
Last step is the painting process. Depending on your stone you could prime it first to be safe. I would recommend a good primer meant for stone surfaces like Zinsser Bulls Eye 1-2-3 All Surface Primer. I did not prime our stone, I honestly forgot about this step. After almost 3 years though I have not had a problem with the paint chipping or flaking.
When painting your stone fireplace use your foam paint roller and paint all the large areas first. Then come in with your paint brush and get in all those hard to reach cracks that your roller couldn't get. For me I ended up only having to paint 2 coats of paint. The Rust-oleum Chalk Paint has really good coverage. After you're done pull off the tape and see where you need to do some touch ups. From my experience I had a ton of areas that didn't get paint in them and had to get a craft brush to get in all the tiny cracks.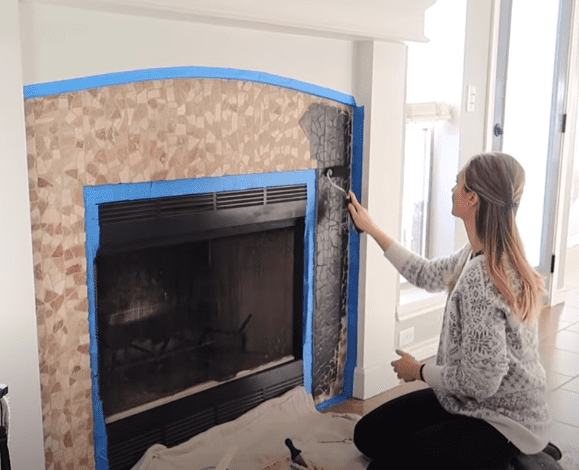 I know using a chalk paint is probably controversial and most professionals will tell you to use a heat-resistant paint. But, listen to me first before discarding using chalk paint. The paint was inexpensive and it has held up amazing.! We didn't use our fireplace at all while living in the house for 3 years but the new owners have used it a ton and I personally asked her how the paint was holding up to the heat of the fire. She reassured me that everything looked the same and was doing great! So do your own research and take my advice as you want but if I was to do this project over I would still choose Rust-Oleum Chalk Paint.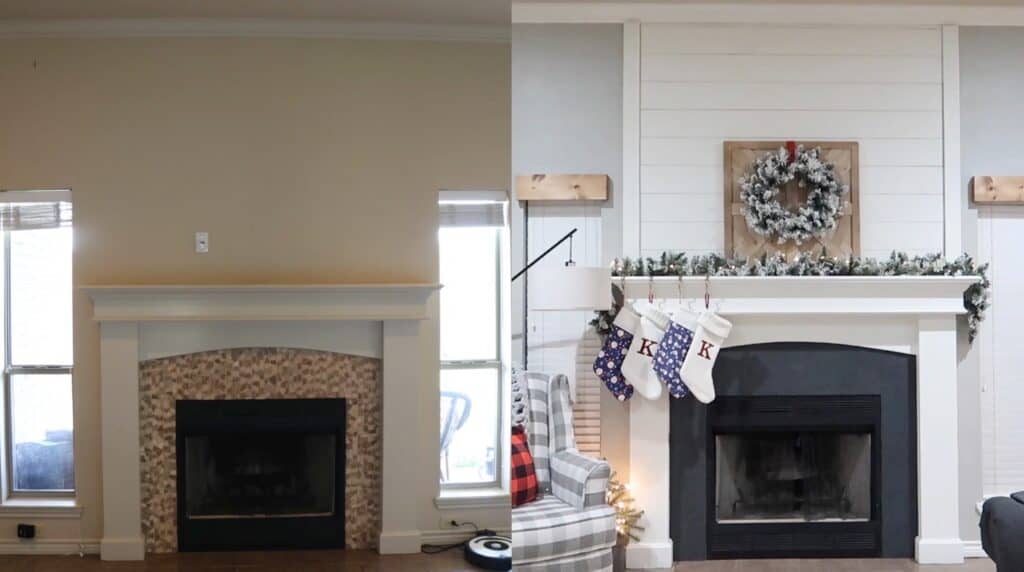 Here is a great before and after of the final fireplace makeover! The whole fireplace has a whole new look and all it took was a simple paint project to completely make it over.
FAQ about painting your stone fireplace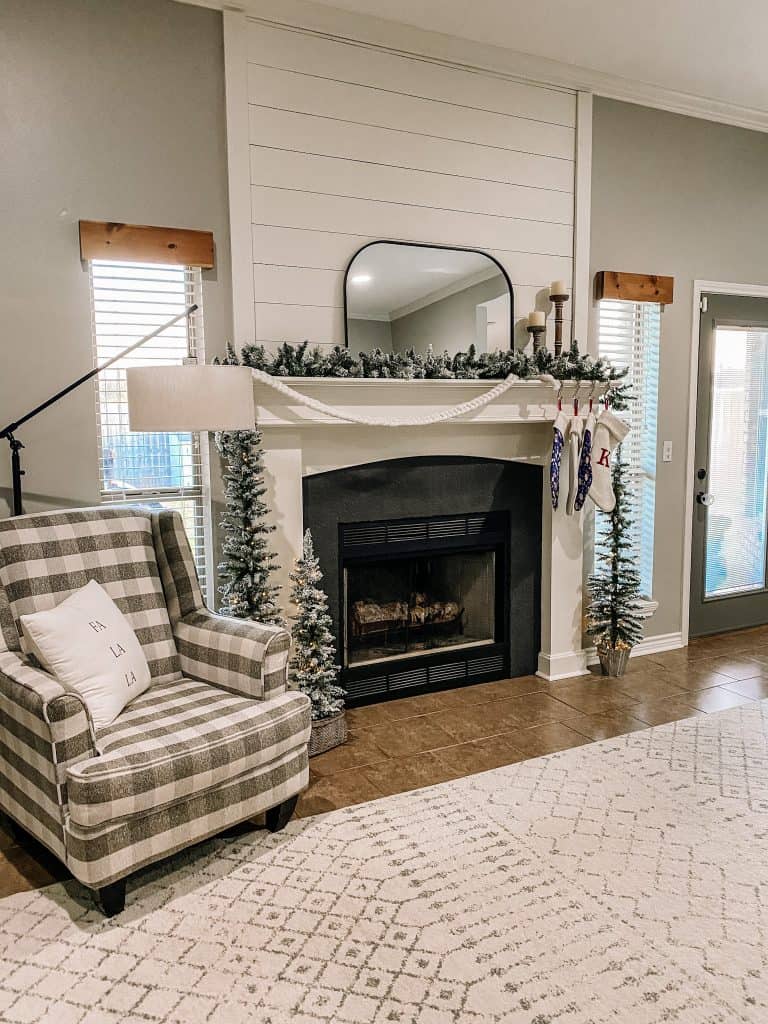 Do I need heat-resistant special paint for a fireplace?
Quick answer is no! Most people will tell you yes you need something that is going to withstand high temperatures. But, this is a myth. The outside of your fireplace typically doesn't get as hot as the inside of your fireplace. Most latex paint and chalk paint can withstand up to 200 degrees. Making it perfectly fine to use for painting the outside of your fireplace.
Is priming necessary before using chalk paint?
If you're using Rust-Oleum chalk paint it will say priming is not required. I'm not 100% sure for other brands. Rust-Oleum has great coverage and for our specific project I did not prime and have never had problems.
Do I need to seal the chalk paint?
You can! Rust-Oleum has a top coat sealer that applies in a matte finish. I actually did not do this step but had every intentions too. In my opinion if you want extra protection I would say go ahead.
If your just getting started with painting check out my list of articles on painting tips & tutorials. You will find 14 essential painting tools I love and 5 that you can live without. If you're looking for popular neutral paint colors or a whole house paint scheme I have those for you too!