Where do you began you might be asking yourself? You have started to dabble in the DIY woodworking world and now comes the time to drop some money on a saw. Do you go with the useful and versatile circular saw? Or do you jump straight in and buy the ever so popular table saw?
If you're looking to only invest in one of these saws keep reading to find out the pros, cons and all the capabilities of both saws. I have gathered an all around review on both the circular saw and table saw to help you make a better choice depending on your needs.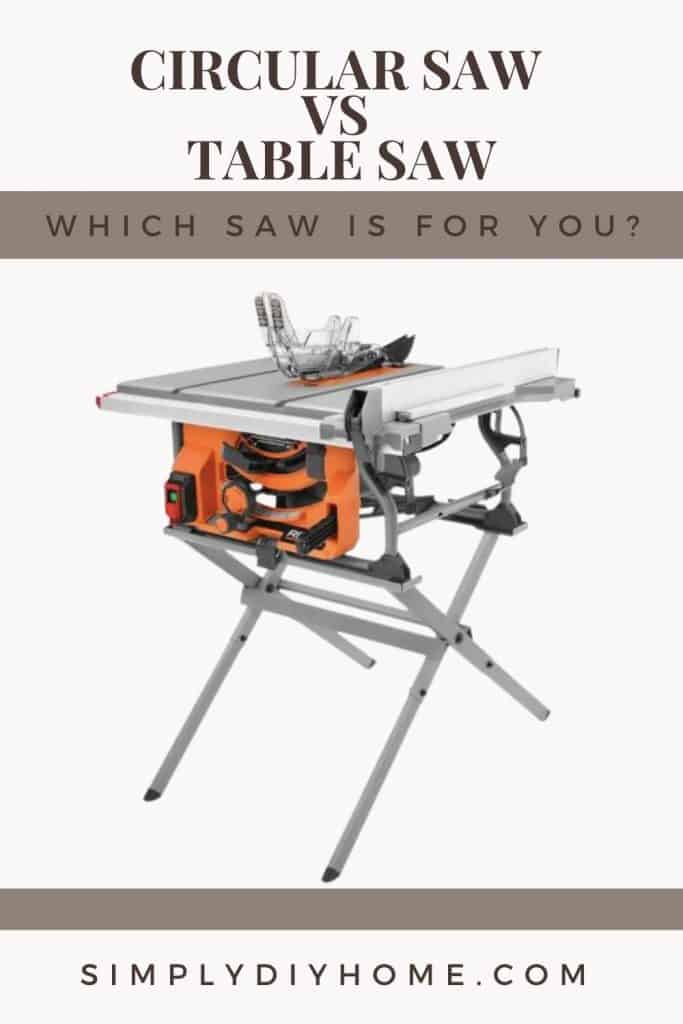 RELATED: Must Have Power Tools For Home DIY
What is a Circular Saw?
First off let's go over each saw and what they are capable of, as well as the most asked questions about each saw. A circular saw is by far the most useful, versatile saw that you can own. It's not that easy though so don't stop there and run out to grab a circular saw! Every saw comes with their own limitations and hazards.
Before i say anything else just know safety is the most important thing when it comes to working with power tools!
In my eyes a circular saw is more of a novice woodworking tool. And maybe I say that because I'm more comfortable with our miter saw and table saw. So if this is your first saw I would just make sure you have an understanding of how to use it properly. You need to take more precautions and be aware of your surroundings when using it.
A circular saw is a hand held portable power saw. With the right blade the circular saw is capable of cutting wood, steel, metal, ceramic tile and more. Most novice woodworkers can cut straight lines with no assistance. But there are such jigs like the Rip Cut from Kreg that makes straight lines easier. Unfortunately not all saws are compatible with the Rip Cut Jig so make sure you are looking into which ones can be used with it.
For our particular saw that we own we use this handy chalk line tool to mark a straight line for us until the day we upgrade to a new saw.
Circular saws are way more affordable than say a miter saw or table saw. Just know that as it's a good saw to have you won't get as precise cuts like you would with other saws.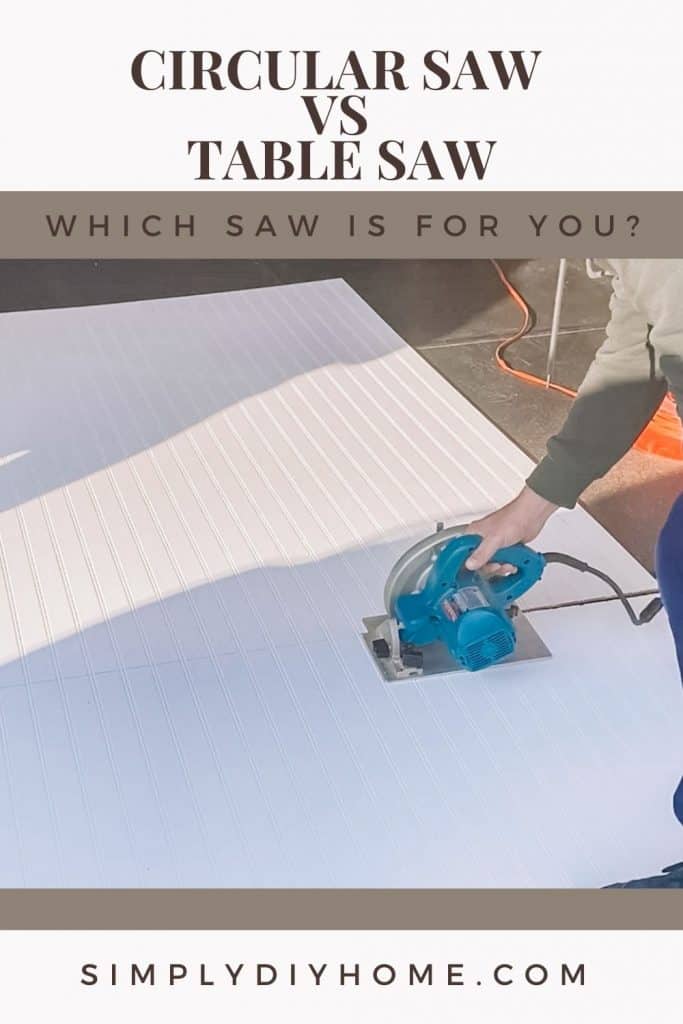 What are Circular Saws Good for?
Circular saws are way more portable than a table saw for sure. They are capable of overhead cuts like a miter saw. Overall they have more uses when it comes to making all different kinds of cuts but the table saw will have more precision cuts. Plus they have cordless options which is my favorite. No need to worry about having a cord get in your way.
What is a Table Saw?
A table saw is a saw with a blade in a fixed position. The blade shows up through a table surface were the operator pushes the wood through the blade.
The table saw is known for providing accurate clean cuts. It's capable of miter cuts, straight cuts, rip cuts and bevel cuts. Today's saws you can now adjust the depth of the blade making it possible for all kinds of projects. Not to mention they have portable table saws that fold up and store nicely for people with less woodworking space.
What are Table Saws Good for?
I personally love the table saw and use ours quite often. Most popular uses would be to cut crown moulding, ripping down larger pieces of wood into small pieces and ripping long straight cuts. Some of my favorite projects that I use the table saw for would be cutting shiplap boards when going the cheaper plywood route, and I love making wood mosaics!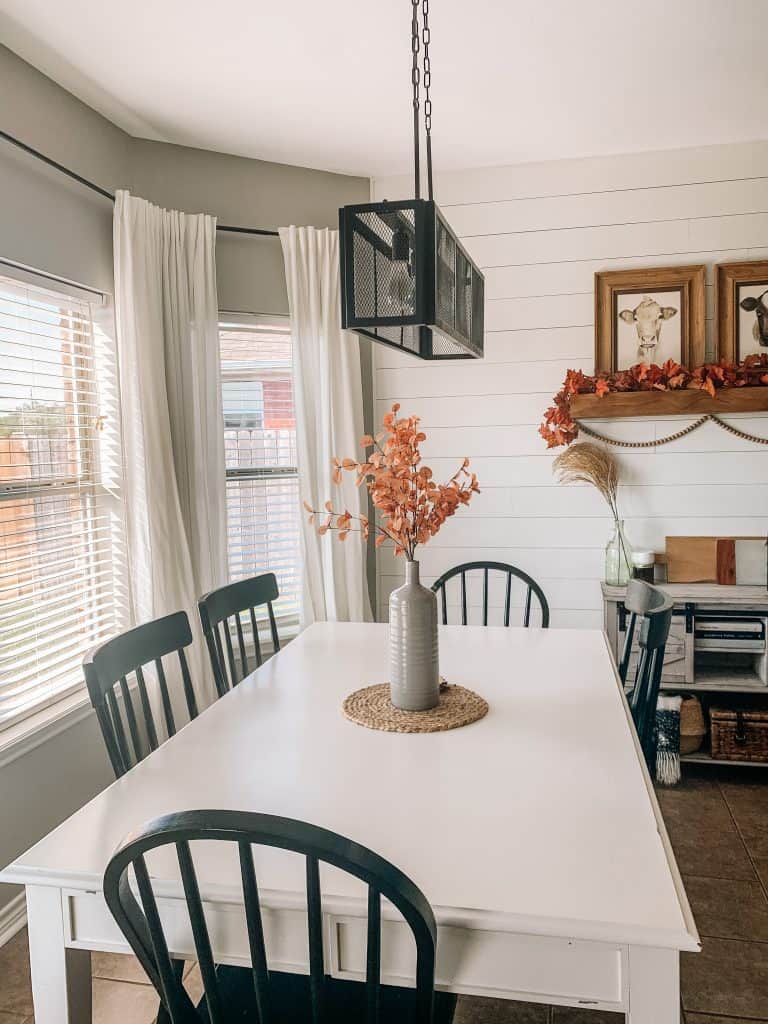 Anytime you have a large piece of wood that you need to rip down to smaller pieces a table saw is going to be your best friend.
Some table saws have sawdust systems so there is less of a mess which could be a plus if you share a wood shop space like I do! Less sawdust means less time cleaning up!
What's the Difference in a Circular Saw and Table Saw?
Circular saws are handheld & table saws are stationary and lay flat.
Circular saws make fewer cuts & table saws make accurate cuts.
Circular saws are budget friendly where as table saws cost a little more.
Circular saws can be messy with sawdust & table saws tend to be cleaner.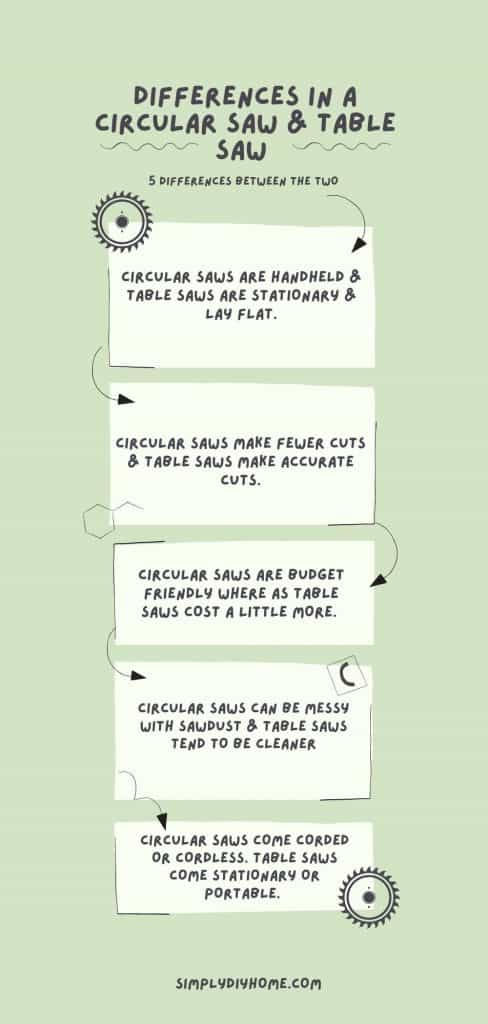 The Best Circular Saws To Buy
Now that you know the differences between the two saws it's up to you to decide which one is right for you! Here are some of my recommendations off of reviews & personal preference. Most of these saws can be found at numerous retailers like Lowe's, Home Depot, Ace and Amazon. It doesn't hurt to check all of these places because sometimes they are different prices. For me personally I have always had great success with Amazon being the fastest and cheapest.
Some top brands to consider would be Dewalt, Makita, Skilsaw, and Ridgid. If you are building your collect of power tools keep in mind sometimes it's easiest to stick to one or two brand name tools. Especially if they are battery operated you will save money in the long run and it will be easier to share your batteries between all of your tools.
[AFFILIATE LINKS ARE PROVIDED BELOW FOR CONVENIENCE. FOR MORE INFORMATION SEE MY DISCLOSURE HERE.]
Best Corded Circular Saws
Best Cordless Circular Saws
The Best Table Saws To Buy
When it comes to the table saw there are two types to choose from. Stationary and portable. Another consideration you have to think about is rip capacity. Rip capacity refers to edge of the blade to the edge of the saws fence. This will determine the maximum size width of the board your saw can cut. A larger rip capacity typically means a higher price tag.
I have listed just a few of the highest rated portable table saw options down below. This is what I recommend for the DIYer that is looking to save on space and money. If you have the room and budget for a stationary table saw then that's awesome and I am slightly jealous!
Best Portable Table Saws for the DIYer
Please don't hesitate to ask me any questions, I'm here to help! You can sign up for my newsletter HERE or reach out to me by direct message on Instagram! Save this over on Pinterest for reference next time you're out shopping! And if you just want to feel inspired, here's a quick list of 5 of our most popular DIY projects of all time!