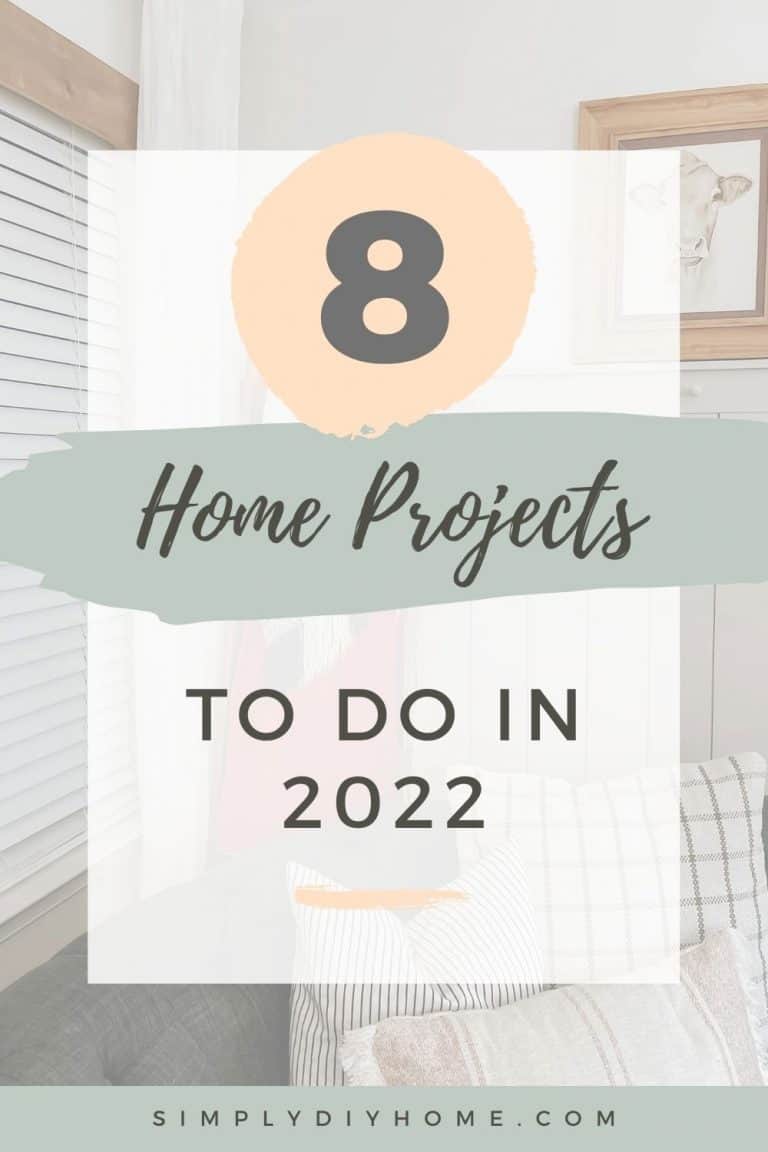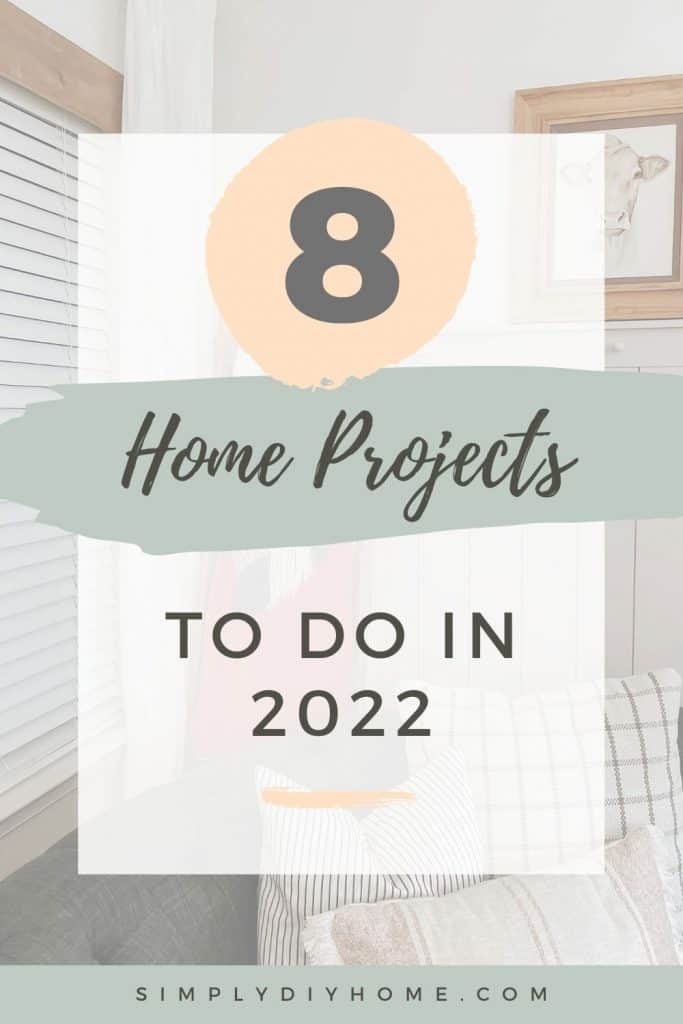 Back in 2020 I created a house projects list here on the blog of all the projects we wanted to accomplish in that year. I thought it would be a fun way to hold ourselves accountable and to look back on what we had accomplished. (or not accomplished) As for that list you can read it HERE for any ideas for your home. I never got to complete half of those projects due to us moving exactly a year from publishing that article.
As for 2022 we are in a new house & a new state with quite the list of ideas in my head! All the projects listed below are great ideas for anyone to tackle in the new year.
If you're new here you should know I thrive to do everything on a budget, keeping projects simple & 99% of the time we are doing them ourselves. So follow along with me this year as I take our builder grade house and turn it into a custom home made just for us!
RELATED- House projects don't have to be done to make a house a home! There are many ways to make your house feel like home read my 6 Tips To Start Loving Your Home Right Now.
[AFFILIATE LINKS ARE PROVIDED BELOW FOR CONVENIENCE. FOR MORE INFORMATION SEE MY DISCLOSURE HERE.]
Budget Friendly House Projects for 2022
1. Backyard Fire pit
Back in the beginning of June 2021 we moved into our brand new home. We have one of the best yards in our neighborhood, there are trees for privacy and we come in right at half an acre. First thing we did to the house was pay to have a company come pour a concrete pad off the side of our patio.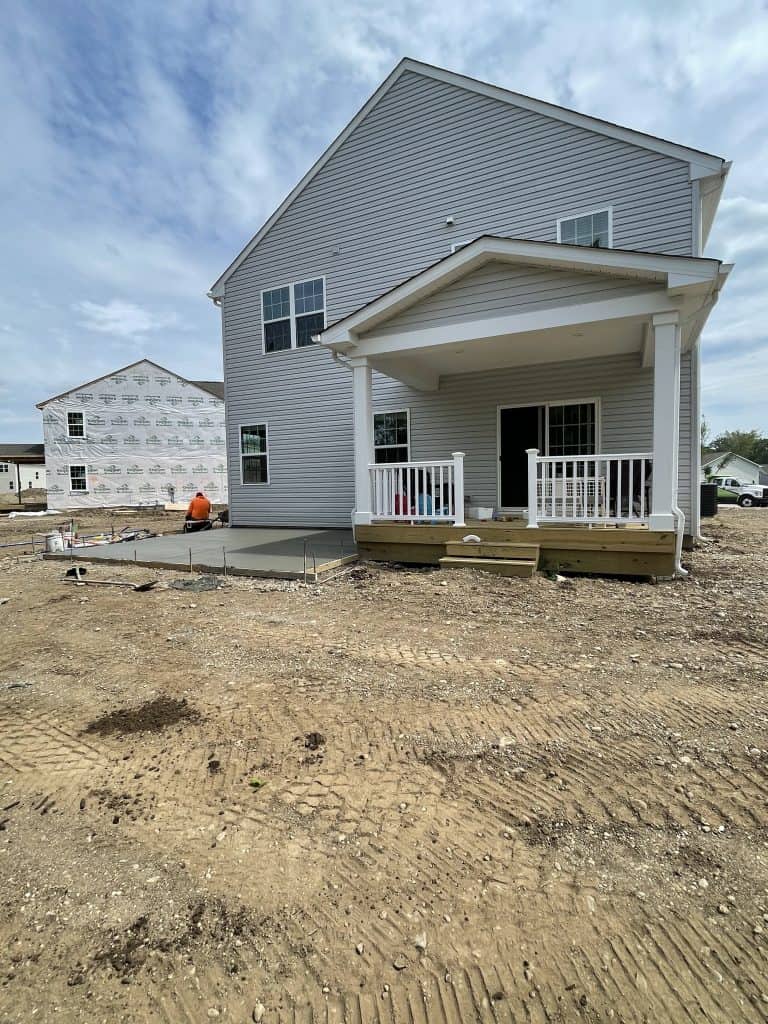 This year one of our biggest goals/projects will be to add a DIY backyard fire pit area! I saw a photo on Blesserhouse.com were they added a fire pit with a gravel circle landing around it and I fell in love. After reading her post and seeing that it only took them one weekend I was sold.
Our fire pit area will be somewhat similar but most likely on a smaller scale. We will have a walking path that will lead from our back steps right down to the fire pit. We decided to wait a year to do this project because I felt like it was a smart choice to see how our backyard drains throughout the year. As you can see in the previous photo of our backyard space we do have an incline. We had the builder add about 50 loads of dirt to the yard to make it as gradual as it can be and we are happy with it!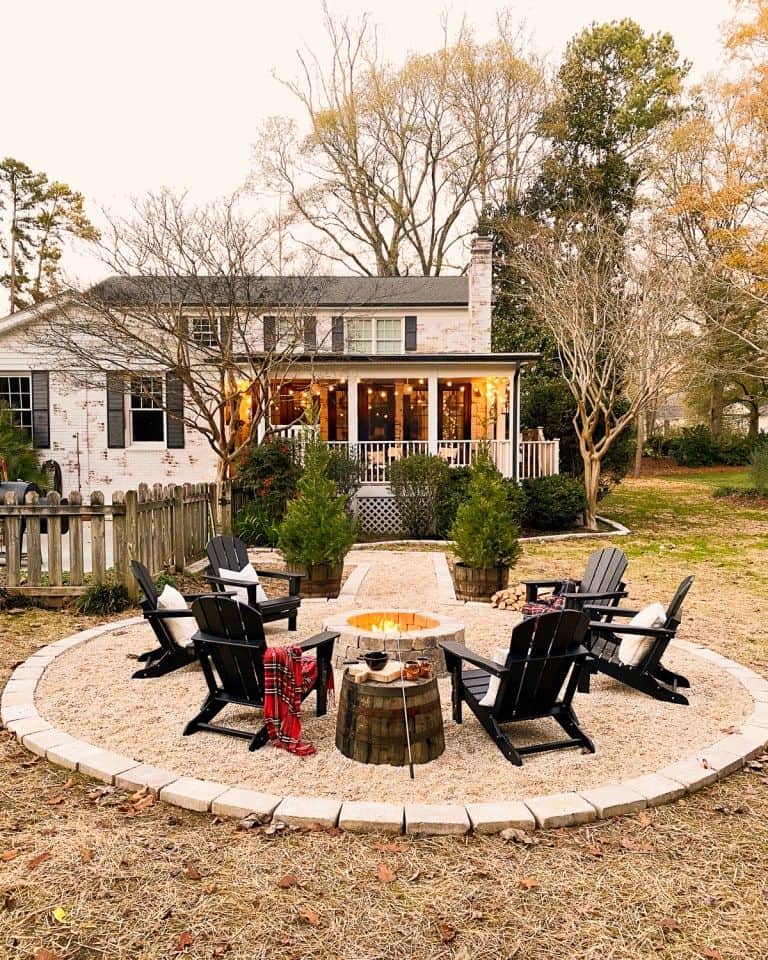 2. DIY Outdoor Dining Table
In 2022 we have a total of 3 outdoor projects that we want to tackle. The second one is building an outdoor dining table. One thing I love about my parents house is that their outdoor space is great for having dinner outside. We really lacked a great outdoor dining space in our Texas home so that was a must in our current home when building.
This is why we added the concrete slab when we first moved in. I had every intentions of building a table before moving in but quickly ran out of time and before we knew it it was to late in the season.
The chairs are already bought for our table and I plan to build a bench for one side. Recently I found an Etsy shop called CarolinaLegCo that custom makes table legs. I loved how affordable they were compared to the big box stores. And it's a plus to support small businesses!
UPDATE AUG 2022- Here is our DIY 8 ft table I built! We have been loving using them with friends and family.
3. Raised Garden Beds
Last outdoor project I have on my radar for 2022 would be some DIY raised garden beds. I'm so excited to garden this year. Last year we moved into our home too late to do any type of gardening. I did manage to make this Vertical Strawberry Planter and it ended up producing quite a few strawberries for our first time growing them!
We want to add one or two raised garden beds to our yard and I plan to do a whole post on what we will grow and how to build the raised beds. My daughters are so excited to grow their own cucumbers so we can attempt to make pickles. Fingers crossed they turn out as good as our strawberries did!
4. Kitchen Backsplash & Hardware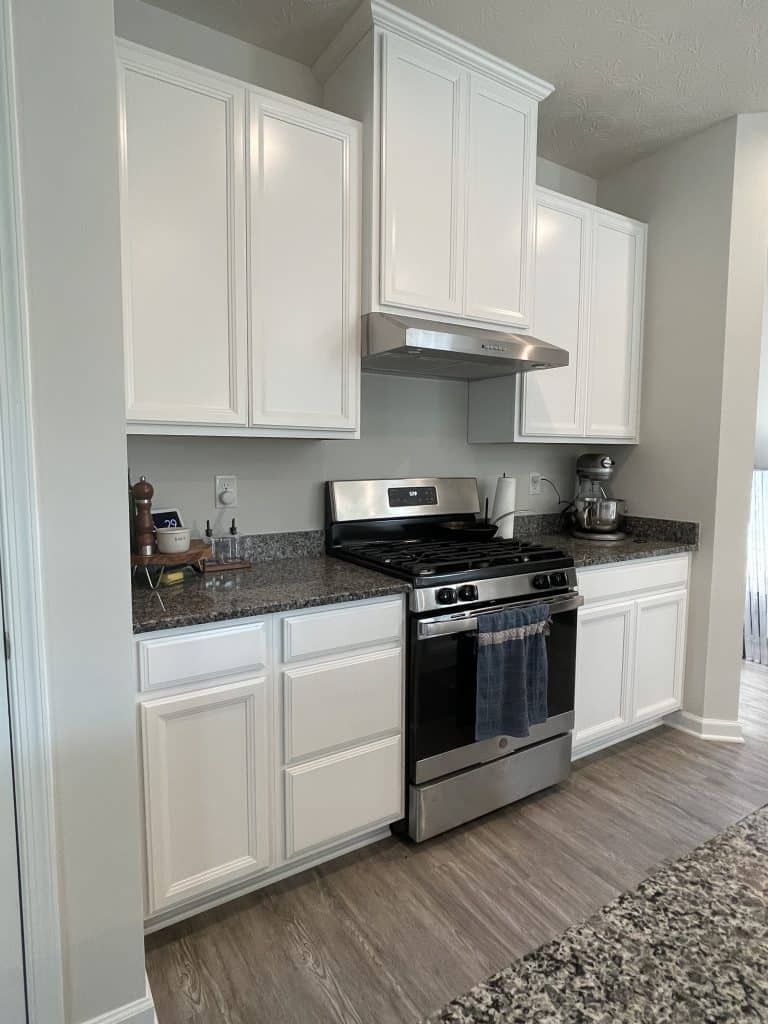 At some point I would love to add a backsplash and hardware in our kitchen. I go back and forth between beadboard and a earthy tone subway tile. Don't get me started on hardware, I have no clue what I want but I feel like I need something different and something I haven't used before. There are so many styles and designs that I love and sometimes I have a hard time marrying the styles together.
What I do love about subway tile is that it's budget friendly and fairly easy. Beadboard is even more budget friendly and super simple to install, if I don't like it and change my mind down the road it's easy to remove. My friend Amy Fritz from Youtube has an amazing kitchen renovation where they used beadboard and it's just gorgeous.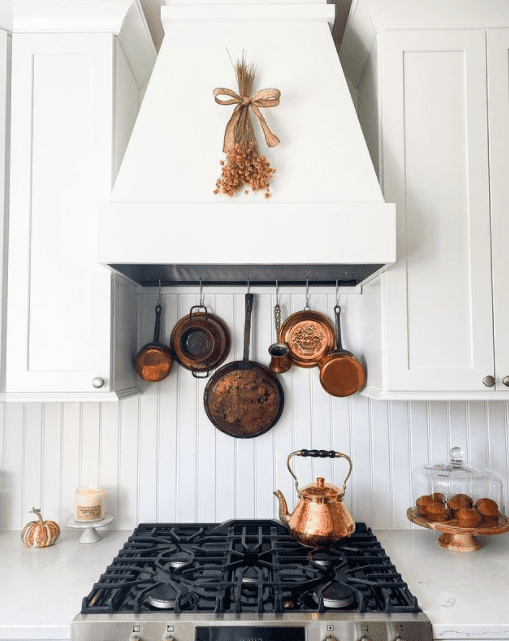 5. Entryway Phase 1 Makeover
One of the first projects I will be tackling this year will be our entryway. I have a few fun areas I can decorate in this space. What I want to focus on in phase one is some type of coat hanging storage. We have this odd shaped wall that is connected to our stairs when entering the home that I would love to add beadboard all the way to the ceiling.
With the beadboard I would create a peg rail shelf to go down the center so the kids could easily hang their backpacks and coats there. We have this nice coat closet in the entryway but it's about impossible for our girls to reach up and hang their belongings. So to save my sanity I need to create a space that is functional so they can help keep their backpacks off the floor.
The photo below is a good example of what I have in mind. Our space is totally different but I love how Tristen took the accent wall all the way to the top and created her own peg rail system. You can see her full makeover HERE!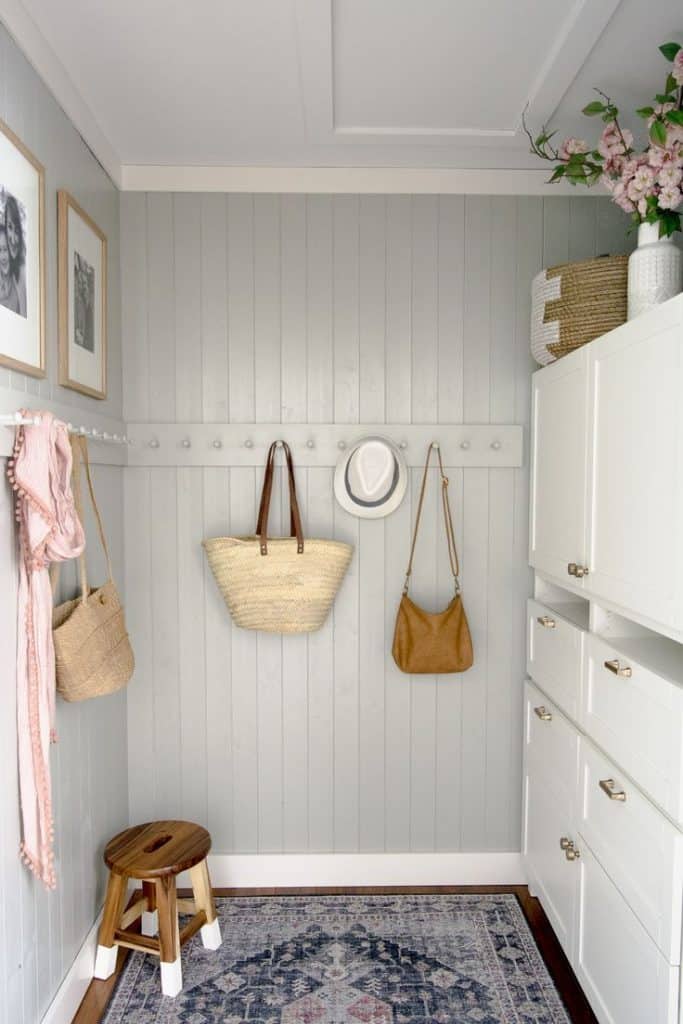 6. Oldest Daughter's Bedroom & Closet Makeover
Our 5 year old's room is getting a makeover sooner than later this year. We have already bought a closet system from Lowe's that we plan on replacing the builder grade wire shelves with. She loves to dress herself and with the current closet situation she can't reach her clothes. The closet isn't considered walk-in but it has a great size to it.
With adding a closet system we will be utilizing our space a lot better. Original plan was to DIY the closet with plywood but when I saw this closet system at Lowe's I was sold. Amazon actually has the exact same one HERE! I love a good DIY but if I can find the same thing for cheaper already made I'm not going to pass it up.
The design she wants in her room is still up in the air but we have already purchased this adorable rug from RugsUSA.com and we found an original Jenny Lind twin bed frame. We will use the colors from the rug to pick colors for the rest of her room.
7. Master Bedroom Makeover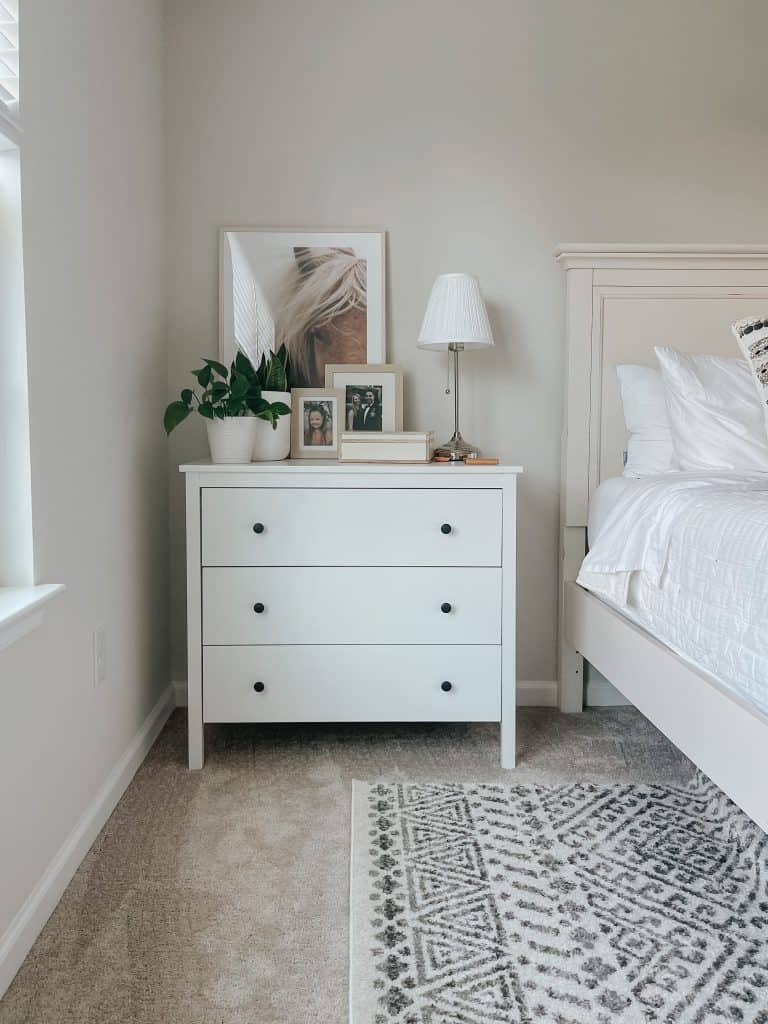 Getting our master bedroom painted and decorated is a top priority to me this year. In previous houses we would try to complete our bedroom renovations sooner than later just for the sake of having a nice relaxing place to go to at the end of the day.
Our plans are replacing our mattress and upgrading to a king, adding curtains and some type of accent wall. As far as accent walls go I love having a masculine/moody feeling in the bedroom and we have always done some type of wood wall feature or a dark painted wall.
We will continue to do the same in this house but I have yet to pinpoint exactly what I want. Down below is a few bedrooms that I am loving right now. And like I said previously I love so many styles. These photos are good examples that even though they are complete opposite styles I just love them both.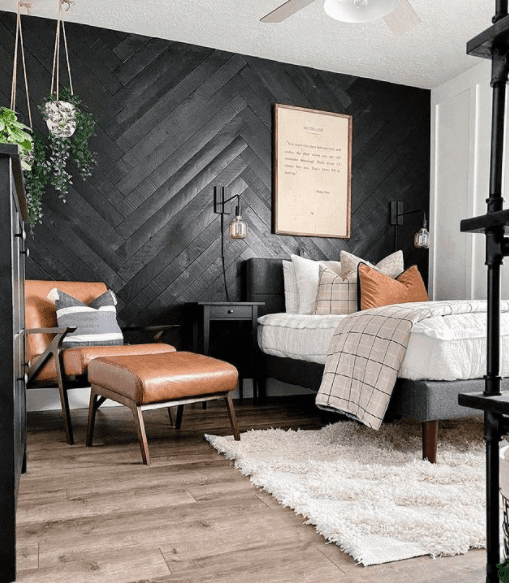 8. Reclaimed Wood Wall Art
Earlier in 2021 before we moved into our new build I took the time to create a geometric wood wall art piece. It was so fun to make and different from the big room renovations I had been doing for the last 3 years in Texas. It was so much fun in the creating process I knew I wanted to build another one for our basement. But this time I want it to be about 5 feet long by 3 feet tall!
I am obsessed with a few Instagram accounts that sell these amazing pieces and one day while scrolling their feeds I came across one they made that was huge. Which of course got my wheels turning!
I want to create a large reclaimed wood wall art piece for our basement living room. The idea is to make it sit off the wall by a inch or so and put some type of rope lights around it to illuminate it. I haven't quite thought the pattern out or how I'm going to get it done but I'm determined. Down below is the one I created almost a year ago!
Hopefully this list will hold me accountable to get all these things done & possibly more! It may not seem like much but I know how I am. I will add things and probably change my mind at least 10 times. If you're not already apart of my VIP mailer list click on the box below to join. I share when I get a post up and keep everyone up to date with all my projects. Not to mention I spoil my email list occasionally with freebies!