If you're anything like me you love a good DIY project, but hate the mess that comes along with it. I'm going to walk you through the easy, mess-free way to open a paint can. You'll be able to get that lid off without any spills or splatters, so you can focus on your project without the added clean-up.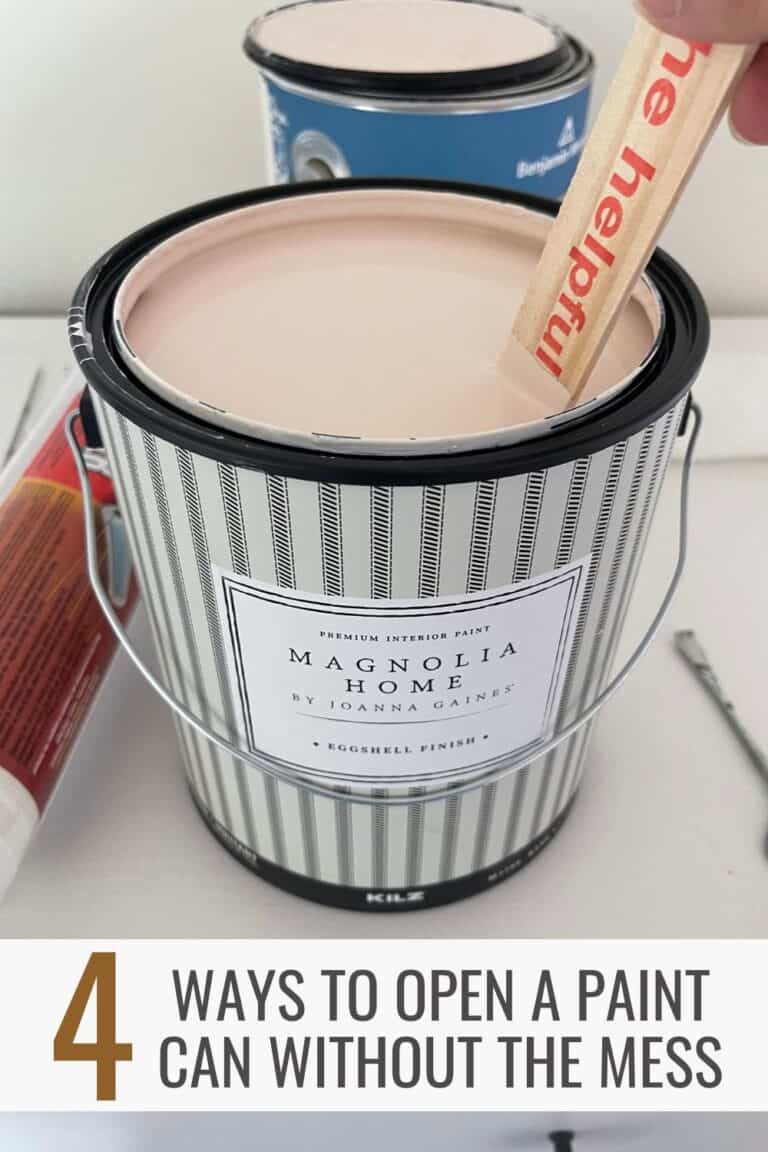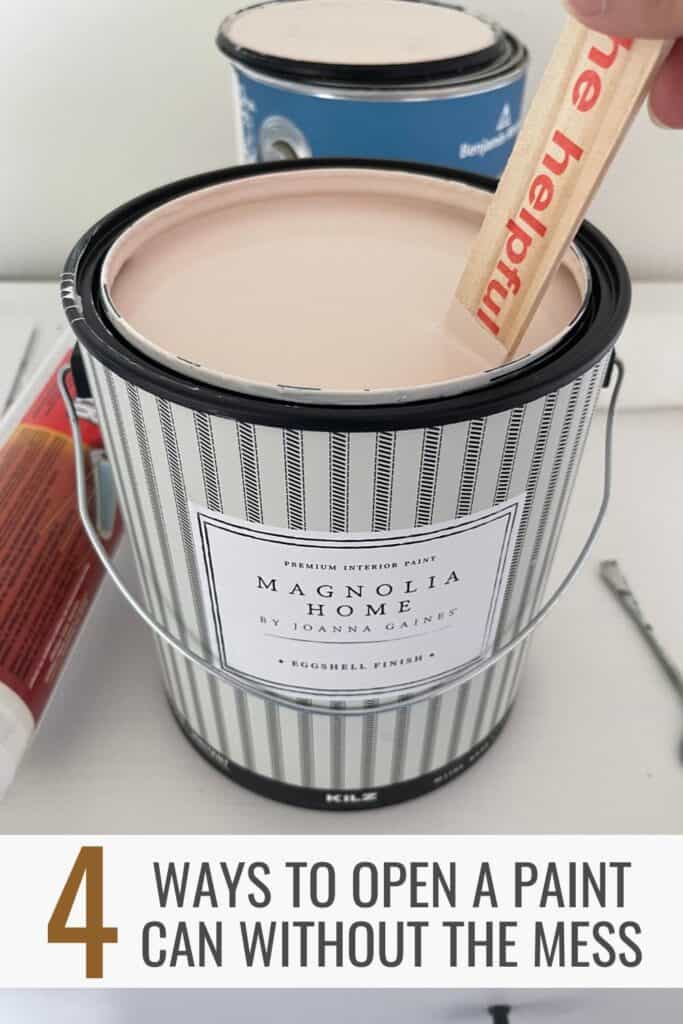 You went to the paint store, picked out your favorite paint color and now it's time to start that painting project! Whether you're a beginner or a seasoned DIYer, these easy tips on how to open a paint can will be great knowledge to carry with you throughout this DIY journey.
Painting a room is probably one of my favorite inexpensive DIY hobbies. The way paint can change a space is just magical. But, I know that painting can be messy. Opening a can of paint might sound like a simple task, but trust me, there's an art to it.
[AFFILIATE LINKS ARE PROVIDED BELOW FOR CONVENIENCE. FOR MORE INFORMATION SEE MY DISCLOSURE HERE.]
Tools you'll need
Obviously you will not need all of these tools to open a can of paint. Choose 1 of the 4 proper tools I have given you from down below.
What Is The Best Way To Open A Paint Can?
Opening a paint can might seem like a straightforward task, but if not done properly it can be messy and frustrating. Whether you're a professional painter or a DIY enthusiast, it's essential to know how to open your paint can correctly.
The lid of a paint can is designed to create an air-tight seal to prevent the paint from drying out. This seal can make it challenging to open the can. To loosen the lid, you can use 1 of these 4 tools. Paint Key, flat head screwdriver, 15-1 paint tool or putty knife.
Insert your tool into the rim of the can. Then, apply pressure and gently pry the lid upwards. Be sure to apply pressure evenly around the lid to prevent it from bending or becoming damaged.
My favorite tool of choice is a paint can opener or flat head screwdriver. Most people have a screwdriver laying around the house…or at least we do! And most hardware stores hand out free paint keys with every can of paint.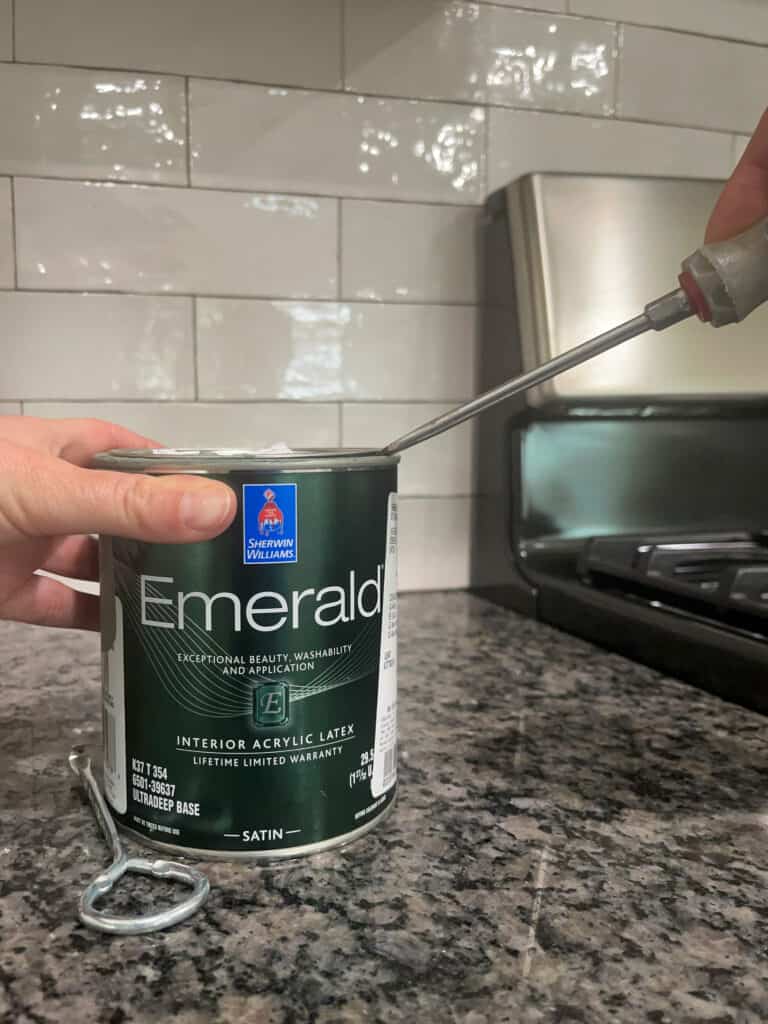 Will This Work On New And Used Cans Of Paint?
Yes, the steps to open a can will work on both a new can of paint and used cans of paint. Whether you're opening a can for the first time or reopening a can that you've used before, the process is the same. I have used this method for all my cans, up until they are bone dry.
Just make sure that the can is clean and free from any debris before you begin. It's also important to note that if you're reopening a can of paint that has been used before, the can may have leftover paint that has hardened on the top of the can.
In this case, you'll need to use extra force to open or simply use the utility knife to cut along any old paint that may be in the rim sealing it shut.
How Do You Open A Paint Can Without A Screwdriver?
There will be moments you can't find that dang flathead screwdriver or the hardware store didn't give you a painter's key. Two other options to opening your can would be a putty knife or 15-1 painter's tool. As long as you find something with a flat edge it should be no problem.
Using a putty knife or a 15-1 sometimes called 10-1 painter's tool will work just fine. Both have flat edges making it easy to to lift up the metal lip on the edge of the paint can lid.
How To Open An Old Can Of Paint That Is Stuck?
Opening an old can of paint that is stuck can be a bit tricky, but with the right tools and techniques, it's definitely possible. Here are some steps you can follow to open an old can that has excess paint on the lid:
2 Ways I Would Use To Open Your Can
Using a hammer and screwdriver, tap on the end of the handle of the screwdriver to add more force to pry the paint lid open.
Use a utility knife to score the dry paint around the lid.
2 Ways I Would NOT Use To Open Your Can
Soaking your can in warm water to loosen the old paint.
Sitting your can in direct sunlight for 10 minutes to heat the paint up.
Some other sites suggest these last two methods but for me personally I don't like the idea of heating up an enclosed can of paint. Depending on the weather and how hot it is, I'm not sure how good of an idea it would be to set your paint out in that type of extreme temperatures.
That's why it's smart to do your own research. There are so many different variables that could make those situations dangerous! Be smart and be safe!
How Do You Properly Close A Paint Can?
First step to properly closing your paint can is to wipe the rim clean of any wet paint. A good tip to try and follow is, as I'm pouring my paint into a paint tray I will take my brush and wipe the fresh paint off the rim and back into the can.
That way as I'm painting, the leftover paint isn't sitting on the rim to dry.
Now, that the lip of the can is free of leftover paint, place your lid on top. Take an old towel or paper towel and place it on top of the lid. We do this to prevent any paint splatters from going all over the place. There are times you can't get all the paint off the edge of the rim and if the towel isn't in place paint goes everywhere.
I know this from experience!
Take a hammer and lightly tap all the way around the rim of the can to re-seal the lid of the can. If you don't have a hammer I have found that the end of the screwdriver does the same job.
How Should Paint Cans Be Stored?
Now you've finished your paint project, but you have some leftover latex paint. What do you do with it? You could throw it away, but that would be wasteful. Instead, you will want to store it for future paint touch ups or maybe another paint project.
When choosing a place to store your paint cans keep in mind paint should be stored in a cool, dry place that is out of direct sunlight. If you live in an area that has a cold climate, you may need to bring your paint cans inside during the winter months.
When we lived in Texas I use to store the cans on a shelf in the garage just fine. But, in our Ohio home I have a small section in our unfinished basement where I store them.
Handy tip
If you don't have much paint left in your gallon paint cans try a few of the containers down below. I have used the the metal quart paint cans many times to make more room on my paint storage shelf.
The Easiest Way to See Paint Colors on Your Walls
Before you even get to the part of buying a can of paint you have the hard job of finding the right color. Picking out a paint color doesn't need to be overwhelming. If you're unsure, make sure to try some samples and try them out in all parts of your room so you can see it from all angles. You will never truly know how it will work until you see it in your space.
No two homes are the same! Paint colors almost always end up looking differently than you expected them to. If you're looking to save some money and want the convenience of not painting a bunch of random colors on your walls try out Samplize!
Samplize offers convenient peel-and-stick paint samples that are reusable and repositionable. They are these large vinyl sheets that have genuine manufactured paint on them to give the samples the exact look of the colors you choose.
I recommend ordering from their online store. At the time of writing this post I know if you are a new customer with them they are offering $5 off your first purchase. Their peel-and-stick samples only costing $5.95, that's like finding money!
I hope this gave you enough ways to open and close your paint can properly. Next time you won't even have to think about it and will know what tools you need. Remember have fun and happy painting!