Over the last 3 months I have been working on our spare bathroom renovation. Just like every other project in this house, it's taking forever. But there is finally light at the end of the tunnel & I'm about 90% done with the whole room!
While finishing up the bathroom vanity I realized I wanted to do ONE more thing to the inside of the cabinet. (Isn't that how it normally goes when your doing renovations? You keep adding things on that pop into your head last minute lol!)
All the insides of our cabinets in this house are a dark grey color leaving it looking dirty & dull. Most of the cabinets really need a good scrub down and refinished.
At first I thought about painting the insides white but realized no one's got time for that! Then one day I stumbled across Melissa Bowman's instagram! She had just posted about how she used peel and stick tiles for under her kitchen sink & it was like she was reading my mind!
So naturally I went straight to the internet to search for the best but cheapest option for my reno. Searching Home Depot, Lowes, Walmart & Amazon and the best deal I could find was Amazon.
The tiles I had ended up going with are from a brand called Tic Tac Tiles. You have the option of buying 1 sheet, 5 sheets or 10 sheets. They are resistant to heat and moisture, also anti-bacterial, anti-mold & they are made out of eco-friendly material.
I ended up choosing the Hexa Mono White Tile but they had so many great options to choose from! I was able to cover everything I needed, including the one drawer on the vanity leaving only half a sheet left!

Supplies Needed :
As for steps on how to achieve this look its pretty self explanatory but here are a few things I found helpful as I was tackling my project:
TIP ONE: Make sure you throughly clean your surface that you are applying the peel and stick tiles too. If its dirty and has debris on it, they won't stick to the surface very well.
TIP TWO: I suggest using a paper trimmer to cut your tiles when it comes to the very last row. That way you can get a perfect straight line & it saves you the headache from having to cut more than once.
TIP THREE: Start at the FRONT of your vanity! That way if you mess up cuts with your paper trimmer than it won't be BAM right when you open the cabinet! Its easier to hide mistakes [if made] at the back of the vanity where it most likely will be covered by towels or baskets.
So there you have it, a quick, simple, cheap way to refresh under your sink!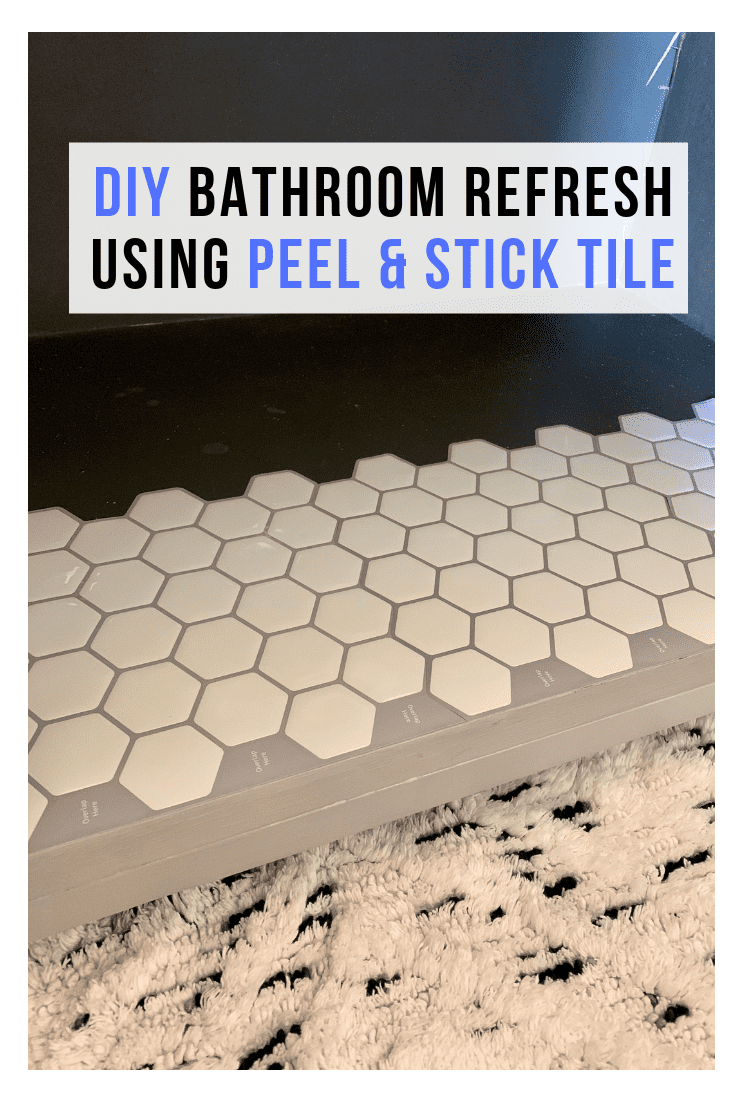 Be sure to check out my post on 10 Stunning baskets/bins if your looking for some cute storage to go under your sink!