We've got the best gift ideas for the green thumb in your life. Whether you're just getting started or your looking for something to surprise your gardening friend with. This list of gifts for gardeners will give you tons of gift ideas!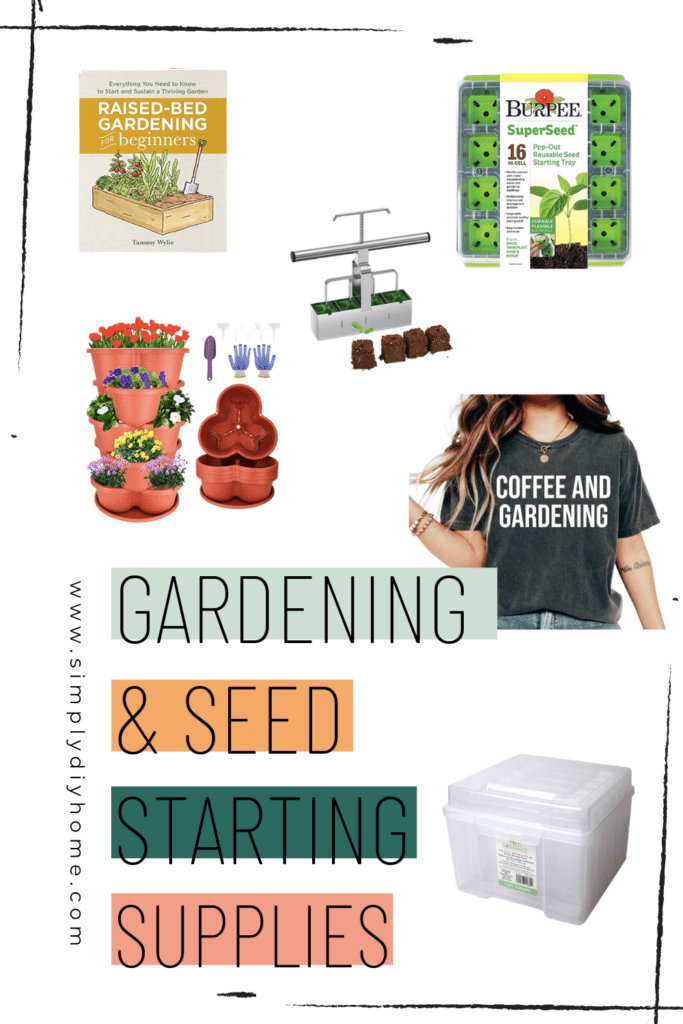 Winter is flying by this year and before we know it it's time to get the garden planted. I know here in Ohio I'm in zone 6A and I just started our onion seeds last week. The last few weeks I have been reading all the books, watching the Youtube videos and browsing all the blogs to sharpen up on my gardening knowledge.
Gardening is a never ending learning experience and as this is my second year to seed starting I thought I would share a few things that I would personally love to recieve for gifts. Some of these gift ideas are things I personally own or things that are just hanging out in my Amazon cart waiting to be bought.
I will be covering all price points-from stocking stuffers, to bigger items. Whether the gardener in your life is new to gardening or is a pro planter these 30 gift ideas will be a great treat to pair together to make a DIY gift basket.
Garden Storage
Every gardener needs storage whether it's for seed starting purposes or bringing in a large supply of veggies from the garden.
Photo Boxes for Seed Storage-Michaels Craft Store always have these nice storage containers. They come in a few sizes and they are almost always on sale. Never buy full price!! I chose to go with the smaller one and it only cost me $10! They are perfect size to store seed packets. Here is a large size and smaller size from Amazon but they are a little bit more expensive.
Collapsible Tub with Handle– These space saving tubs are great for harvesting in the garden. Use it to carry your fresh product to the house, rinse out and put away for later.
Gardening Apron– Also great for harvesting in the garden. It's adjustable, washable and ergonomic.
Gardening Books
Creative Gifts for the Gardener
If the person you're shopping for already has all the tools and gadgets here are some creative gifts that are useful.
Seed Starting Supplies
Seed starting can be so fun and rewarding. Take a look at these seed starting supplies that will make gardening so much easier.
Raised Garden Beds & Containers
There are a plethora of garden beds and containers you can grow your vegetables and fruits in. Here are some of the most popular ones from Amazon.
Vego Garden Bed– I do not personally own this brand of raised garden but I know so many people that have them. I think they are so officiant and would be a great investment.
Garden Grow Bags– Grow bags are a great way to grow carrots or potatoes. They are great for space saving too!
Vertical Garden– Vertical gardening is another great gift that allows for more growing but not taking up much space.
Gardening Apparel
Everyone loves a good t-shirt! Getting your hands dirty in the garden calls for some designated clothes.
Coffee & Gardening Tee– Self explanatory, do I need to say more!
Office Tee– Etsy has the best gardening shirts, this one is so cute.
Chicken Tee– I'm a sucker for a good chicken shirt.
I hope our list helped you get started on putting together a gardening gift basket. If you are looking for an easy strawberry or herb planter DIY check our post HERE.