Among the cherished traditions, the centerpiece of festive homes is undeniably the Christmas tree. In this comprehensive review, I will give you the pros and cons to the viral Costco Christmas Tree. Plus, a bonus of real people's opinions on weather it's better than the viral Home Depot Tree!
Ever since knowing my husband we have always had a real Christmas tree. We love the experience of choosing and cutting down our own tree. But, this year I really wanted a artificial tree, one that we could have for years to come. I wanted the option of colored lights and warm white lights.
With a little convincing and window shopping we landed on the viral 9 foot Costco Christmas tree! And boy am I excited to share everything about it!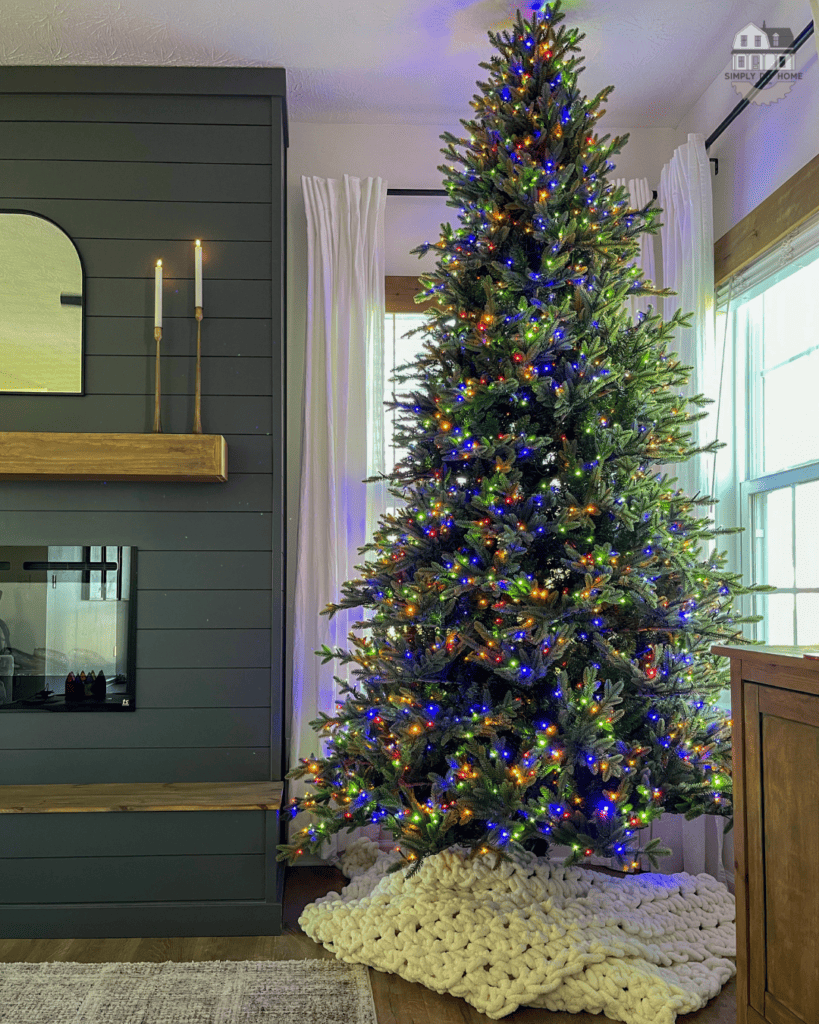 [AFFILIATE LINKS ARE PROVIDED BELOW FOR CONVENIENCE. FOR MORE INFORMATION SEE MY DISCLOSURE HERE.]
Is The Costco Pre-Lit Radiant Micro LED Tree Worth It?
Pros Of The 9 Foot Costco Christmas Tree
If your in the market for a artificial Christmas Tree this year you should really consider Costco's 7.5′ or 9′ Pre-Lit Radiant Micro LED Artificial Christmas Tree.
Here are some of the pros I have noticed about our tree since having it up for 2 weeks:
1. Pre-Lit Brilliance
One of the standout features is the pre-lit design adorned with Radiant Micro LED lights. Say goodbye to the hassle of stringing lights, as this tree sparkles with a warm and inviting glow straight out of the box.
One of the things I absolutely loved about this tree was it has 2,700 LED lights. Ever since seeing the sold out viral Home Depot Tree and it's 3,400 lights I knew I wanted a tree with a higher light count. Most trees we looked at were around the 1,000 light range.
A big pro was that the white lights were a warm light, and not a cold white. That would have been huge no for me!
2. Remote-Controlled Lighting
Enjoy the convenience of adjusting the tree's lighting at the touch of a button. The included remote control allows you to customize the brightness and choose from various lighting modes.
Not to mention they also have a foot pedal remote to for easy shut off or on!
You also have the choice of colored lights and warm lights. Which is great for us, our kids love the colored and I'm in love with the glow from the warm white lights.
The brightness mode is one of my favorite features. You can choose to either have the lights super bright or dim them down to a soft glow.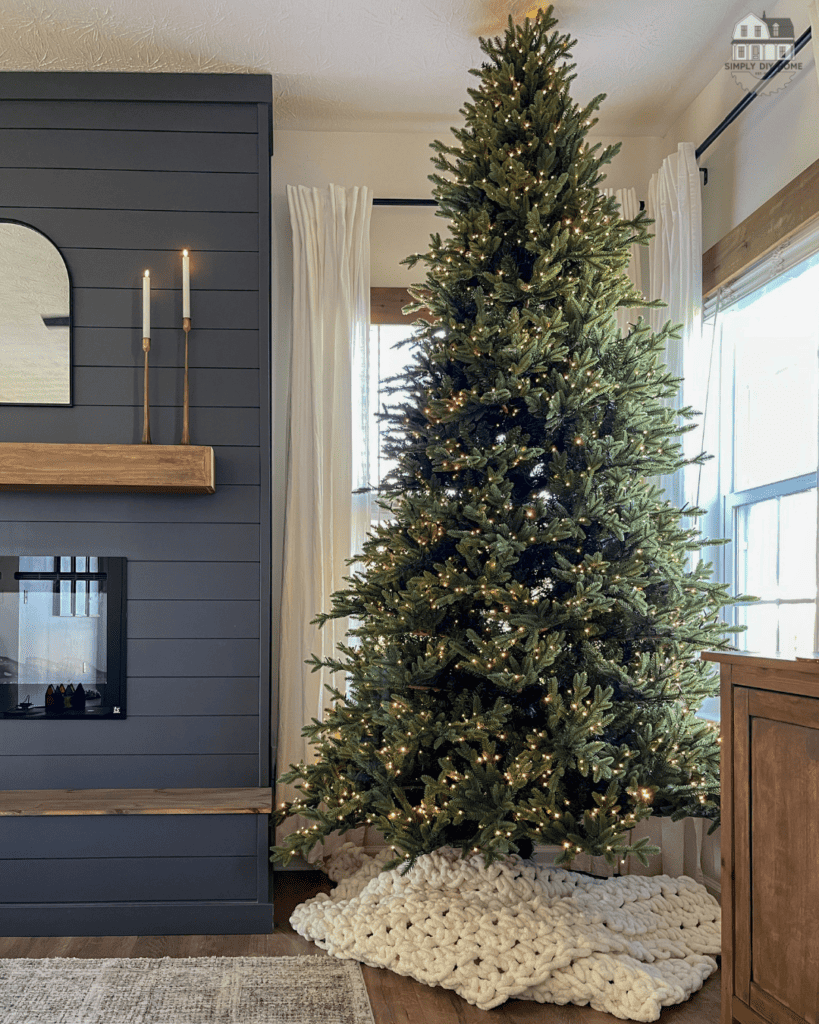 3. Full And Realistic Branches
The tree is crafted with meticulous attention to detail, the tree boasts realistic foliage that mimics the texture and color of natural evergreens. I love that the branches themself are actually a brown color making the tree seem way more realistic.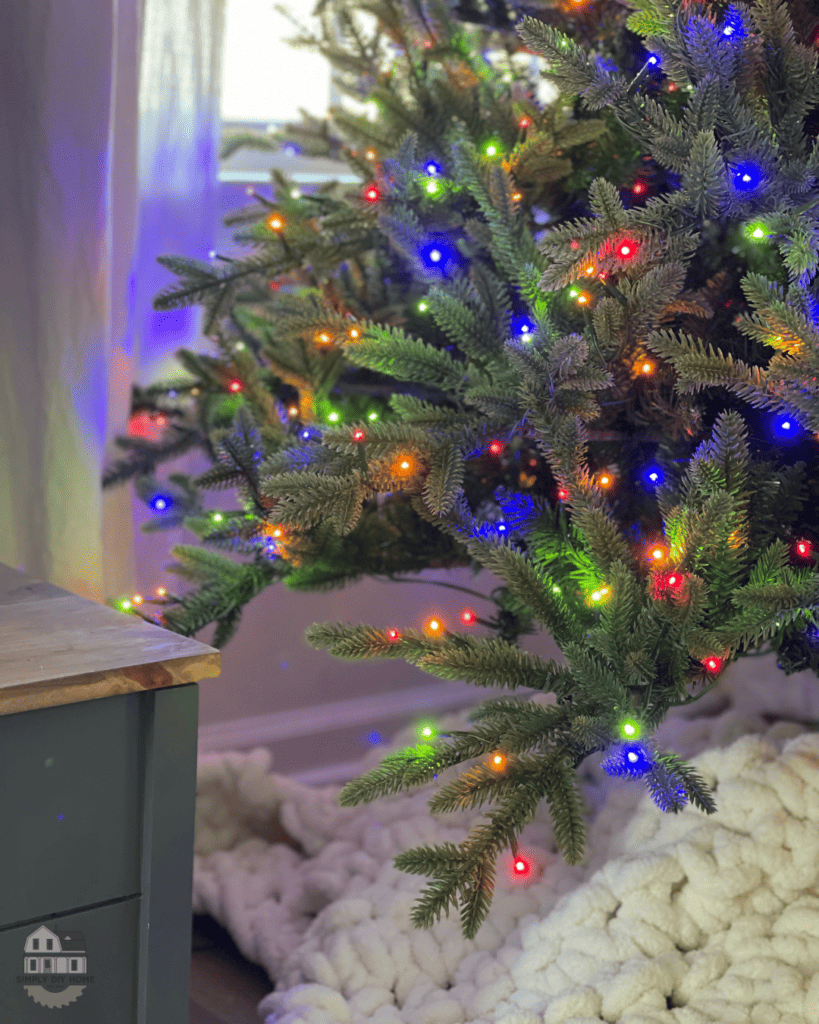 Another plus to the Costco tree is the branches are super full. They are made with SIMPLE SHAPE® TECHNOLOGY, meaning the branches are hinged, which allows the tree to spring into shape without manualling shaping. That's right, you heard me correctly!
I did not have to shape or fluff this tree one bit!! As if it didn't get any better, it came pre-lit and you don't have to fluff it!
4. Effortless Setup
I've never had a pre-lit tree before so maybe all pre-lit trees are this way but, the setup was truly effortless. All I had to do was line up the arrows and snap the center pieces in. The center pieces are just like giant plugins and they all plug into one another to make the tree light up.
Cons Of The 9 Foot Costco Christmas Tree
While the 9-Foot Costco Christmas Tree offers numerous benefits, it's important to consider potential drawbacks to make an informed decision. Here are some cons to keep in mind:
1. It Doesn't Twinkle
It doesn't twinkle! I know, I know, everyone loves a good twinkle! But, hear me out I was willing to give up the twinkle when I found out that the Home Depot tree has cool white lights.
If you must have twinkle lights these twinkle lights from Amazon have amazing reviews and come in a ton of colors and lengths.
2. Weight
The tree itself is really heavy. This Christmas tree is a beast and made very well. I did have a little trouble getting the top onto the rest of the tree by myself but it was doable.
I'm so use to real trees for Christmas that I was a little surprised at how heavy this one was. A 9 foot real tree is very light compared to this tree.
3. Storage Challenges
I knew going into buying an artificial tree that we would have to find space to store the tree. Especially because I wanted a 9 foot tree, I knew the tree was going to be hard to store.
I plan on buying the yellow and black totes from Home Depot to store the tree in. My neighbor said they have always had a 9 foot tree and two of these containers store the pieces perfectly!
4. The Cost
The viral Costco tree is a pretty penny, compared to others. As that is a con it wasn't a deal breaker. I went in to buy this tree because the quality is top notch. I will have this tree for a long long time! Even one day when the lights go out I will just add lights to it.
With that said the tree was an investment but, I was truly okay with spending that money because it checked so many boxes for us. Costco also almost always has it on sale for $100 off, so keep that in mind when you go to look at it!
Is The Costco Christmas Tree Better Than The Viral Home Depot Tree?
Honestly, this is a personal preference! Everyone's opinion is going to be different. I am apart of a few Facebook groups and there were multiple post comparing the two trees. Some people had bought the Home Depot tree and the Costco tree and compared them side by side.
There were people who preferred the whiter light on the Home Depot tree and others were not happy with the fullness of the tree. In result those people returned their tree and bought the Costco tree.
As for me, I went looking for the Home Depot tree and couldn't find one in stock. At the time I was a little sad but when we came across the Costco tree I loved it so much more.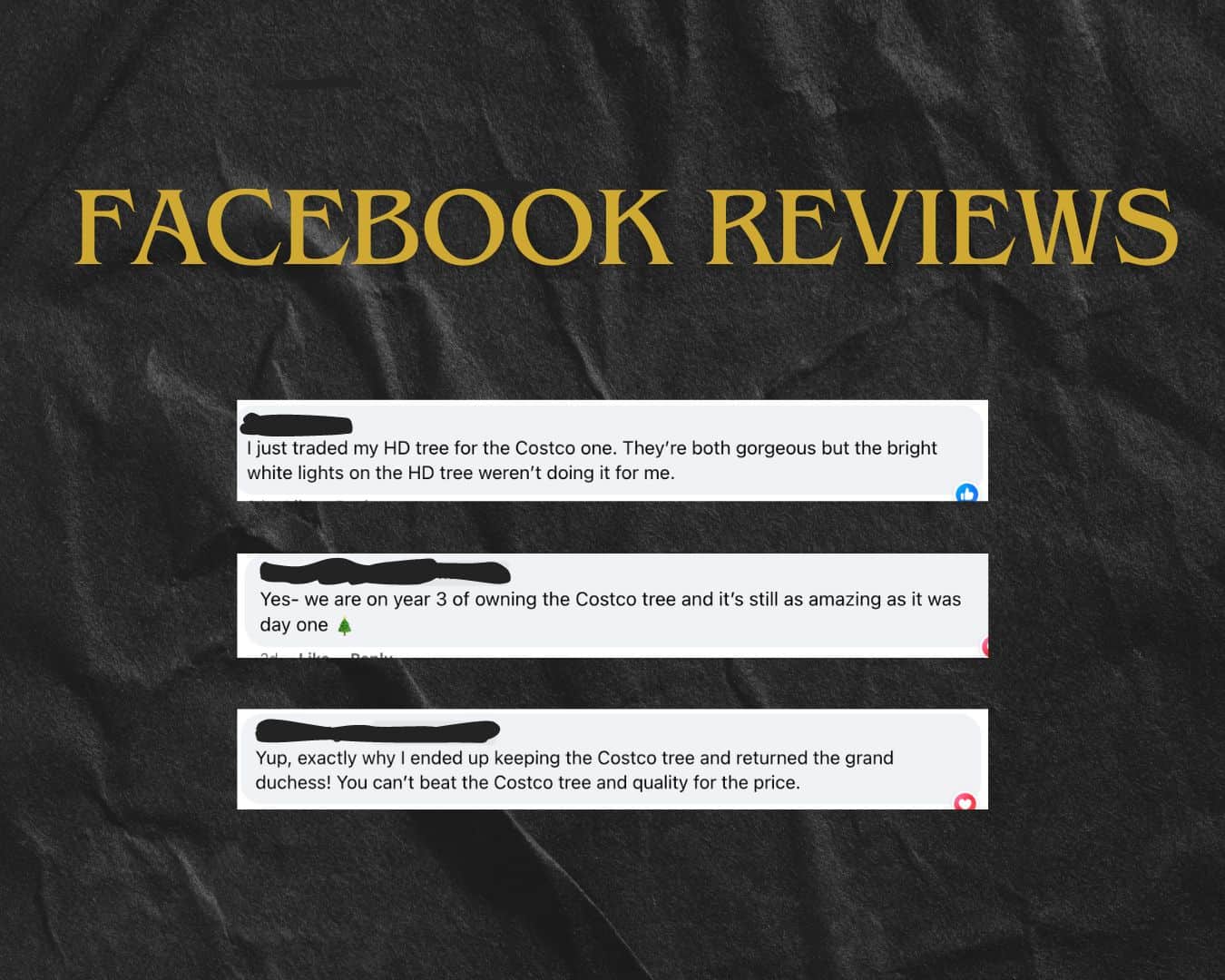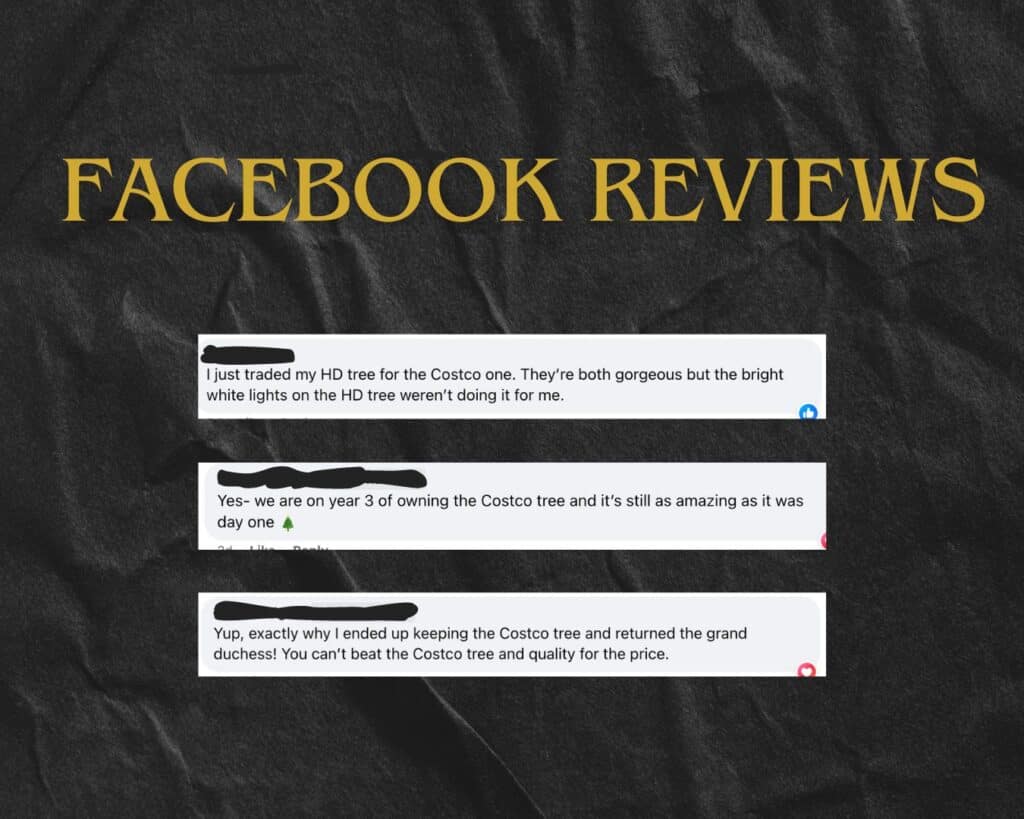 I hope this review helped you in making a decision in choosing the right tree for your family! If there was something I didn't mention about either of the trees message me over on Instagram and I would love to hear what you have to say!!