Summer is out and fall is in! Transition your home from summer to fall effortlessly with these 5 simple and stylish tips.
I know it's still August and definitely still in the 90's but hear me out!! Every year fall decorating creeps up on us sooner and sooner. It's one of my favorite times of the year to decorate for, other than Christmas. As I am not pulling all my pumpkins and fall florals out just yet. I have enjoyed surfing pinterest and brainstorming on how I want to style my home for the fall season.
Last year was the first year I started to think ahead and started browsing Amazon, Target, Walmart and even the aisles of Hobby Lobby before the month of August. The last few years everyone jumps on the fall decor wagon before I'm even ready and then all the good stuff is sold out or marked up to a higher price. So last year I said that is enough and started to plan ahead.
Not every year do I buy all new stuff but there is usually some things I love to swap out or buy new. I have put together a very simple and easy guide to help you transition your home from summer to fall. These items are what I call the staple pieces to achieving that fall look without going all out and spending to much money. If you do, even just 1 or 2 of these things you will know it's fall in your home!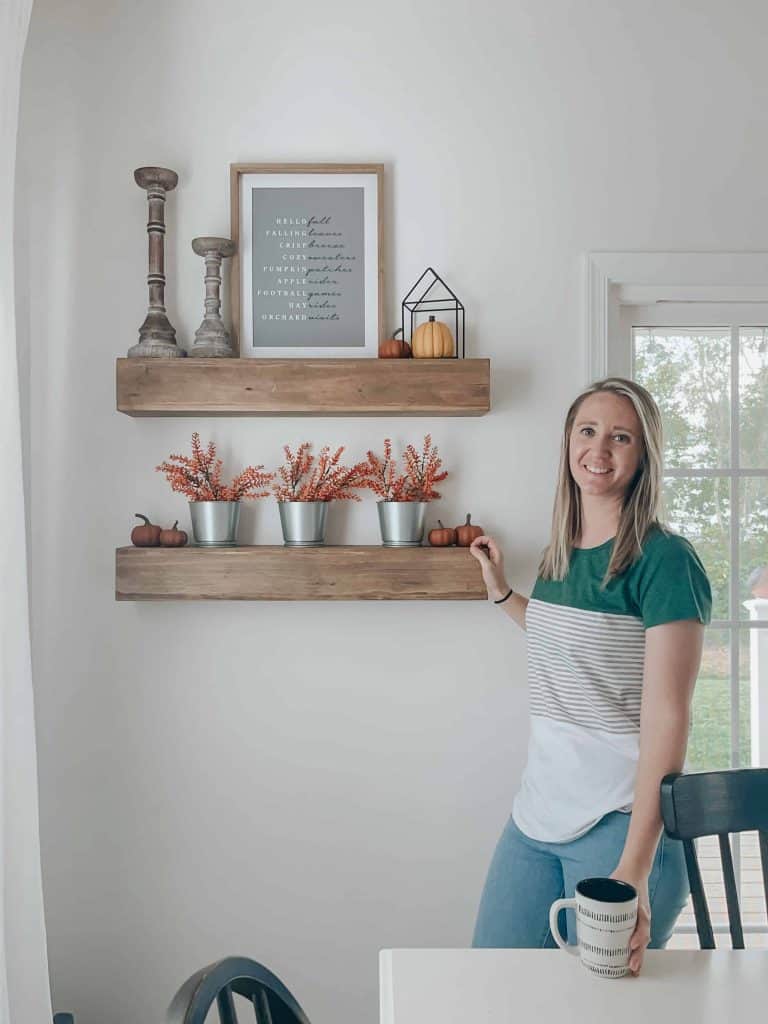 [AFFILIATE LINKS ARE PROVIDED BELOW FOR CONVENIENCE. FOR MORE INFORMATION SEE MY DISCLOSURE HERE.]
1. Switch out Floral Stems and Greenery
Switching out all your greenery in your home is one way to bring the fall into your space. Going from summer to fall you want to bring in warm and earthy tones. Try adding texture with natural dried flowers with colors of red, orange and yellow.
When shopping for floral stems I try to buy quality ones that I can use for years to come. Some stems I have in my collection I've owned for 8 years! Hobby Lobby is my first choice for florals and garlands at a discount price. Other places I've bought from are Target, Michaels, and Amazon.
Target, Amazon, Hobby Lobby & Michael's are great for florals. Some of the more higher end stores I also love to look are Magnolia Market and Afloral. Some of my all time favorite stems have come from them!
It's important to enjoy this process. Making your home cozy for fall time is all about home. And home is all about your people, your safe place and about gathering with love ones.
2. Swap out Pillows and Throws
The cozier, the better! Throw blankets are great for draping over benches, chairs, couches and even the end of your bed. When picking pillows and throws for the fall season pick fun patterns, warm colors and different textures. To save money I try to pick a lot of neutral pillows and throws that I can use all year round or at least for multiple seasons.
Another great option for pillows is pillow covers. They are easy to store and with kids it's important to have washable covers.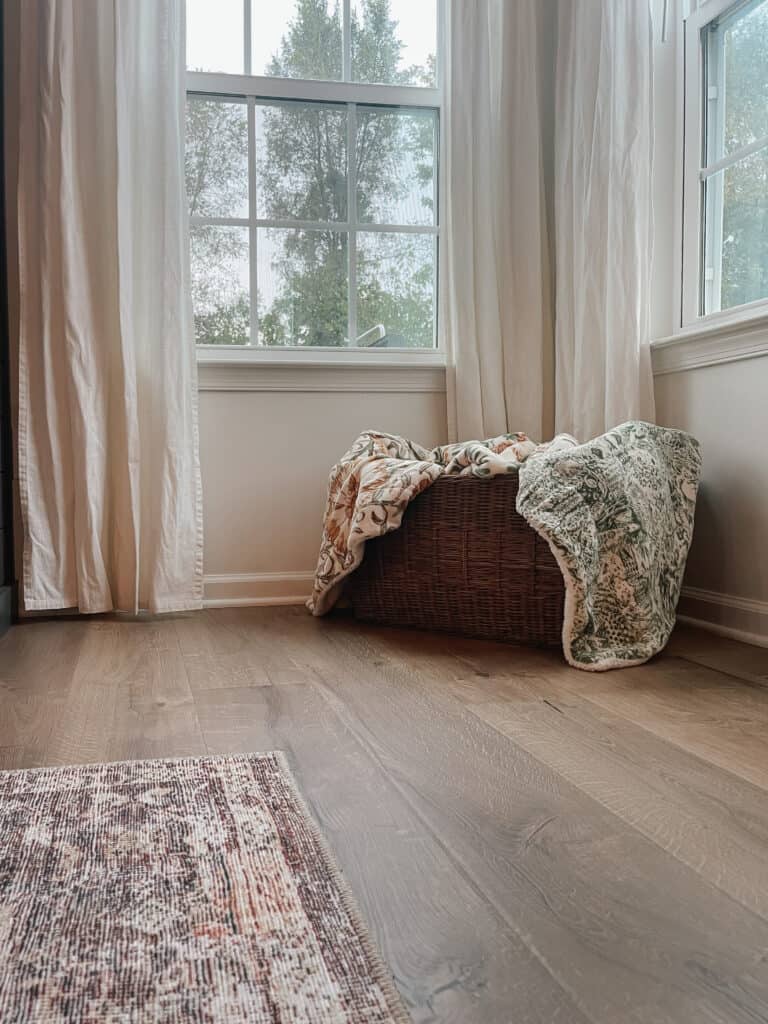 3. Fall Smells-Essential Oils and Soy Candles
Adding fall scents to your space should be on top of your list when changing seasons. Not only does your home need to visually look more like fall you want it to smell like fall. Fall scents are my absolute favorite smells! Essential oils like orange, vanilla, nutmeg, and cinnamon bark are great in the diffuser in the cooler fall months.
Fall soy candles or soy wax melts are another go to in our home. Calyan Wax Co is one of my favorite candle companies to purchase from. Not only do their candles smell amazing but with every purchase of Calyan candles, you are raising funds for trusted anti-trafficking non-profits. The Cedar + Tobacco in their matte black tumbler and Apples + Maple Bourbon wax melts are probably my favorite of them all.
4. Update Family Photos & Framed Art
I don't always get time to do this but when I do it really makes the home cozy. Changing out your family photos for new fall family photos is what I call "taking it up notch". Our family is really bad at getting photos done but when we do it is always in the fall. Adding photos where your already wearing a fall color palette makes your space come together even more.
Recently, I made the leap and purchased Smallwoods frames for our front entryway and they just happened to be some of our fall photos! Another thing you can do if you don't have any family photos is head to Etsy and print off some pretty fall inspired photos and frame them around your home. It's inexpensive and easy to switch them for each season.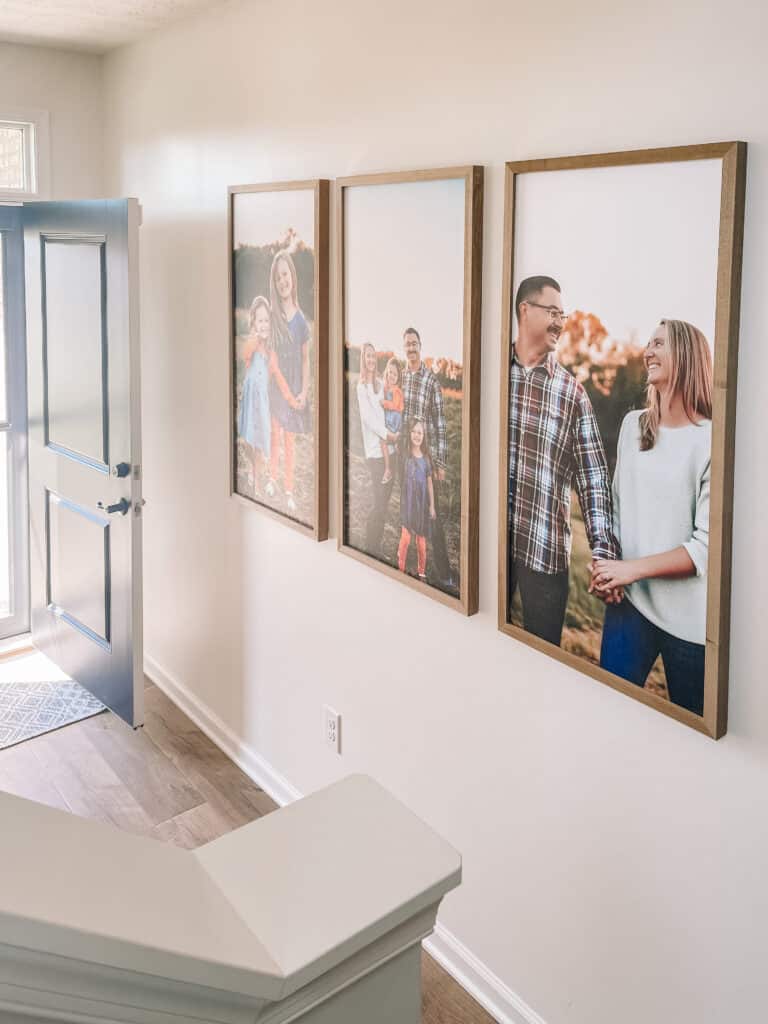 Here are a few of my favorite Etsy shops that have downloadable prints & Professional Printed Art:
5. Decorating the Outside
Giving your guest a warm welcome by decorating your entrance to your home will scream cozy! Adding a fall floral wreath, and some cozy pillows on a bench is all great ways to add a little fall to the outside of your home. By incorporating galvanized metal buckets you bring that fall farmhouse look to your front step. Adding some mums inside and pumpkins propped up to the side is one way you could style them.
Last year was my first year with a front porch that was worth decorating. I kept it pretty natural and neutral out there with some real pumpkins, corn stocks, fall flowers and hay bales. When Halloween got closer I added some target light up pumpkins and spray painted them white for a festive Halloween feel.
If you liked this fall post here is more fall content you will love: