A brutally honest, unbiased review of the Home Reserve Sectional and what you should know before you purchase one.
Original post was published on May 2022. This post was updated on July 16th, 2023. I share my 1 year review down below!
It's been two months since our Home Reserve sectional has arrived to our home and I feel I can give a honest review and share all the details!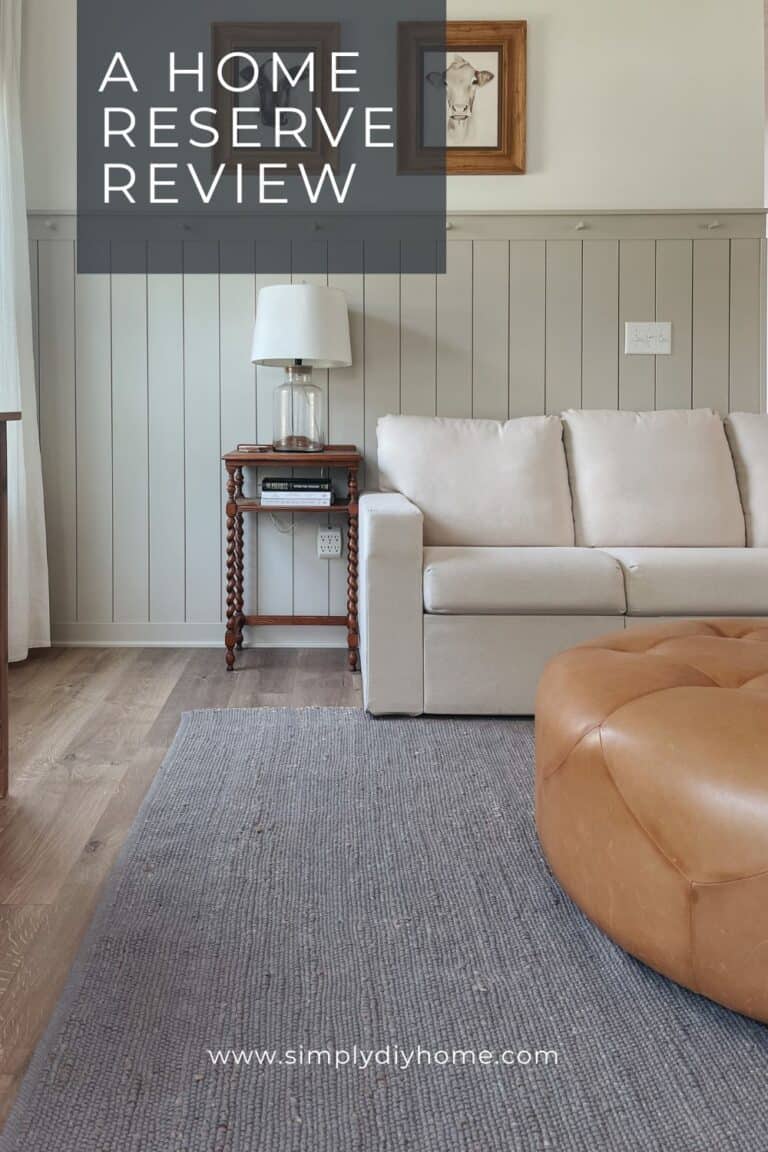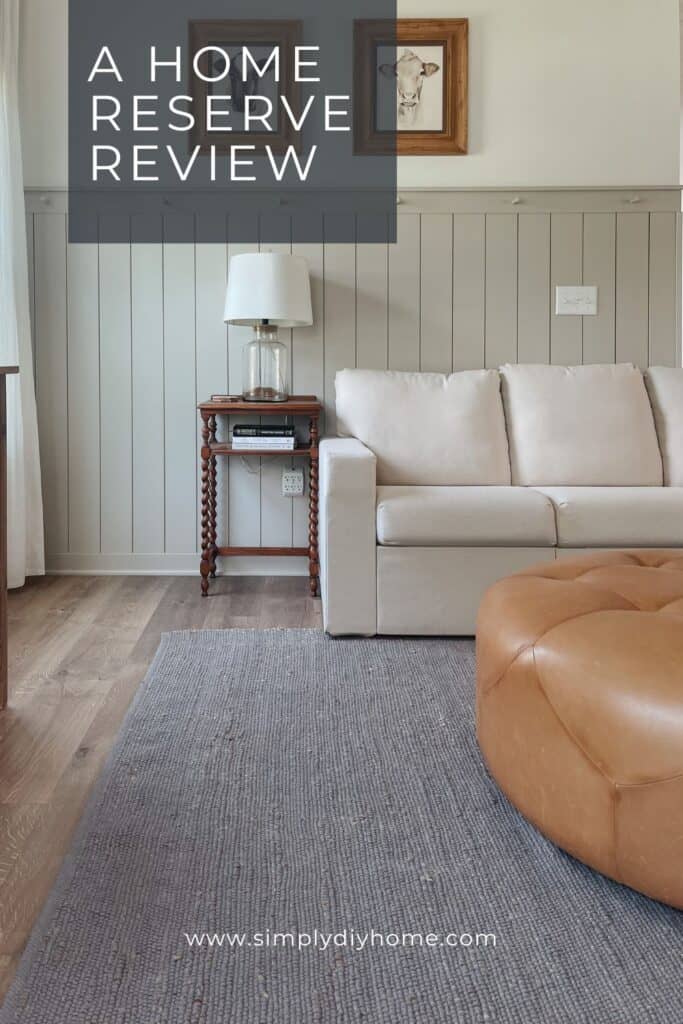 I first came across Home Reserve on Youtube and instantly fell in love. At the time we didn't need a new couch but knew in a year or so we would be moving and kept a mental note of the sectional. Fast forward almost 2 years later my parents were having a hard time finding a sectional they loved & in stock. I took them to Home Reserve's website and they loved what they saw and bought one.
After getting to see the sectional first hand really just verified the fact that we wanted one of these sectionals for our loft space.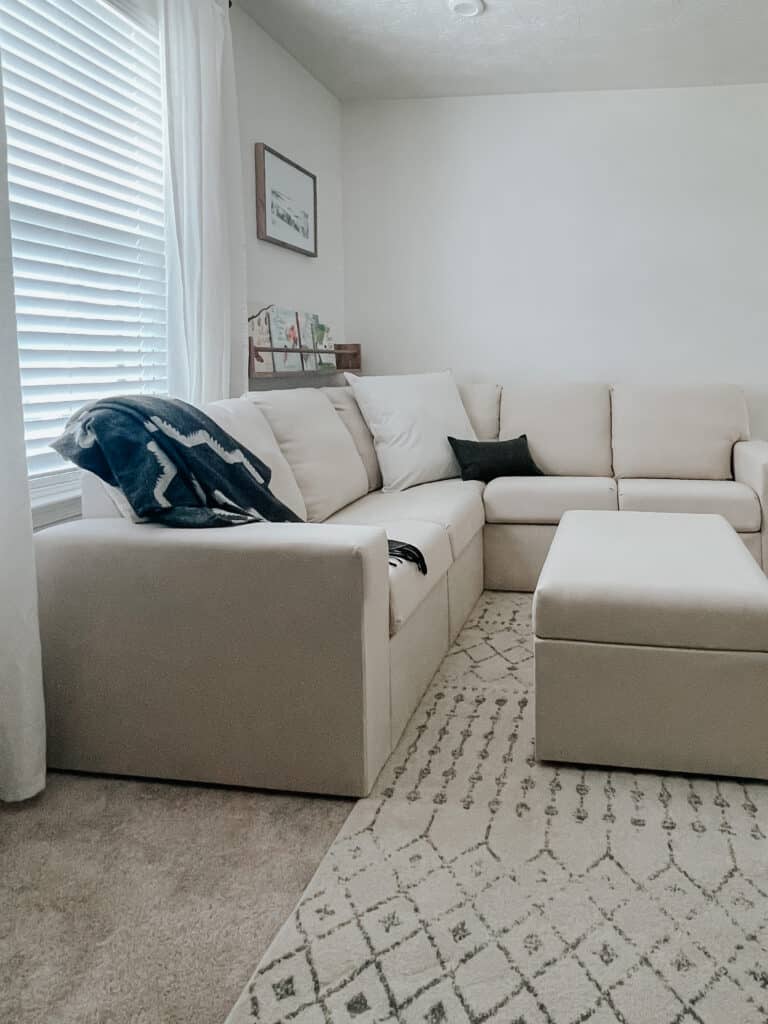 To start off I am going to answer some of the most asked questions I've received on Facebook & Instagram. Then I'll share all the awesome features that made us fall in love with our sectional.
Disclaimer- This post is 100% my own honest thoughts on the products produced by Home Reserve. Home Reserve did gift us our couch but this post is in no way sponsored by them.
How Long Does Home Reserve Take To Deliver?
Once you order your sectional/couch typically your shipment should arrive in about 15 days. At the time of my order I knew they were a little behind but to be honest they did an amazing job. If you go to their site they have a section you can track your shipment. It will tell you how far behind they are and what orders they are working on that current week.
When I looked up our shipment it stated they were working on our order that week but the next day I got an email stating it was to arrive in 2 days! In the end the couch did happen to arrive within the 15 day time frame.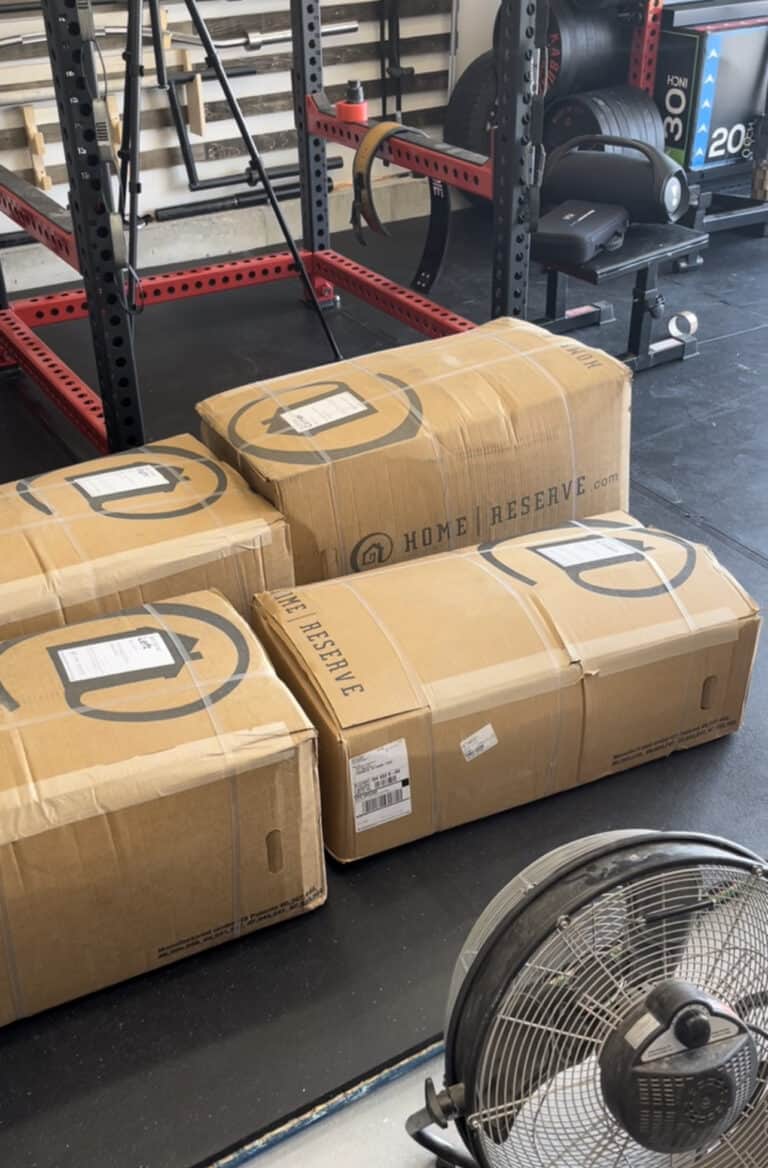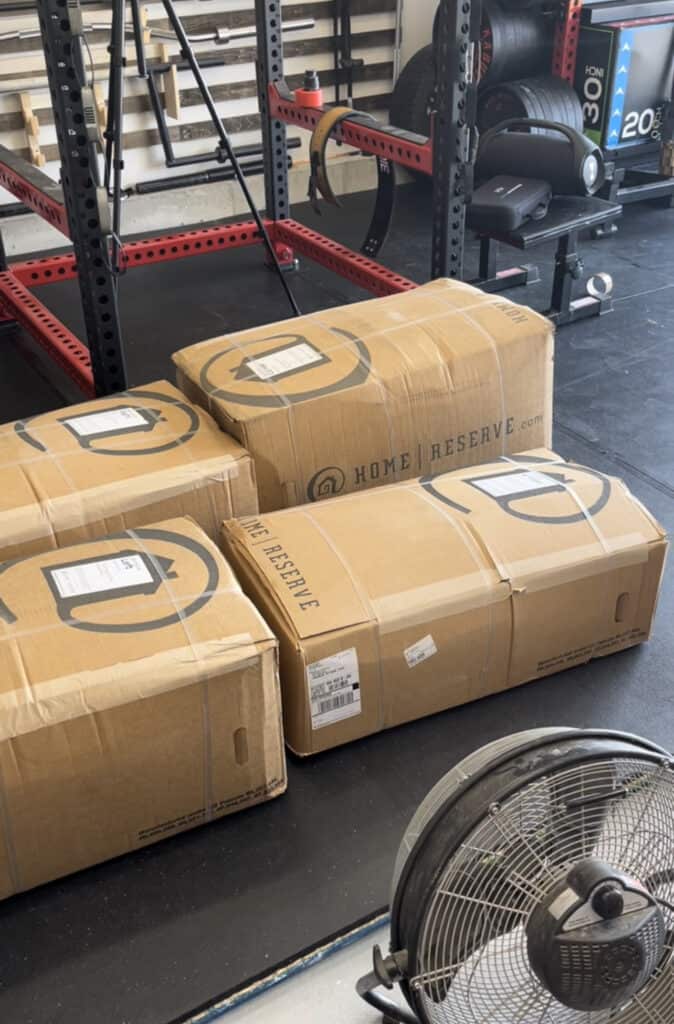 Are the Couches Made in the USA?
Yes! Home Reserve uses all raw materials from within the USA! They oversee all of the supply chain and know where everything is from. From the wood, foam, back cushion fibers and even the cardboard boxes it all comes from within the US.
That was something very important to us when I found out they were USA made. I try my darndest to buy from the small shops or local businesses when see fit. Supporting them is something our family is very passionate about.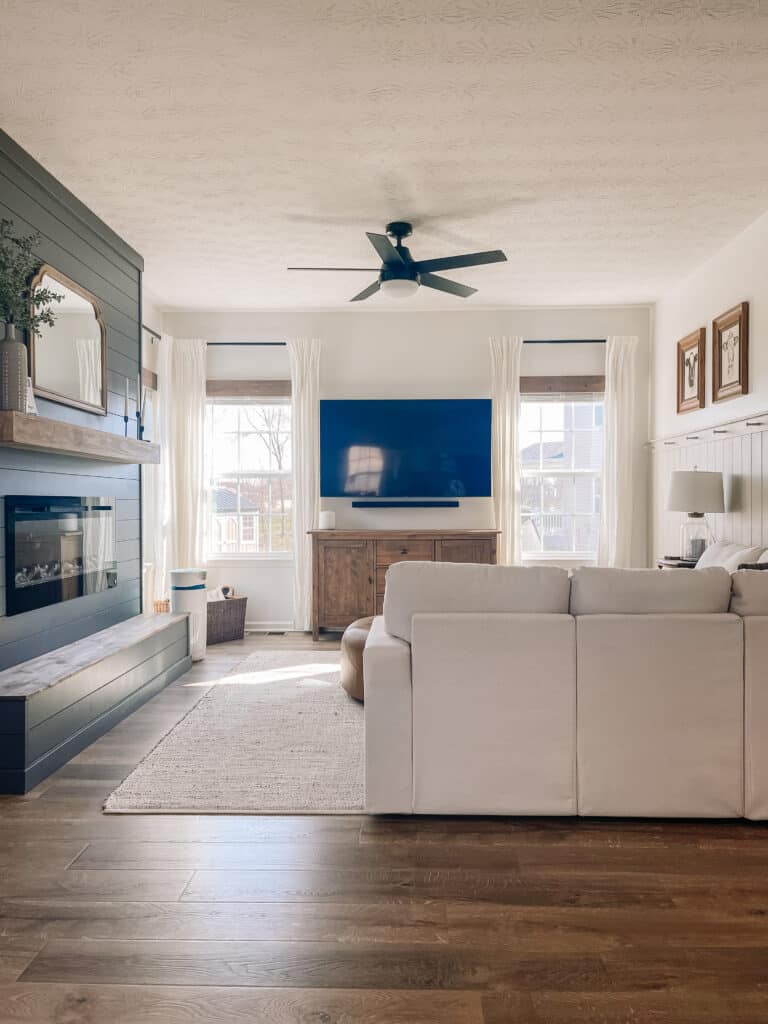 Does Home Reserve Have a Risk-Free Trial?
Yes! Home Reserve has a 30-day risk-free trial. They allow you to order one armless unit in any style with any of their fabric choices. Once you get your box in you assemble the unit. If you're not satisfied you can return it and get a refund for the full price including shipping. I never utilized this service but I love that it's an option. Not all couches are one size fits all.
Not only do they have a risk-free trial you can order $1 fabric samples. I highly recommend that you do this! We did and it helped a ton to move the fabric swatches around our room. Placing on the carpet, picking a rug and seeing how it looked in our space before picking the perfect color.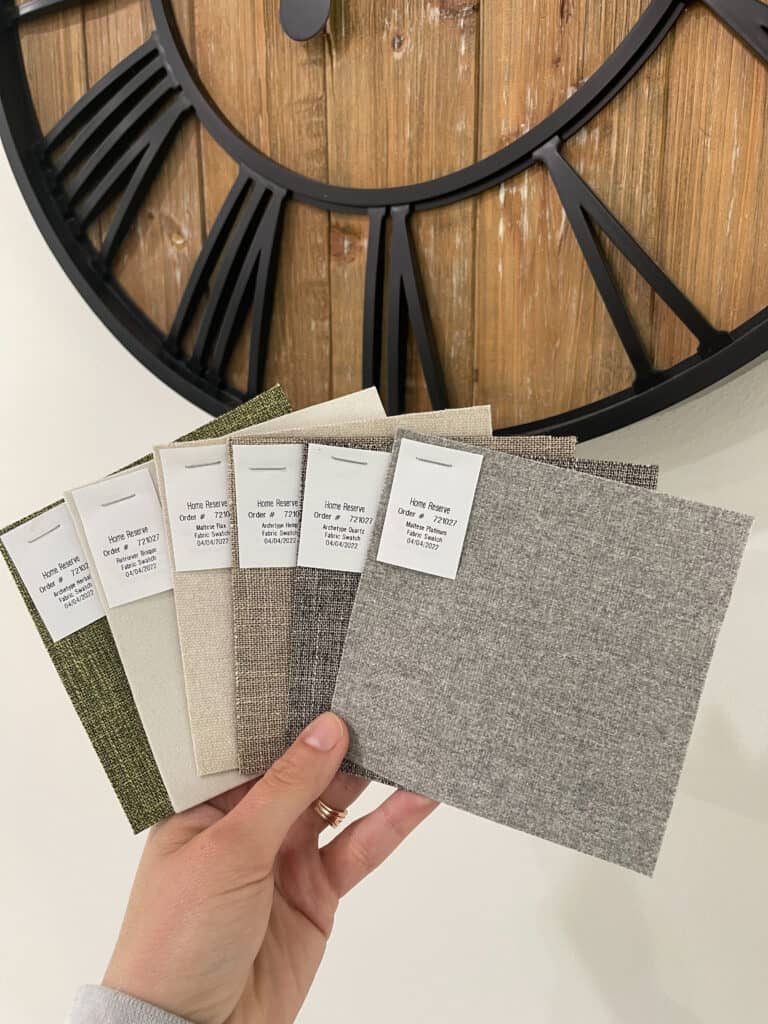 Home Reserve Sectional Features
BUILT-IN STORAGE: Hidden under every seat cushion you will find a storage compartment for decor, toys, blankets and more! Every compartment has a wooden bottom so nothing sits on the floor. This was a HUGE deciding factor for us when shopping for a sectional. Who doesn't love storage?! Our sectional has been the best purchase for our loft playroom because we needed a way to hide the toys and have more storage solutions.
RENEWABLE PARTS: Other than the storage & to be honest everything else this sectional had to offer, the 10-year warranty was a no brainer. Every piece that Home Reserve offers has renewability. The fabric, frame pieces, foam and cushions can all be replaced no questions asked. No matter the reason!
KID AND PET FRIENDLY: The fabric that Home Reserve offers really is kid and pet friendly. All covers are washable…even the arms of the chairs! They are stain resistant, and the durability is amazing. We had our dog get on the couch the other day with dirty paws and all I did was spray it with our Thieves spray and it wiped straight off!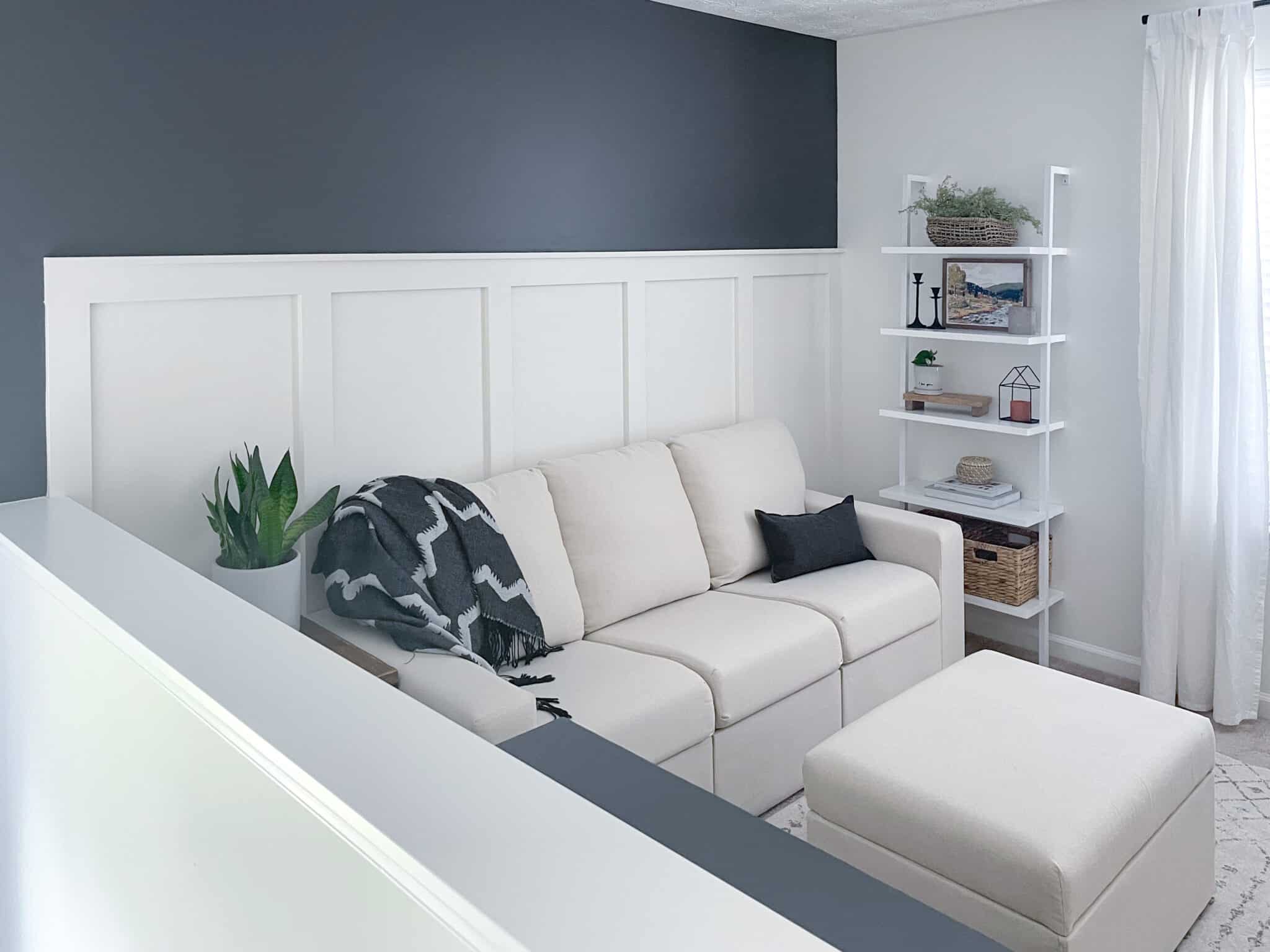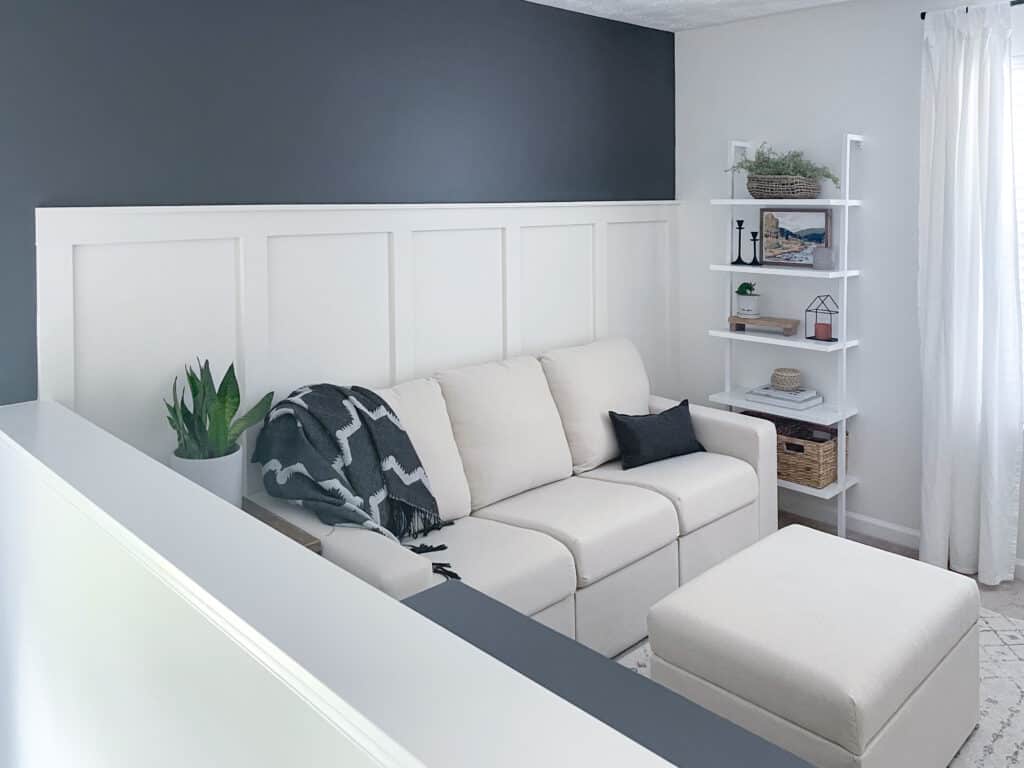 As for pet hair the one thing I noticed is the color & material of Maltese Flax shows black dog hair a little more than other colors. It is still very easy to vacuum and wipe off. Why I think we will buy Retriever Bisque in the future is I have noticed with the pillow we bought from them in that color doesn't allow the dog hair to cling to it like the material on the Maltese Flax does.
With that being said I still am in love with our color choice that's why we chose it! A little dog hair never hurt anyone and that just goes with having lighter furniture and a black dog!
CHANGEABLE FABRIC COVERS: The way this sectional is made you can buy any color fabric and swap them out whenever you need a change. Eventually I think we will buy the Retriever Bisque Fabric which is a tad lighter than the Maltese Flax. It was a close second when choosing our covers.
This sectional is literally something I can see us having forever. The fact we can add or take away from our layout and change our fabric is just wild to me. What more could you ask for?! Even if we ever move again we are set. We never have to worry about if our couch will fit in our space.
As a military family that is very reassuring to know that our furniture is one less worry when moving states. If by chance it breaks in the moving truck (there is a good chance it could-if you have ever moved as much as we have you know what I mean) the warranty alone has our back.
For anyone wanting the same look and color listed below is our exact sectional fabric, style and layout.
Fabric- Maltese Flax
Tux Armless x2
Tux Corner
Tux Left
Tux Right
Modular Ottoman
I would highly recommend Home Reserve to anyone! Whether you are a dog owner, cat owner, have kids or it's just you this couch can grow with you in all seasons of life. It's great quality, looks amazing, customer service is top notch and the whole process from ordering to assembling is so easy.
It took us from start to finish only 30-40 minutes per section. I did split it up by two days but once you get the hang of it you will have no problem assembling your sectional. The directions are simple and very easy to read. Way better than Ikea! 😅
If you have any more questions please don't hesitate to message me by email or direct message me over on Instagram! Check out Home Reserve's site HERE and have fun with it, build yourself a sectional!
Update: One Year Update
After a year of owning our Home Reserve sectional we loved it so much we decided to bring the sectional down to our main living room.
We added one more armless unit to make the sectional bigger and we couldn't be happier!
Everything on the couch is holding up great, covers wash nicely, stains come out easily, and cushions are holding up and haven't lost their form!